Power of Love's, "Safe Park" program continues to provide a safe and happy environment for children to play and learn. At this time several hundred children from the community participate regularly in "Safe Park" activities and show a significant improvement in their physical, social, emotional and intellectual development and overall health. With better health they are able to attend school, and do better at school. In addition, the children develop a sense of belonging in their community and hope for the future.
Typical Activities: For children under five years of age, activities such as games (head, shoulders, knees, and toes), singing, coloring, storytelling, and role play teaches team work, following directions, and important life skills. Pre-school age children participate with enthusiasm in games and activities. Children ages 6-10 years old are encouraged to work in groups and express their thoughts via drawing and coloring. Children ages 11-16 engage in discussions relevant to adolescents such as prevention of STD's, HIV, and safe sex. In addition, they discuss career goals, the process of achieving these goals (via strengths, weaknesses, threats and opportunities analysis), the importance of staying healthy and in school, and finally not giving up in the face of adverse circumstances. These discussions help the child understand their problems and find solutions unique to their background.
Finally, children who feel alone and isolated are introduced to other children. Family members are counselled as needed.
Impact: As the children learn and play during Safe Park activities, our community health workers get an opportunity to discuss the child's physical and mental growth with their family members. During these conversations we learnt that residents are grateful for this program as their children are playing, learning, and mixing freely with all children irrespective of their HIV status. Family members communicated that free play and structured activities lead to learning, keep children happy, reduce stigma associated with HIV, and keep children off the streets where they may be abused. Finally, help with homework leads to higher school attendance and performance.
At this time, 780 children are enrolled in our Safe Parks program and 70-80 children participate every week.
Need for "Safe Park": Our "Safe Park" program is located in Matero which is one of the largest (population of around 275,000) and poorest compounds in Lusaka, Zambia. Most residents are poor and live on less than $2 per day due to unemployment rates upwards of 60% and a high incidence of HIV and malaria. Children face difficult circumstances due to poverty, stigma due to their HIV positive status, sickness within the family, distress and trauma (due to the loss of a parent/family member). Most lack a safe environment to learn and play that is critical for normal development.
Overall, "Safe Park" activities continue to provide children in the community of Matero an opportunity to play, and learn in a safe environment every Saturday morning. Children enrolled in our pediatric HIV care program participate regularly and bring their friends over to play with our trained staff.
Thanks for giving the joy of learning and playing to children in Zambia.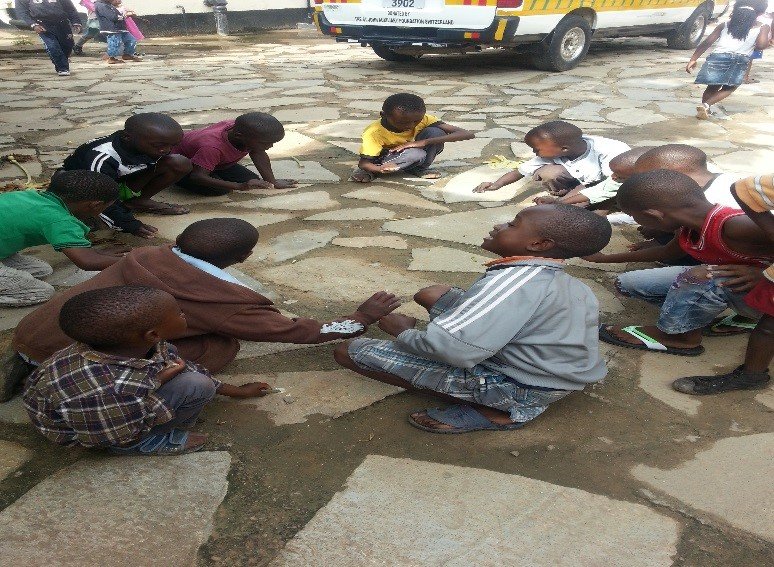 Links: