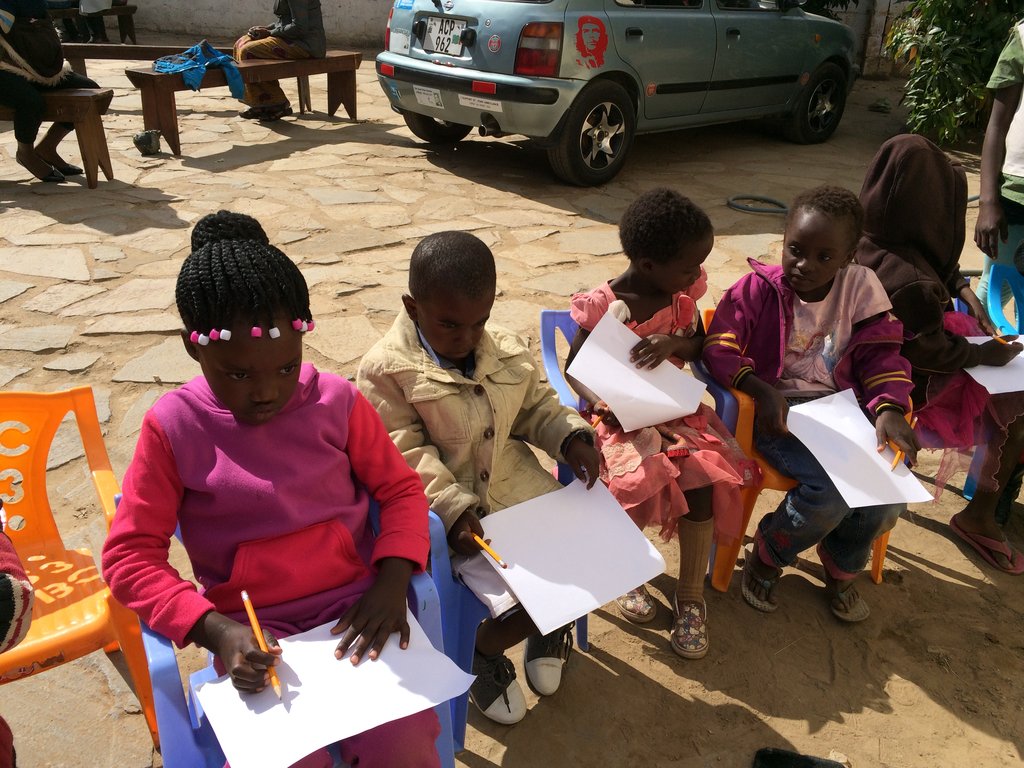 Need for "Safe Park": Our "Safe Park" program is located in Matero which is one of the largest (population of around 275,000) and poorest compounds in Lusaka, Zambia with an unemployment rate upwards of 60% and a high incidence of HIV and malaria. Most residents live on less than a dollar a day. Children face difficult circumstances due to poverty, stigma due to their HIV positive status, sickness within the family, distress and trauma (due to the loss of a parent/family member). Most lack a safe environment to learn and play that is critical for normal development.
Impact of "Safe Park": This program is free and open to all children in this community. Children and their family members are encouraged to join our trained child and youth care staff every Saturday morning for a few hours. The staff and the children play and engage in educational games and activities. At this time we have 700-760 children enrolled and about 70-80 participate every week. Children (both HIV positive and HIV free) interact with each other and our staff, and participate in educational games and activities. As a result, children who attend Safe Park regularly:
have more knowledge about HIV, are more comfortable with their HIV positive status, and many are ready to discuss their status with their peers,
face reduced stigma associated with HIV,
a few older children become role models and mentors for the younger children,
do better at school as homework help is provided
have an improvement in self-esteem and mental and physical competency,
develop social skills via sharing, following rules and cooperation,
develop of better social relations with pears and adults,
learn about HIV prevention and care and,
are kept off the streets where they can be abused.
In addition, family members are provided with information so that they can access relevant health, educational and psycho social services. Given below is the case of a typical child in our community and the impact of Safe Park on her development.
Claire (name changed) is one of the children who has been participating actively in Safe Park activities for the past two years. She is 12 years old now and tested positive for HIV when she was three years old (both her parents are positive). Over the last few years her health is stable and improving as she is on ARV medication. Before she started medication she complained of diarrhea, cough, rash and fever. Once her health started improving Claire went back to school. At this time she is studying in grade four and likes school. For the last two years, she has been participating in Safe Park activities and enjoys interacting with other children. As a result of participation in Safe Park where she plays games, interacts with other children, and learns about HIV, Claire feels happy, her self-esteem is better and she has fewer missed days from school. .
There are several hundred children like Claire enrolled who actively participate in Safe Park activities. These children improve in physical, social, emotional and intellectual development and overall health. Better health leads to fewer missed days at school, and higher school performance. In addition, the children develop a sense of belonging in the community and hope for the future.
Your donation will help a child grow normally and play and learn in a safe environment. Thanks for your caring and support.
Links: