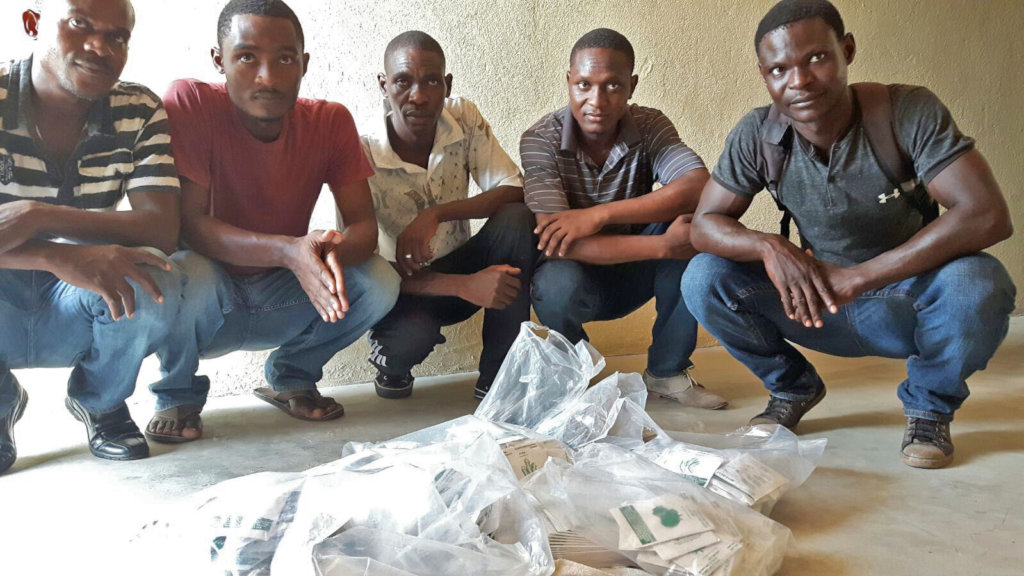 Today's update comes from Haitian partner Fabienne Jean and FONDAMA. Fabienne Jean coordinates FONDAMA's grassroots network of farmer organizations throughout Haiti and liaisons with civil society to advocate for their communities.
We first learned about FONDAMA when Fabienne spoke to a local network here in Asheville, North Carolina (USA) as part of the Presbyterian Hunger Program's stateside planning efforts — a rare and welcomed opportunity to meet a partner! Since then, SPI Program Manager Naima Dido has been identifying ways that FONDAMA and our partners in the SPI Haiti Partnership Network can work together.
And thanks to your support of this project, we were able to make an initial shipment of seed available to FONDAMA's communities!
About FONDAMA
FONDAMA and their member organizations work toward food sovereignty by addressing the root causes of poverty in Haiti, including the promotion of cooperative agriculture, access to land and clean water, and education. They advocate at both the local and national level by supporting local farmer programs and building campaigns designed to impact national policy around issues like food imports and climate change. FONDAMA is also empowering women and improving child nutrition by prioritizing women who have children and the poorest farmers who lost everything in the hurricane. In the South alone, FONDAMA has served 3,200 families in 7 communities through five organizations.
If this sounds like a lot of work, it is. Their vision is large and long-term, intended to build a strong foundation for future generations.
"We definitely work differently from other NGOs. Like SPI, we do not try to provide a ready-made solution to the people we work with, but to find the solution together and work to solve problems in sustainable ways." — Fabienne Jean, FONDAMA Coordinator
Our Journey with FONDAMA
Our partnership with FONDAMA has mirrored the arc of this project. Though we had an initial vision, we quickly needed to adapt to the post-hurricane, on-the-ground challenges that emerged as we began working with partners. Damaged infrastructure, worsened by recurring storms, meant that partners couldn't rely on traditional supply channels. Partners like FONDAMA had to think of different ways to accomplish some of the most basic agricultural tasks, like finding protected spaces to sow seeds and grow seedlings.
Fabienne says, "Right now, we have a lot of problems with the effects of climate change. We can have a lot of rain or a long drought season. Also, the reconstruction of roads and other infrastructure damaged by Hurricane Matthew has been slow and is ongoing.
"Since Matthew, FONDAMA has put a tremendous amount of effort into training communities to change their old farming practices so they can be more resilient at the time of floods and other natural disasters. The seeds from SPI were very helpful. They grew in some areas where people were already familiar with growing vegetables, but not in all places that we gave them because of poor soil health, lack of water access, and other challenges.
"A partnership like SPI is very important to us because the lack of access to good seed is the biggest reason people do not grow vegetables here. When the seed is not good, people work so hard in the gardens and farms and get nothing but failure for their hard work. This kills the morale.
"As a response to the garden failures and effects of climate change, we started a yard garden program that is designed to withstand flooding and wind. Flooding is one of the biggest problems now for the Haitian farmers. We trained the communities to turn tires inside out, put soil and compost in it, and grow their vegetable garden in the tires, which contain the soil securely against erosion. Tires are one solution, but we are also working on raised bed systems to plant seedlings that will not be washed away by flooding. We will use future seeds received from SPI to grow the seedlings."
By working collectively, FONDAMA's programs adapt to address people's needs from the ground up. Not only do they identify what is needed for success, but they also assess what hasn't worked and create solutions that are appropriate to a community's specific context. These solutions aren't top-down, either. Once something works, FONDAMA trains folks to ensure that the practice is adopted and passed on throughout the community by the community.
What's Next?
We hope FONDAMA will be a long-term partner. They have the expertise and capacity to facilitate seed distribution and training, and the ingenuity and perseverance to establish resilience and preparedness in communities whose livelihoods are battered year after year — they are working to give people more control over their own lives and the environment in which they live. FONDAMA is a Haitian Creole acronym fashioned from Fondasyon Men Lan Men Ayiti, which is translated to Hand in Hand Haiti Foundation. This is appropriate since they are on the ground, hand-in-hand with the farmers and families in their communities.
This is a longer report than we usually share, but we felt it was important to show how much goes into accomplishing even basic tasks two years after Hurricane Matthew. The persistence and brilliance of partners like FONDAMA, Tree Angels for Haiti, Ayiti KonseVet (AKV), Little Footprints, Big Steps (LFBS), Consider Haiti — just a few of the partners in our own network — is inspiring, and we're humbled to be working with them.
Haitians are still recovering, and a quick search online will show that setbacks from natural disasters amplified by climate change are common in Haiti. In support of our partners, we'll be bringing this project to a close to collaborate on a broader project that can better serve the network our partners have developed. We'll let you know when the new project opens so you can continue to follow our Haitian partners and their communities. If you are interested in more projects that empower women throughout the world, you're invited to visit our Seeds and Skills for Women to Grow Vegetables project.
For now, please accept our gratitude and thanks for your support of this project. Because of your support, partners have access to good seed and expert training where they might not otherwise.
Sincerely,
The SPI Team