Project Report

| Jul 3, 2023
eDNA Species Growth on Kelp Habitats 2023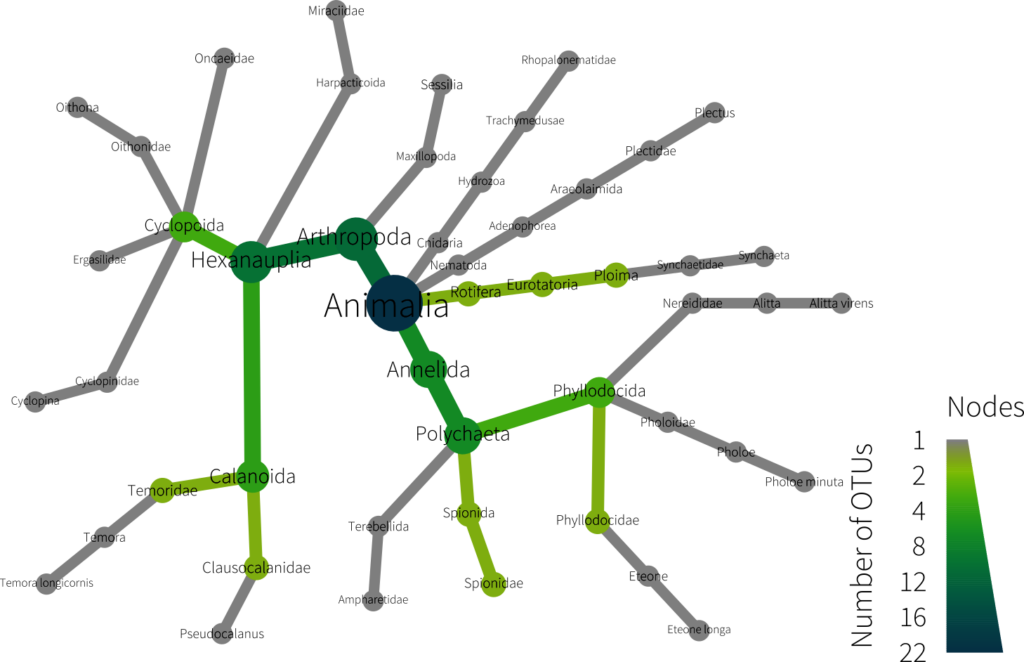 IntelliReefs Kelp Site Results: Aquatic Invertebrates & Fish eDNA by Nature Metrics in Halifax, Nova Scotia, Canada
Around the world, massive kelp beds are rapidly declining due to coastal development and erosion, warming waters, invasive species, poor water quality, pollution, and overfishing. As a consequence of losing these lush underwater forests, fisheries and ocean-based economies around the world are in serious jeopardy. As with many other regions in the world, Nova Scotia's prolific kelp beds are steadily declining. Researchers have documented an 85-99% decline in kelp biomass over the past 4-6 decades along the Atlantic coast of Nova Scotia.
IntelliReefs will continue to work with researchers in Nova Scotia, Canada, to monitor and measure the growth of kelp and other algae following the introduction of our modules to test the benefits of Oceanite to temperate water kelp forest ecosystems.
OVERVIEW OF OUR RESULTS A total of 25 taxa were detected. Average taxon richness was 18 and ranged from 15 to 21. Most abundant sequences: rock gunnel (Pholis gunnellus
Sample composition: A total of 25 taxa were detected (Table1). 64% (16 taxa) were at least 99% similar to a species in the global reference databases, and species names are suggested for these taxa. The remaining taxa were identified to the lowest possible taxonomic level: 20% to genus (5 taxa), and the remainder to family (4 taxa). The taxa belong to 7 orders, 16 families, and 18 genera. The average taxon richness was 18 and ranged from 15 ('Reference Site') to 21 ('AR Site'). The relative proportion of the sequences found in each of the samples is shown in Figure 1 and Table 1 and the diversity is summarised in Table 2 and Table 3. Rock gunnel (Pholis gunnellus), which accounted for 25.3% of the total sequence reads, was among the most abundant in terms of sequences and was detected in both samples. 11 of the 25 detected taxa were found in both samples. High-quality fish sequence data were obtained for the 2 eDNA samples.
photo is an interior cut of an Oceanite Module, 14 months after deployment in the Caribbean. Kelp & Coral have some of the same cues for attraction and settlement, one being an attraction to CCA, Crustose Coralline Algae. The presence of CCA inside our modules showed us that our Oceanite would work for kelp too.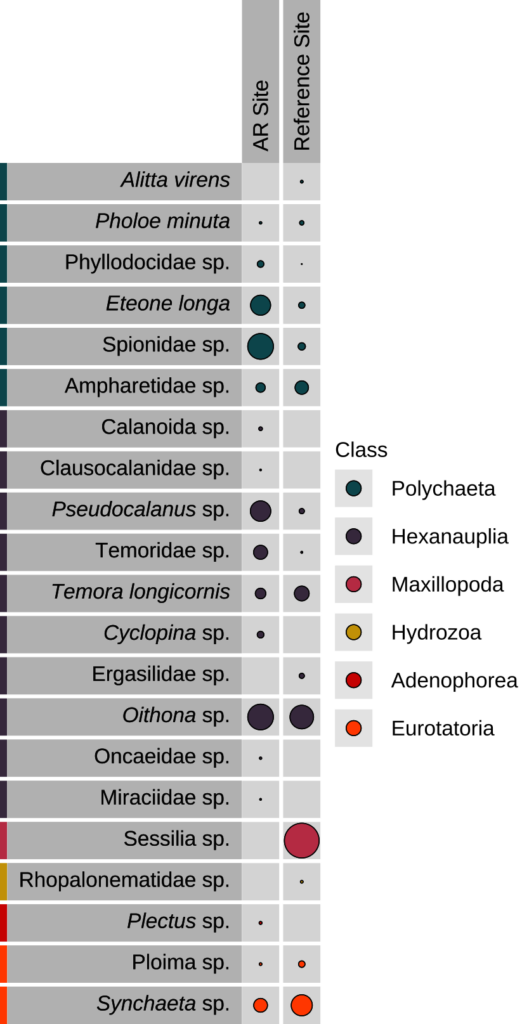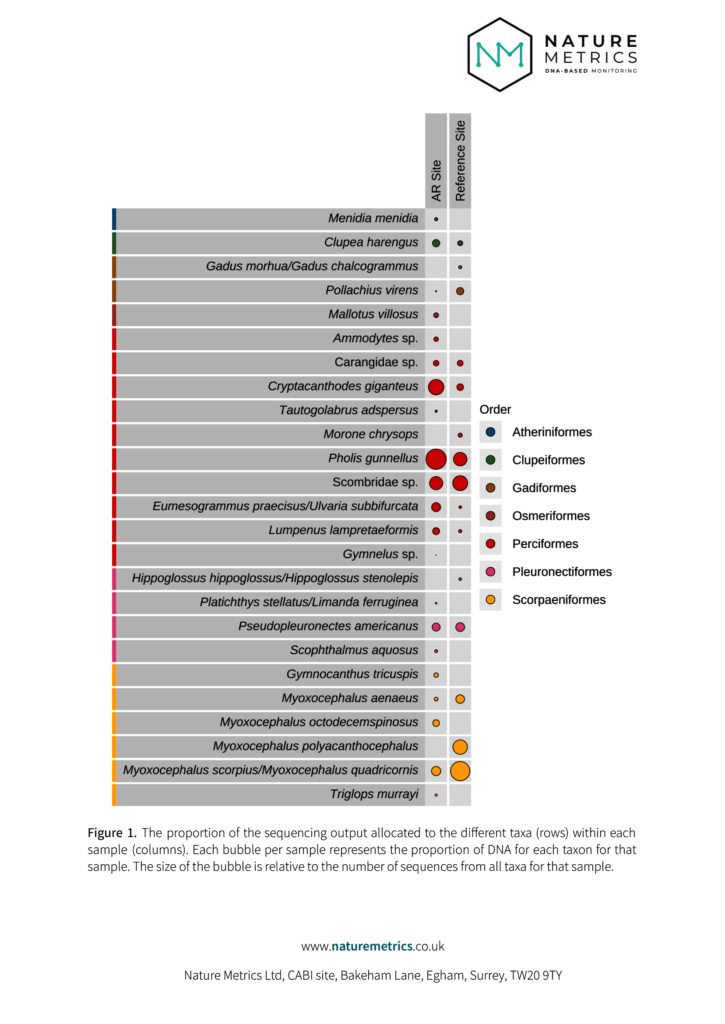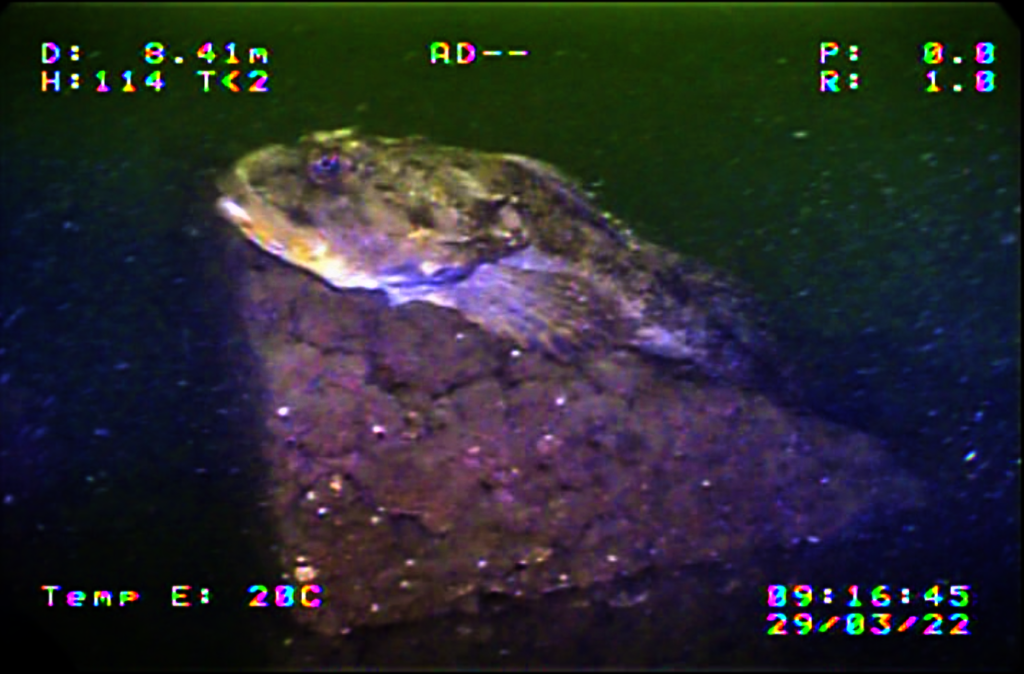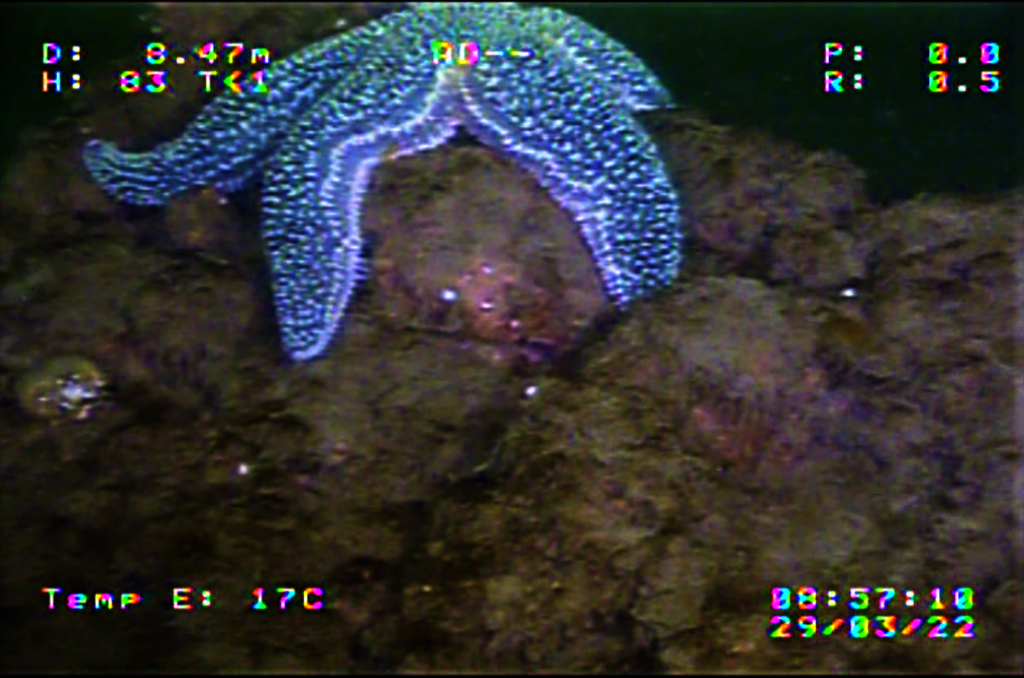 Links: