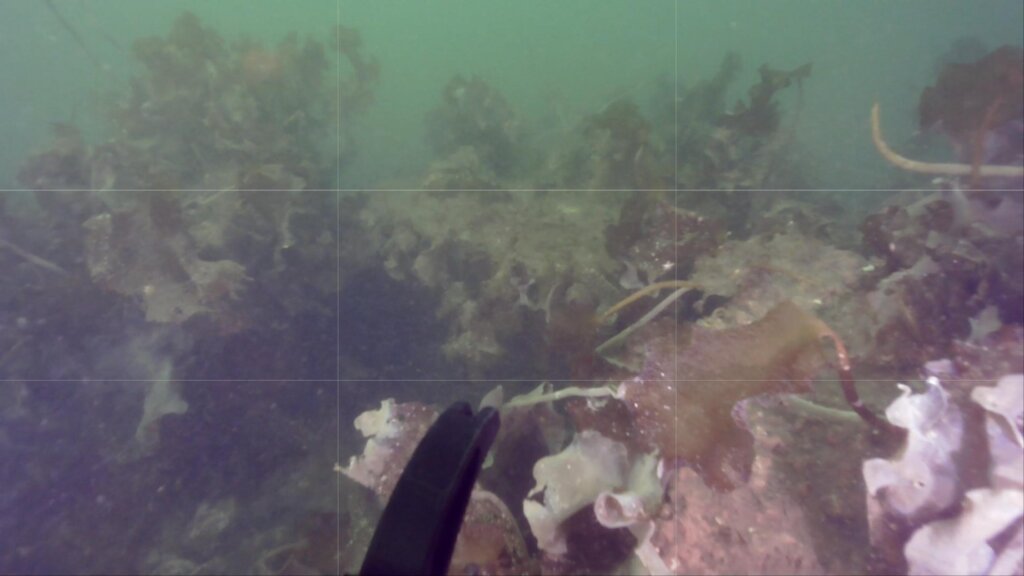 Canadian Kelp Forest Deployment Update:
Helping Mother Nature Heal Herself
It has been about 8 months since we installed our shallow kelp modules in Dartmouth Cove, Nova Scotia, Canada. The rapid attachment and growth of marine life on our Oceanite is unparalleled, especially given that this cove is highly populated and environmentally degraded. In this murky cove, kelp is now thriving on our IntelliReefs like it couldn't before. Let's keep healing Dartmouth! Highly degraded harbors can be helped with Oceanite.
We did not farm this kelp or put these ocean creatures here, mother nature did this all by herself. IntelliReefs are fantastic in aiding the natural rebuilding of these marine habitats.
Kelp beds are vital marine ecosystems in temperate regions, as they host high biodiversity, support commercial fisheries, and help combat climate change by sequestering carbon dioxide. Unfortunately, ever-increasing development of coastal areas in temperate regions of the world is threatening these valuable coastal ecosystems by decreasing water quality and destroying kelp habitat. Altering artificial underwater structures to optimize their suitability as kelp habitats and building new habitats using artificial reefs can mitigate the impact of coastal development on kelp bed ecosystems.
IntelliReefs has developed Oceanite, a novel mineral aggregate material, as an environmentally friendly alternative to concrete in the marine environment and has used this material to create highly effective coral reef habitats in tropical environments. Months ago, IntelliReefs deployed a pilot study in an urban harbor in Halifax, Nova Scotia, Canada to test the ability of Oceanite to attract and foster the recruitment and growth of kelp and the development of their associated communities. This project will provide the base knowledge necessary to launch Oceanite as a kelp substrate for numerous applications in temperate environments. Check out the following photos and footage from our robotic camera in Halifax Cove, Canada! This footage is from around 8 months after deployment. We are very proud of mother natures progress with the aid of Oceanite.
Learn with us about seaweed!
Did you know seaweed is an umbrella term for many types of marine macroalgae?! The term 'seaweed' encompasses thousands of different algae species that live in the ocean.
Macroalgae, or BIG ALGAE, can be seen by the naked eye. Most people think seaweed is a marine plant, but it's actually a bunch of large algae cells all 'clumped' together!
There are 3 main types of macroalgae based on their color: Brown algae (Phaeophyceae), Green algae (Chlorophyta), and Red algae (Rhodophyta).
Now that you know seaweed is NOT a plant and is actually a type of algae... we've made a diagram to help you understand why the word 'seaweed' is an umbrella term for marine macroalgae.
Kelp falls under the brown algae category, which is what many people picture when they hear the word "seaweed." Kelp is a very specific KIND of seaweed, that is particularly large and can actually be several different colors.
Brown algae, Phaeophyceae, benefits both marine life and humankind in many ways. Let's tell you more about one kind of brown algae, kelp, and its basic anatomy. We created a diagram with arrows showing what we explain below.
KELP (Brown Algae):
Instead of roots, kelps have holdfasts. Instead of stems, kelps have something similar called stipes. Instead of leaves, kelps have blades. Although similar to land plants, the parts of kelps have different names and purposes!
The blades function like leaves performing photosynthesis and creating food from both nutrients in the water and sunlight. (Seaweeds can photosynthesize, and absorb nutrients & water in ALL of their tissues!)
The stipes may look like plant stems, but they do not provide nutrient transport as stems do. The stipes main purpose is to help support the blades and structure, staying strong enough to sway and move with ocean currents.
The holdfasts secure and anchor the kelp onto hard rocky surfaces, somewhat similar to roots, however, holdfasts do not absorb nutrients as roots do.
Pneumatocysts, also known as floats or gas/air bladders, aid in bringing the kelps closer to the ocean surface for maximum sunlight absorption. These do not occur on all kelps.
NORI (Red Algae):
Have you ever wondered what kind of seaweed is used for sushi rolls or those tasty dried snack packs? It is called Nori! This edible seaweed comes from the red algae genus Pyropia. Pyropia like to live in shallow intertidal zones throughout the world and are quite resilient to marine temperature fluctuations. The algae is harvested, dried, and pressed into Nori sheets.
The most common species used to make Nori are Pyropia yezonesis and Pyropia tenera. Though classified as red algae, this seaweed can appear purple, brown, red, pink, or dark green in the wild. The color depends on the species and area it is grown in. Once dried, Nori usually looks dark green, brown or black. Used heavily in Asia as a food source, Nori is extremely healthy for humans.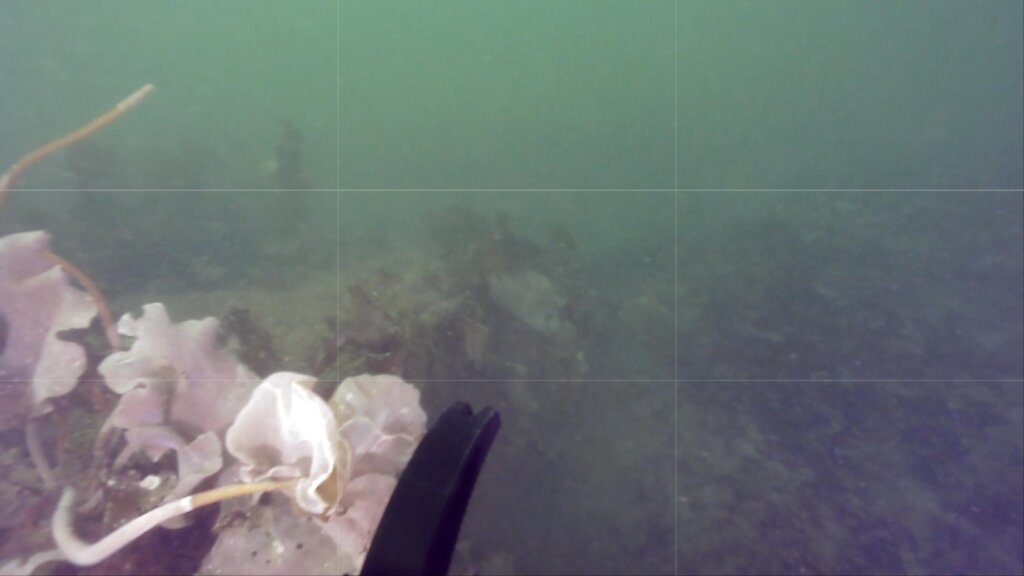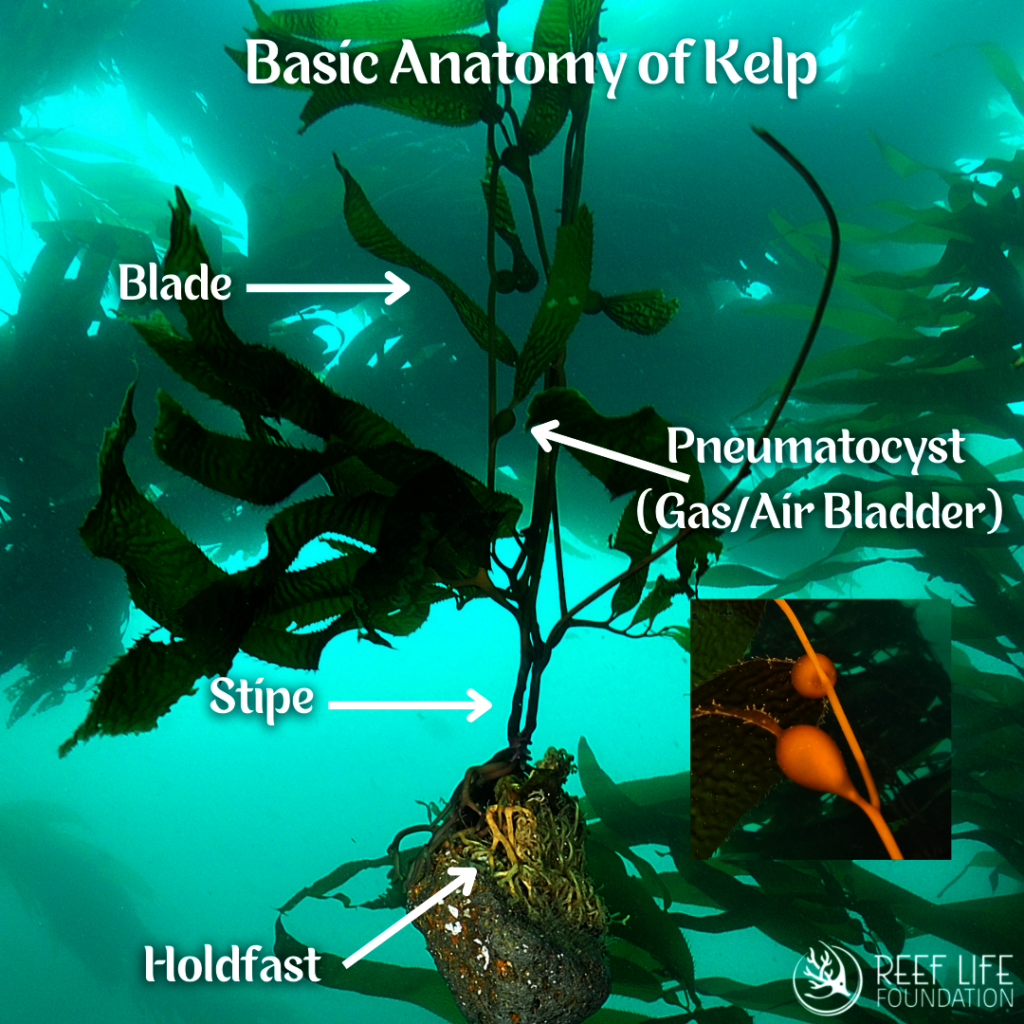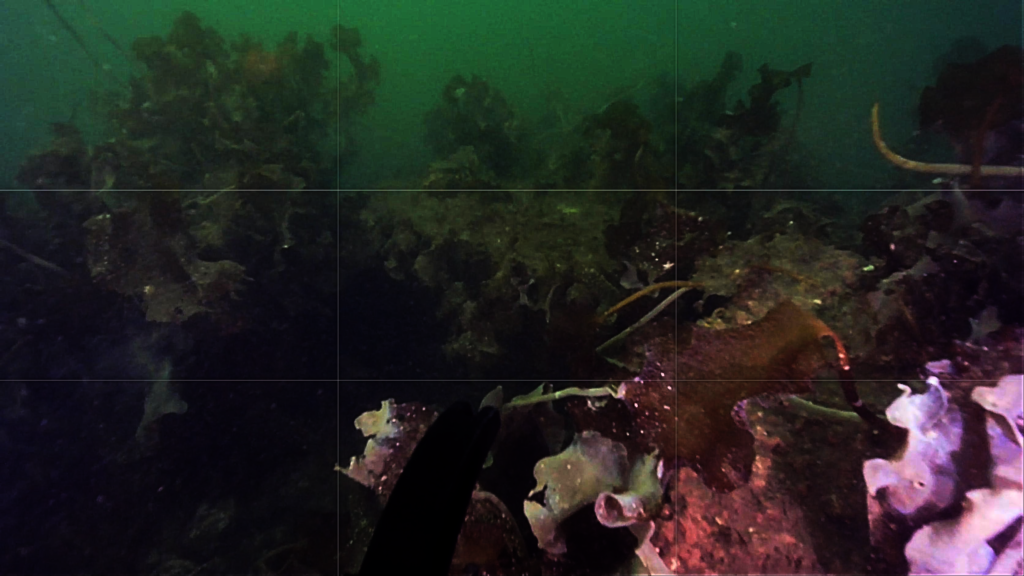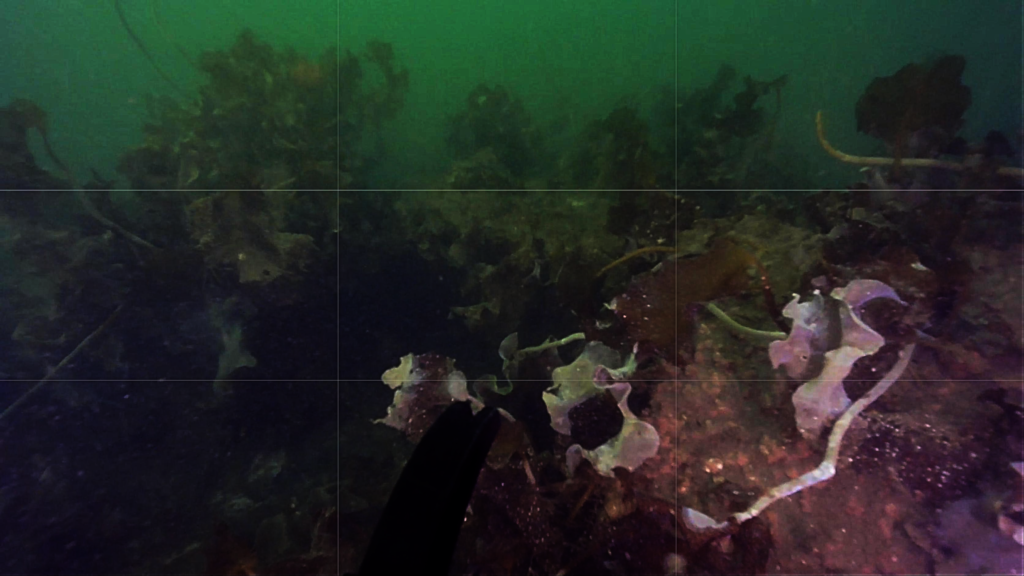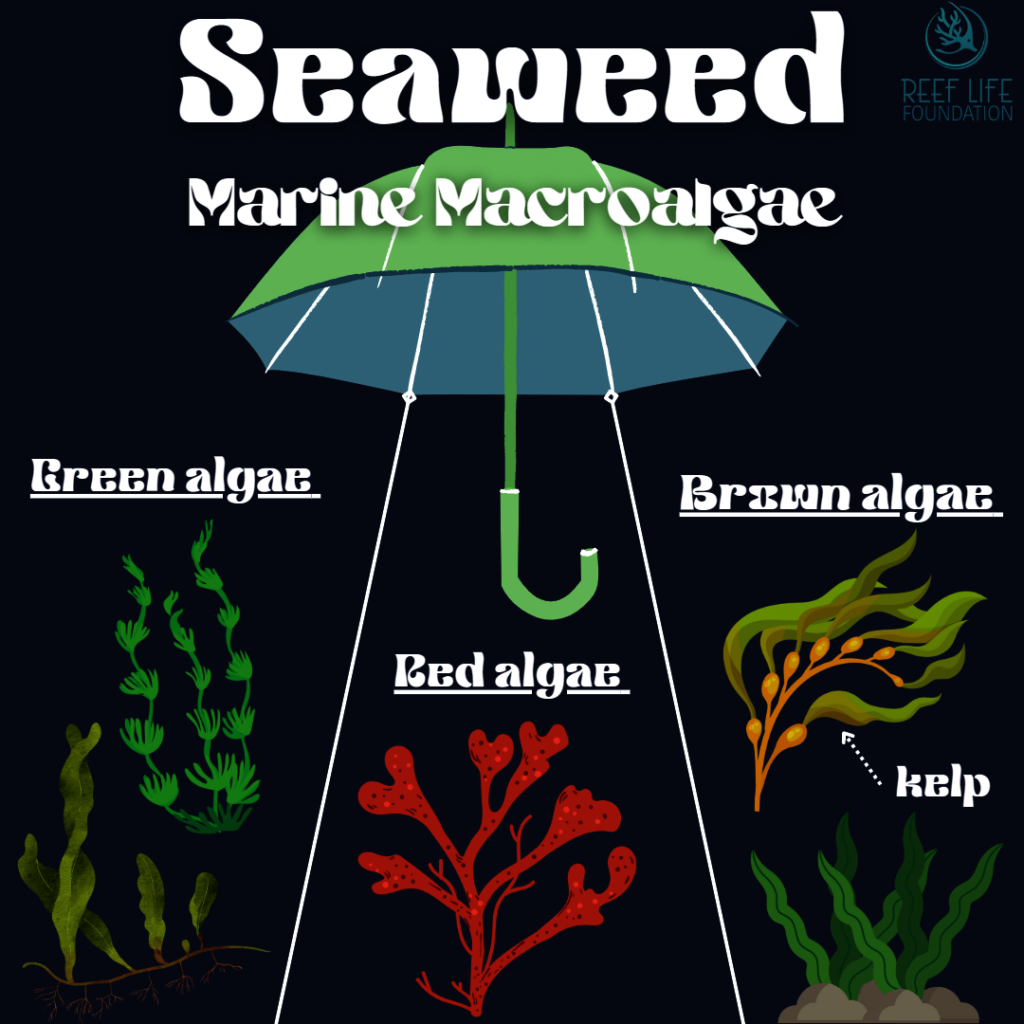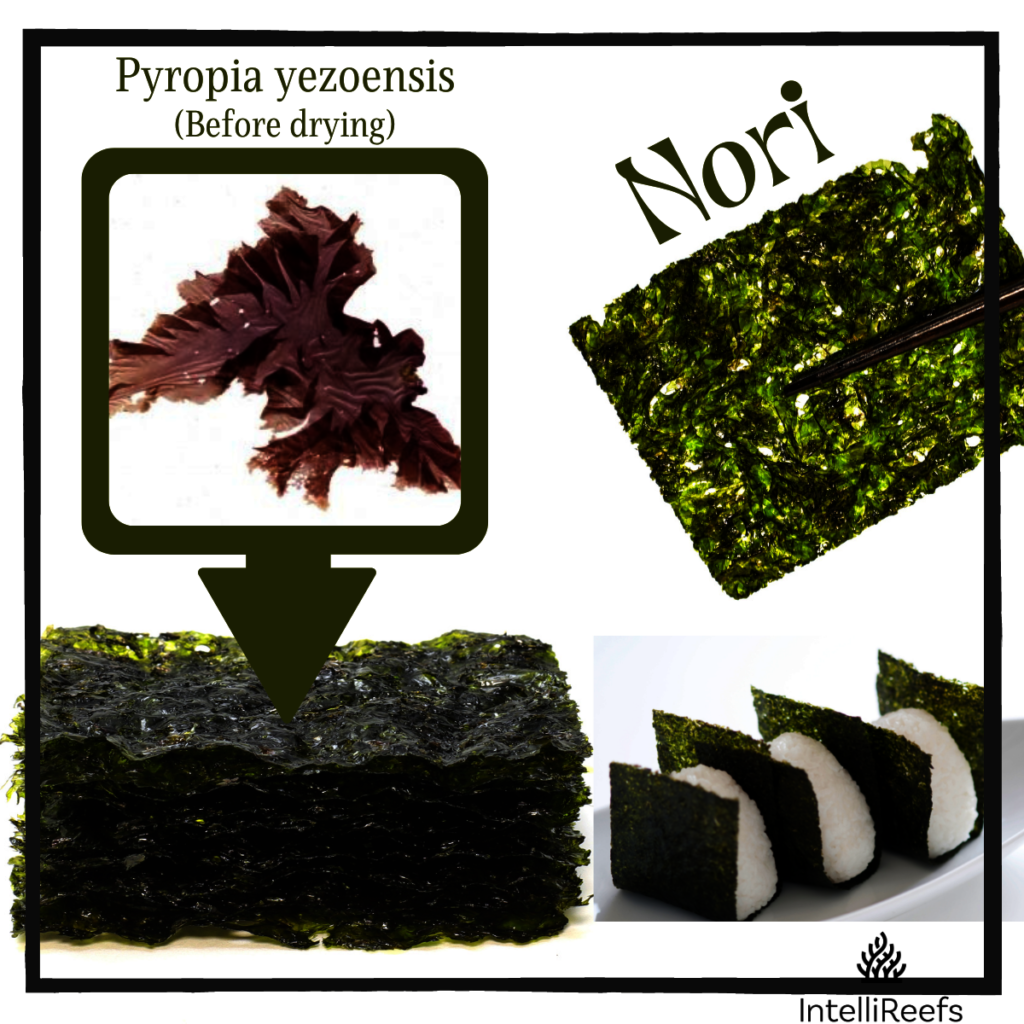 Links: