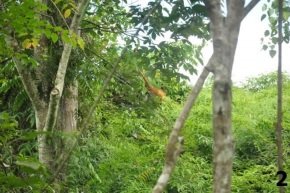 Restoring Rainforest Project Update August 2017
Over the last 6 months, there has been considerable progress in restoring forest in the three restoration sites which we are currently focusing on: Cinta Raja, Bukit Mas and Halaban.
In Bukit Mas, over 23,000 seedlings have been produced in the nurseries. In recent months, the team have been focusing on enriching the forest by planting 8,000 additional trees of more slow-growing varieties, which are fruit-bearing, such as Durian trees, which are a great favourite with orangutans.
The team also focused on clearing dead saplings to make room for new growth.
Tracking wildlife in restoration sites
The biodiversity monitoring team benefited from training at Sikundur organised by SOCP to use the same tools and techniques for tracking and logging signs of orangutans. This means a consistent approach to collecting data is being adopted across Sumatra and should mean more reliable figures from the monitoring teams in different orsanisations. In recent months, there have been signs of 8 different orangutans using the restored forest, including nest sites, camera trap footage and dung.
The team installed extra camera traps inside and around restoration site in Halaban to improve their ability to observe wildlife species that have returned to and used the previously degraded habitat. There were 11 camera traps installed in Halaban during this period. Of these, 6 camera traps were installed on the top branches of the trees in the restoration site in order to monitor animal species living in trees.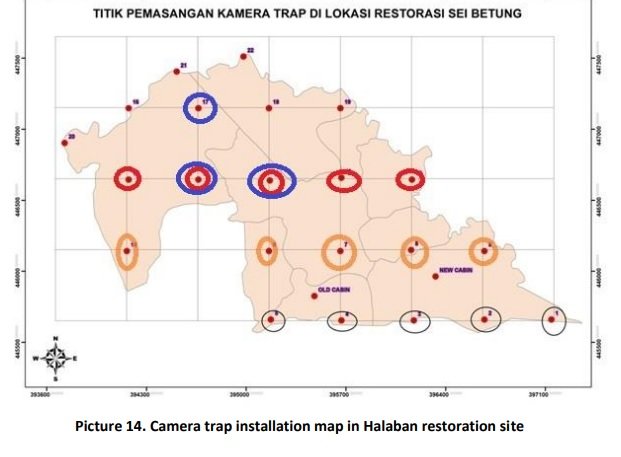 Links: