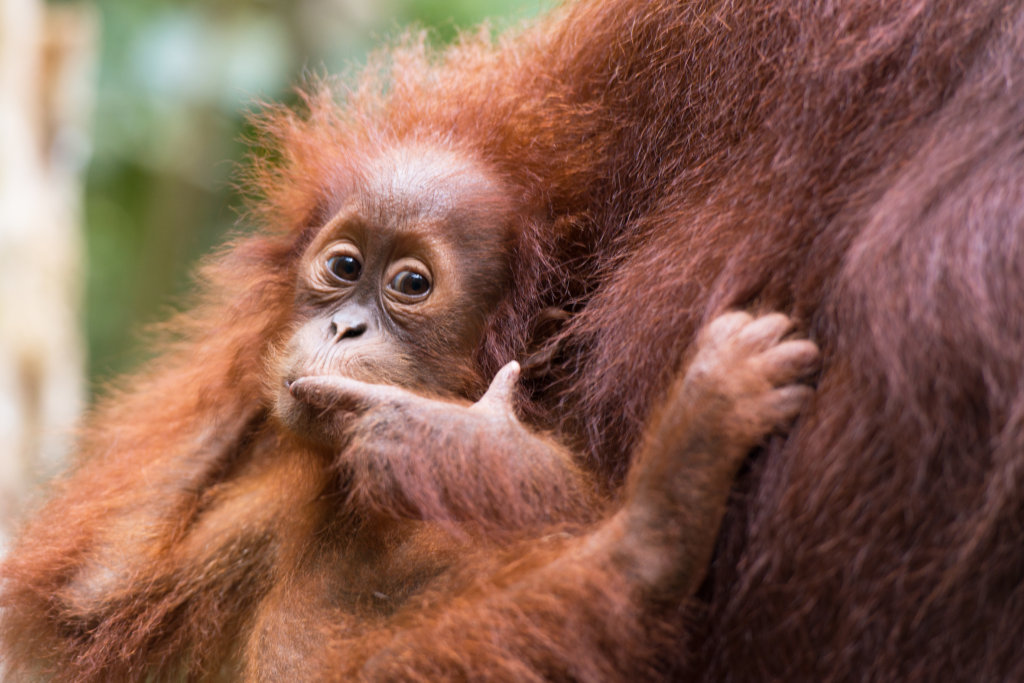 In this report, I could tell you about the 27,500 tree seedlings that have been planted on 25 hectares of degraded land at our newest restoration site in Bukit Mas. This is, undoubtedly, a fantastic achievement, and one that we couldn't have managed without your support. However, I want to look beyond the trees, and share the secret of our success. What makes the restoration projects that we and our partners manage a real win for conservation?
When an area of orangutan habitat is destroyed by people or companies who want to use the land to grow crops, it's not enough to simply plant trees and put up a signboard claiming the land back as a reforestation site. We must ensure that those trees, and the untouched primary forest, remain standing, becoming valuable habitat for orangutans and other species.
No matter how many trees we plant, the most essential element of our habitat restoration programme is the true, deep engagement of the communities who live next to the Leuser Ecosystem in becoming protectors of the forest, and defending its borders from future threats.
Despite legal protection and international recognition of its values, the Leuser Ecosystem is still sadly subject to high levels of illegal encroachment by surrounding communities, logging and wildlife poaching.
Our programme addresses this problem head on. We develop bespoke conservation action plans with communities and provide training to enable them to improve their livelihoods through the protection, rather than exploitation, of the rainforest ecosystem. We call this model 'Community Agroforestry, Reforestation and Education (CARE)', and this 'greenprint' for conservation is being replicated across northern Sumatra, thanks to your support.
Through successful interventions with farming communities such as training in agroforestry and organic farming techniques, farmers have increased crop yields by 25% and improved their profit, reducing their need to expand farmlands into the forest. Mixed agricultural systems are used to create buffer zones between forested areas and human developments. The diversification of agricultural lands enables them to be maintained alongside natural forests, whilst at the same time benefiting the local community through a more profitable and sustainable land use model. More than 400 farmers have participated in training in ecological agriculture to date.
Through empowering communities, these programmes equip local people with the tools and motivation for species and habitat conservation. Changes in attitude towards the sustainable use of natural resources can have a positive impact on conservation; negative results emerge when local people are excluded from conservation activities. In our programmes, communities are involved in the entire process, from planning through to implementation, and eventually independent management.
So, just as we plant and nurture trees, the team in Sumatra are also putting down deep roots in these communities, transforming them into conservation ambassadors, and guardians of the ecosystem. Planting a tree is a symbol of hope, and represents a brighter future for Sumatra's forests, orangutans, and communities.