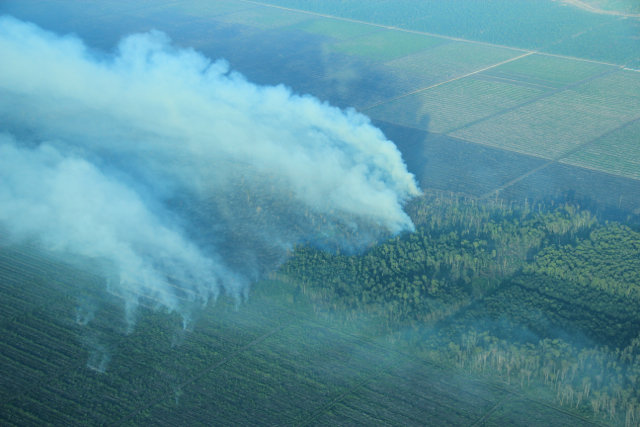 In a groundbreaking legal win for Sumatra's forests, Indonesia's Supreme Court has rejected an appeal by a palm oil company, PT Kallista Alam, which was found guilty of illegally burning over 1,000 hectares of the Tripa peat swamp forests in Sumatra, part of the Leuser Ecosystem - vital orangutan habitat.
The company has been fined more than USD $25 million, a verdict that many hope will set a precedent for law enforcement against companies involved in environmental destruction. A large proportion of the fine will be used to restore the ecosystem.

The verdict comes as Sumatra and surrounding areas are shrouded in a thick haze, caused by illegal forest fires. The Environment and Forestry Ministry are stepping up legal action against the plantation companies behind the raging fires.

Following this conservation success for the Tripa peat swamp forests, citizens in Sumatra's Aceh province have announced their intention to launch a class action lawsuit against the Government for their failure to ensure the protection of the Leuser Ecosystem - critical orangutan habitat, and the only place on earth where orangutans, tigers, elephants and rhinos roam together.
An alliance of concerned citizens will take the Minister of Home Affairs to court over his failure to cancel the disastrous Aceh Spatial Plan and enforce national conservation laws. The plan intends to open up vast areas of the Leuser Ecosystem for roads, mining and plantations, which would pose an extreme threat to biodiversity due to habitat loss and fragmentation, as well as to Aceh's communities, due to increased risk of flooding and landslides

SOS and our supporters around the world have been backing the fight against Aceh Spatial Plan since 2013, and this latest move is a major step forward for the campaign. We will share the latest developments as the case progresses.

Congratulations to all our colleagues in Sumatra who have fought a long battle for Tripa, and thank you to all of our supporters who added their voices to the call for justice and continue to support our programmes and campaigns to protect Sumatra's orangutans and their forests!