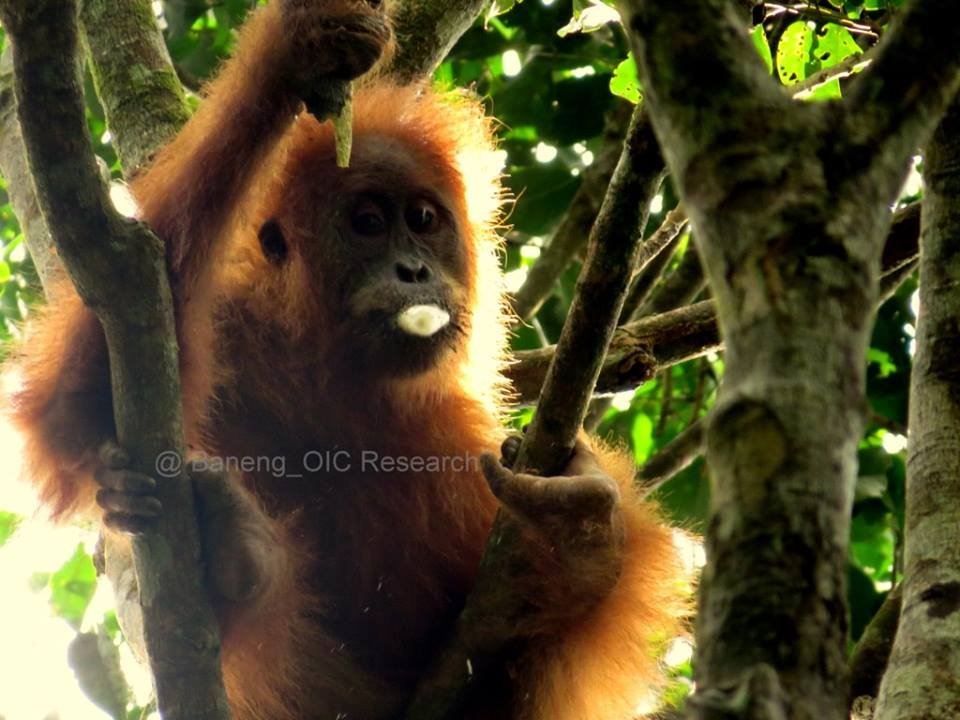 It has been a great month for the new orangutan research team in Sumatra.
Based at our flagship forest restoration site in the Gunung Leuser National Park, the team have been tasked with following orangutans in the new and secondary forest, and collecting data on their behaviour and feeding habits, to compare with orangutans living in primary forest areas.
After following a mother orangutan with her infant for two days, the team met three more orangutans, just 1km from the restoration cabin. These orangutans were found to be having what the researchers referred to as 'a food party' in a particular fruiting tree, a Marak Bangkong tree (Endospermum diadenum).
Orangutans are usually solitary animals, not living or travelling in groups like the African great apes, but when a particularly favoured tree is fruiting, it is possible to see several orangutans, and other animals too, all eating together.
The team followed the mother (named Pebi) and her 7 month old baby (named Panizo) for ten days in total, before then starting to following and observe a young male orangutan, named Baneng and thoughts to be 3 years old.
The research team has taken some great photos of the orangutans in the restored forest - this is the best evidence possible that forest restoration really does provide viable habitat for orangutans, and we're delighted to be able to share these images of wild orangutans feeding in the trees that you helped us to plant - thank you so much for all your support, and please help us plant even more trees!