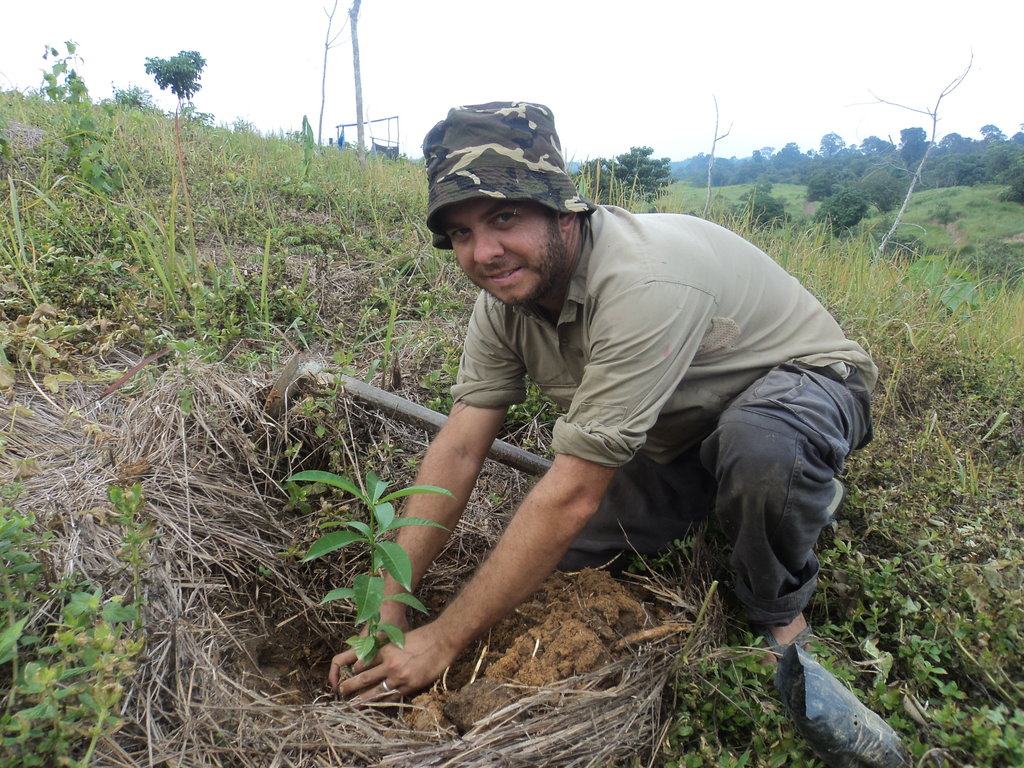 "After many months fundraising and organising my trip to North Sumatra I was jumping out of my skin. I was finally taking off on an adventure of a lifetime. This was my opportunity to see firsthand the impact my donations to the forest restoration project in Sumatra were having.
As I touched down in Medan I was welcomed by Panut Hadiswoyo, Founding Director of the Orangutan Information Centre (OIC), SOS's project partners. His commitment to protecting and restoring orangutan habitat in the Gunung Leuser National Park is an inspiration. So much so that he was recognised by the United Nations as a finalist in its Hero of the Forests Award earlier this year.
That night Panut took me out for a traditional Sumatran dinner and to explore the sights, sounds and smells of chaotic Medan.
When I arrived on the project site the next day I was greeted by all the OIC staff and the first thing I noticed as I explored the site was the diversity of the natural regeneration coming up and how close the primary rainforest was to the project site.
Throughout my week I shared a two story bamboo hut with the OIC Restoration Team (and the local insect population).
The Gunung Leuser National Park is an amazing place and I was lucky enough to see Hornbills, Gibbons and Thomas Leaf Monkeys. In the afternoons I could hear the long call of the male Orangutan which was a memorable experience.
As it was the dry season I assisted the restoration team in seed collecting, nursery work and maintenance of previous plantings.
I was shown around the project site by head of the OIC Restoration Program Ahmed Azhari (Ari). His knowledge of rainforest restoration and commitment to the project is a great inspiration to anyone that visits the site.
Over the past four years SOS and OIC have planted 398,692 trees over 196 hectares of National Park in the Besitang region. The growth rates of the trees throughout the project site are astounding. Some are now over four metres tall. The onsite nursery was also impressive with a wide diversity of plants ready to be planted out.
A highlight of my trip was when we were trekking in the nearby rainforest taking in the sounds and wildlife. We discovered some fresh orangutan nests and Ari noticed some orangutan poo on the ground so we collected it and took it back to the nursery. This was a great discovery as from these seeds the Restoration Team can discover what species of fruit and tree the orangutan has been feeding on.
Having seen the project site for myself I now know that the orangutan has a fighting chance to survive in the Gunung Leuser National Park. With continued support and awareness, we can help fight the deforestation of Indonesia's rainforests."
Chris Jarrett
SOS would also like to share some highlights from the last year of the project:
Highlights this year:
A third new tree nursery was built in a new area of the Besitang restoration site, capable of cultivating up to 15,000 seedlings.
A total of 70,200 seedlings were cultivated and planted across all three nurseries. We plan to have produced 85,000 seedlings by the end of 2012.
This formerly degraded land is coming to resemble a young forest, with some trees now over 4 metres tall. We recorded an 85% survival rate of trees planted – an all-time high for the site.
90 local people have received training in tree nursery management and replanting, 60 of whom have been employed to help with seedling selection, planting and maintenance.
We have observed a number of species of wildlife returning to the area - including wild Sumatran orangutans and Sumatran elephants, which play vital roles in assisting growth and regeneration.
The restoration team has been carefully monitoring tree growth and working to ensure new seedlings can thrive. New equipment to measure rainfall, temperature and humidity was installed in February, helping generate a more complete profile of the site and assisting with the planning of future planting sessions.
Our staff have been visiting other restoration sites and exchanging knowledge with experts affiliated with Rainforest Rescue in Australia, a restoration conference and workshop held in Bogor, Indonesia, and with the Forest Restoration Research Unit in Chiang Mai, Thailand.
Six rainforest restoration camps were attended by local university students and school children.
The last illegally planted oil palms have now been removed from the Besitang restoration site, with the final 4,800 felled in December.
We are also pleased to announce that agricultural encroachment into the Sei Betung region of the GLNP, where our Besitang restoration site is based, has ceased completely – a major achievement, which we hope can be replicated in other areas of the park which are still under threat.
We aim to match (if not exceed) original levels of species diversity, ecosystem structure and ecosystem function, whilst planting and encouraging natural regeneration of tree species that are indigenous to the Leuser forests. Building the capacity of the local community to become stewards of the replanting programme and guardians of the forest is a central element of this work. Despite some minor setbacks, including drought and floods damaging planted trees, the project is going from strength to strength.
We are optimistic about the future of this area of critical habitat, and are looking forward to the day when every last hectare that has been lost is well on the way to being rainforest once again.
As always, we wish to thank everyone who has supported this work. We're really proud of the impact we're having, but of course there's a lot more land that needs to be reforested, so please keep supporting and sharing!