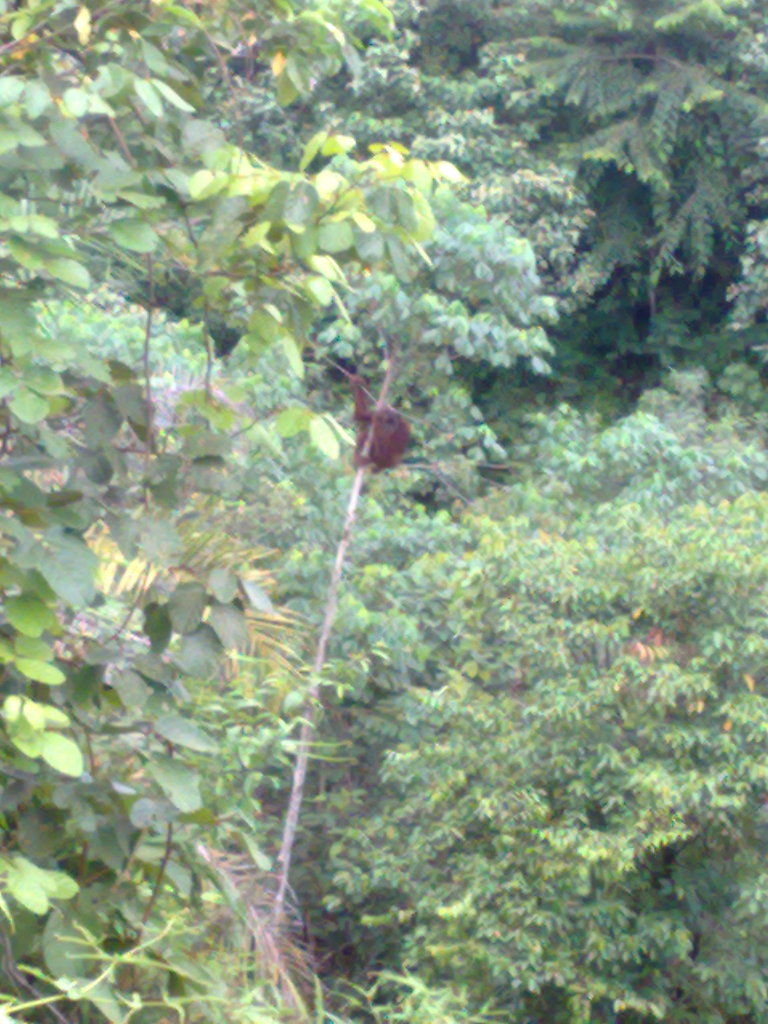 Can you spot the orangutan in this photo? It's a little hard to see, but it's a fantastic sign that our forest restoration work is having a positive impact. The photo was taken at our forest restoration site in Besitang.
Our team in the field had reported seeing orangutan nests in the trees around the replanting site, and they have now spotted an orangutan in the site itself. This is wonderful news, as orangutans are often referred to as 'gardeners of the forest' thanks to the role they play is seed dispersal and forest regeneration. When an orangutan eats fruit (which is what they love best) they then disperse the seeds in their dung, which also acts as a handy little packet of fertiliser!
Sumatran orangutans are critically endangered, and Sumatra has lost almost half of its forest cover in the last 25 years – a staggering array of biodiversity disappearing with it. Although humans have caused this destruction, our connection to, and dependence on, forests means that Homo sapiens has to be part of any solution to put it right.
At the forest restoration site at Besitang, hundreds of hectares of protected forests had been replaced by illegal oil palm plantations. As well as decimating a crucial area of orangutan habitat, replacing diverse forest with rows and rows of oil palms led to severe water shortages for miles around. One local farmer, Sucarman, told us: "The forest has been cleared in every direction. We are coming to understand the consequences of forest destruction. We must respect and preserve nature. We want to recreate the lost habitat."
Together with our team, a group of farmers calling themselves "Protectors of Leuser" have so far removed more than 6,000 oil palms, and planted more than 300,000 indigenous tree seedlings, restoring 200 hectares of land. We're seeing some exciting results – some trees are now more than 4 metres tall, and as well as an orangutan being spotted in the trees, camera traps have captured some fantastic images of other species returning to the restoration site, including Sumatran elephants, pig tailed and long-tailed macaques, leopard cat, wild boar and porcupine.
Of course, as well as there being a lot more lost habitat that needs to be restored, the remaining forest also needs to be better protected. We need to spread the word quickly, and engage as many people as possible in grassroots conservation action to keep the forests standing. Through our community projects, we have seen the local people become conservation ambassadors, sharing the values, messages and methods of our work with their neighbours.
Local support is an absolutely vital aspect of any conservation effort. Our vision is to equip communities with the tools and motivation needed for species and habitat protection, empowering the people of Sumatra to become guardians of their forests.
Help us plant even more trees, or visit www.orangutans-sos.org/help for more ways to get involved. Thank you.
Links: