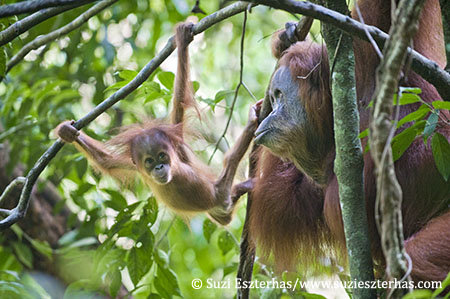 If you've chosen to give a donation to support our work, we know that you already believe in the importance of restoring forests to ensure a future for Sumatran orangutans in the wild. However, we also know that our values as a non-profit matter to our supporters, so we want to tell you a bit more about what they are and how they influence our Replanting Rainforest project.
The threats facing orangutans and their habitat are real, but we know there is hope. We are optimistic about the future for orangutans and their forests because we have seen what can be achieved through dedicated conservation efforts. This means that we see every tree planted at our restoration sites as a step forward and a sign of hope. We are so proud that our project teams have now planted almost 2 million trees in Sumatra, but that doesn't mean tree number 2,000,001 won't also make us really happy and hopeful.
Conservation is complicated and there are many obstacles to overcome in planning and implementing projects that really work. When an obstacle arises, we find a way around it, calling on our skills and contacts to help us find a way to achieve our goals. That's why our funding goes to experts in rainforest restoration, who use science-backed methods to achieve amazing results. We also support them when they want to spend time researching new methods - we want to be sure that we are always addressing conservation issues in the most effective way.
Everything we do is done with respect for orangutans, their habitat and the people living near it. We do not harm them with the projects we support or with our communications about our projects. We also have the utmost respect for YOU, our donors and supporters, and we hope that always comes across in the emails we write to you.
Orangutans are unique, precious and irreplaceable. We feel they are something to be cherished, and our work – protecting their rainforest homes and helping them to thrive – reflects that. We know that you feel the same, and we are incredibly grateful to have you on our team.