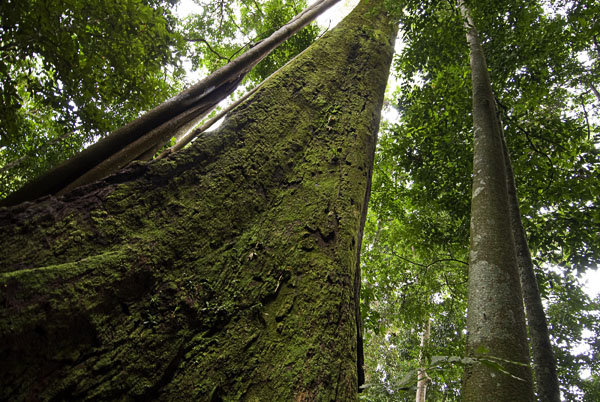 With 2011 designated the International Year of Forests, the spotlight is on rainforest conservation. Here's how SOS is working to save precious orangutan habitat.
Imagine your home being flattened in a matter of minutes; for orangutans, this is a very real threat. In fact, deforestation is the biggest threat that they face. In the last 25 years, Sumatra has lost a staggering 48% of its forests, largely due to logging and ever-spreading oil palm plantations. This has devastating consequences for wildlife - not just critically endangered Sumatran orangutans but many other species too, including the Sumatran tiger, rhino and elephant. Not to mention all the birds, insects, reptiles and plants.
Of course deforestation is bad news in terms of tackling climate change too. Combined with forest fires and peat land degradation, it has placed Indonesia among the world's top three greenhouse gas emitters. Lose forests and, as well as carbon storage, we wave goodbye to other natural 'services' they provide; things like fresh water, food and flood prevention. This is why rainforest restoration is so crucial. Together with the Orangutan Information Centre (OIC), our partners in Sumatra, SOS has been restoring orangutan habitat since 2005. Thanks to the help of our supporters, we have already planted more than 570,000 trees, including thousands within the Gunung Leuser
National Park (GLNP), restoring areas of forest damaged by illegal oil palm plantations. Since 2007, we've removed approximately 6,000 oil palms from the national park too.
Wherever we are restoring forest, local people have been involved from day one. As well as distributing seedlings, we help establish organic forestry centres and also provide training so communities can grow their own tree seedlings for future replanting. So far, we have established 11 tree nursery centres in villages throughout Aceh and North Sumatra, producing seedlings for six replanting sites. In our Besitang site alone, an area of once lush lowland forest has been replanted with more than 300,000 trees. We have also been spreading the word about tree nursery management and composting, reaching more than 5,000 people through a combination of training sessions and school visits.
We're seeing some really exciting results; our team has already reported evidence of wildlife returning to restored forest areas - not just orangutans but also siamangs, gibbons and many endangered and critically endangered bird species. Camera traps installed at Besitang have captured some fantastic images, with species snapped including the pig-tailed macaque, leopard cat, wild boar and porcupine.
"Sightings like these show that what we're doing really is making a difference," says Dave Dellatore, Scientific Director of SOS.
In March, SOS teamed up with a coalition of conservation organisations to launch the Clear Labels, Not Forests campaign, calling for mandatory labeling of palm oil on food packaging in Europe. We have already convinced the
European Parliament's Environment Committee to vote yes. We now need to convince the European Council.
Palm oil is found in up to half of packaged food products but is typically listed as 'vegetable oil'. Unsustainable palm oil production has disastrous consequences for critically endangered species, including the orangutan, Asian elephant, rhino and tiger.
Clear Labels, Not Forests was launched to increase demand for certified sustainable palm oil from European food retailers and manufacturers. Convincing the Environment Committee was a major step forward. We would like to thank all those who took part – more than 1,400 people wrote to their MEPs and MPs to ask them to back the labeling of palm oil. This is a fantastic result, but we need to keep up the pressure - the next step of the campaign, calling on the European Council to back this move, is absolutely crucial.

To find out how to get involved please visit our website: www.orangutans-sos.org
Links: