One beneficiary of FICH, Heddy (18yrs) was born in Otuke district, Northern Uganda where civil war between Government of Uganda and Lord Resistance Army (LRA) lasted for over two decades between 1986 & 2007. Heddy was not abducted but born in the camp where the father was killed by the rebels. She stopped in primary seven in 2011 after her guardian could not afford to pay her in secondary school and now she is the highest educated person in their family.
At the age of 9, Heddy was given little opportunities by her community and some close relatives due to many responsibilities and shortage of food during the camp moment in 2004. She currently lives with her uncle in Oyam district, Northern Uganda.
In 2015, Heddy was identified through a community sourcing of second chance education for marginalized girls affected by conflicts living in hard to reach areas of Oyam by "Foundation for Inclusive Community Help (FICH)" as those in dire need for supports.
As a result of psychosocial/counseling support provided to her, she willingly chose to go for a vocational training to make and repair shoes. When asked, why she chose making and repairing shoes which is traditionally the community puts that (making, sewing/repairing shoes) to be job/work done by the village old men or people living with disabilities, Heddy confidently replied, "I want to make a difference in my society and create jobs for other young girls with similar background and also bridge the gap of gender inequality in the business/job market" she also recalls that "I couldn't believe that I had gotten another opportunity to return to school and be trained with vocational skills, I particularly feared the shame of learning vocational skills while my fellow girls are going to secondary schools. I even thought of giving up this opportunity, at one point, I also thought of getting married but I knew this would hurt me like other young women experiencing gender based violence. I accepted guidance/support offered by FICH that led me to be equipped with vocational skills and will make a difference in my life and community".
FICH sent Heddy to a vocational training centre in Lira town where she was attending the shoe making and repair training every Mondays to Saturdays for a period of nine (9) months. Sundays were her day offs to do laundry work and go to the church.
Interaction with her trainers and fellow classmates have encouraged her to accept who she is, forget her past and admit her status, background and re-focus herself to achieve life skills.
Her participation in psychosocial support and mentoring program that FICH provides to its beneficiaries, involvement in Village Saving and Loan Scheme and entrepreneurship training changed her attitude positively towards personal and community development. She can now rejoice and participate actively in domestic work with her Guardian.
Since going through shoes making and repair skills training, Heddy has become happier and her dreams have expanded. She wants to become a great entrepreneur and job creator. Her vocational skills training is making her to earn respect from her family and community.She proudly describes, "Our family and some members of the community always call me to talk to/advise other girls because of the discipline I have shown, they tell me all their hope now lies in me and this gives me a reason to concentrate and make a change and even double my effort." Heddy is just one of many beneficiaries whose story reveals the continued need for FICH support to most conflict affected vulnerable girls in Uganda and beyond.
After being supported by tools, equipment and material as a start-up, Heddy is now making her money and started another business of poultry as a result of her shoe making business.
We are proud of your support which is creating a huge change in girls affected by conflicts in Africa continent through FICH. Bless YOU!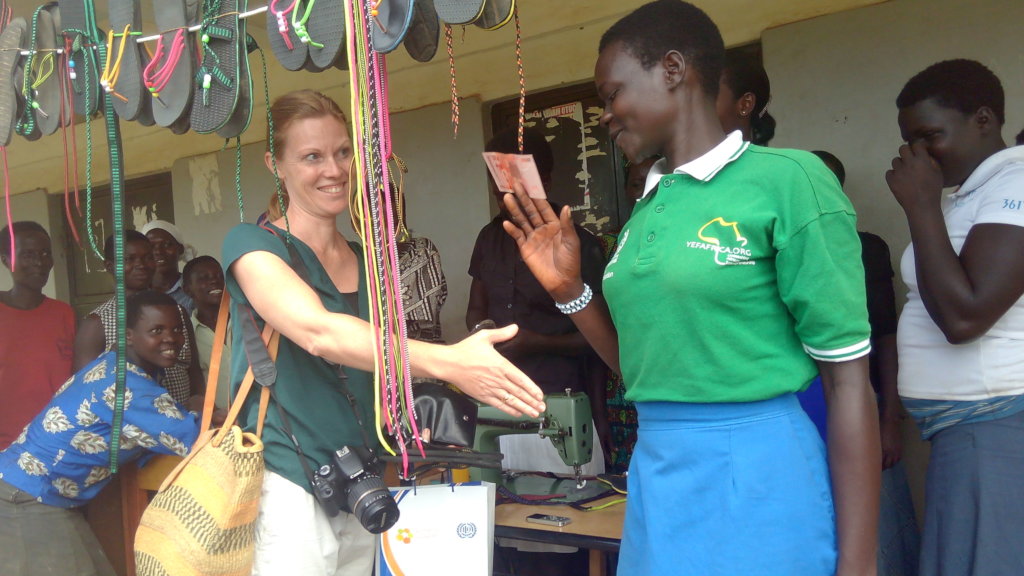 Links: