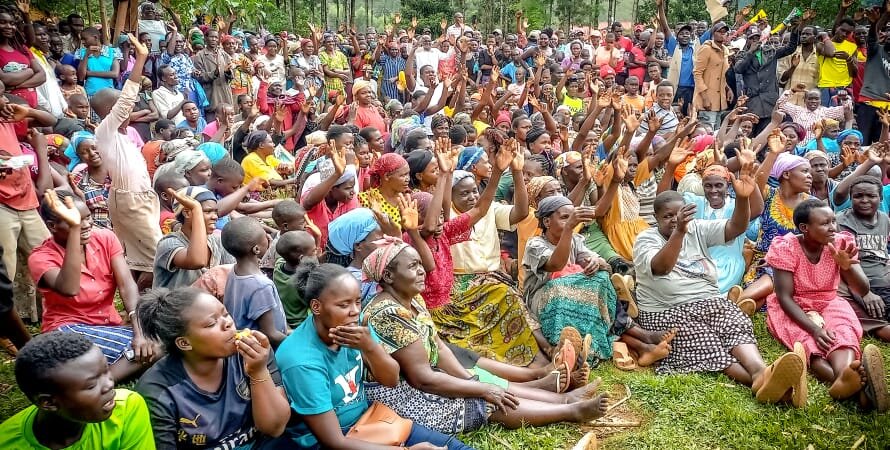 Request: We at Transforming Communities for Social Change would appreciate contributions to support our peace-making efforts before the August 9th 2022 Kenyan election.
Before the August 9th 2022 Kenyan election political leader have asked voters to accept bribes from the various candidates, but then vote for the best person. The law in Kenya states that, while it is illegal for a candidate to give a bribe, it is not clear if it is illegal for the voter to receive the bribe as long as it does not influence his or her vote!
Black's Law Dictionary, 2nd edition, written by Henry, defines voter bribery 'as an offence committed by one who gives or promises or offers money or any valuable inducement to an elector in order to corruptly induce the latter to vote in a particular way or to abstain from voting or as a reward to the voter for having voted in a particular way or abstained from voting
Bribing of voters is currently rampant everyone does it and so it sounds normal considering that many electorate believe that it's their time to eat.
In a close election, the winner might be just that person who bribed a little more than his/her opponent. Another concern is the inverse: Voters will not vote for a person who has not given them a bribe. Therefore it is impossible for a "clean" reform candidate to win. Psychologically when candidates have given voters bribes, they feel that they no longer "owe" the voters anything because they have already paid them. This then leads to corruption as the candidates feels that he has to reimburse himself of the expenses he/she put into the campaign. Bribing is everywhere. With current economic situation sugar.
In this elections we have six positions, Since the smallest note is 50 shillings (50 US cents) and one cannot bribe with coins, this is the smallest possible bribe depending on with electoral position one is looking for; in this case the sixth position is for a presidential candidate who would us around 1000shillings (US $10)
During the day of the 2022 primary elections one of our citizen reporters from Mt. Elgon commented that there was no working in farms that day because everyone was lined up on the road to receive bribes from the various candidates. Polling stations have large numbers of people standing around outside waiting for their payoff. Clearly it is to the benefit of those who have received the bribe to not acknowledge that they have received it and certainly they would never claim that it influenced their vote.
Nonetheless the practice has negative consequences. The high turnout for both the primary and general elections could be due to the fact that the voters are expecting to receive a considerable number of bribes so that Election Day is a "profitable day's work." Every losing candidate claims, quite correctly, that he/she lost because the winner bribed the voters.
In the recently completed primary for this election, a losing candidate who had spent a considerable amount of money on bribes in a community that ended up not voting for him, when he noticed defeat he hired some thugs to destroy nomination paper and election materials.
More serious was the case in Bungoma County in the 2012 election where a losing candidate hired thugs who killed eleven people and wounded over 100 more in three villages where he had spent considerable sums on bribes but did not receive many votes. The villagers were irate, cornered and tortured one young man who they believed (probably incorrectly since outsiders are usually the ones brought in to create violence since they don't know the victims) was one of the thugs. Under torture he gave the names of nine other youth and the community lynched all ten people. Transforming Communities for Social Change, would like to conduct voter education sessions on Leadership and integrity, reporting malpractices in election process, eradicating corruption and bribery during this electioneer period.