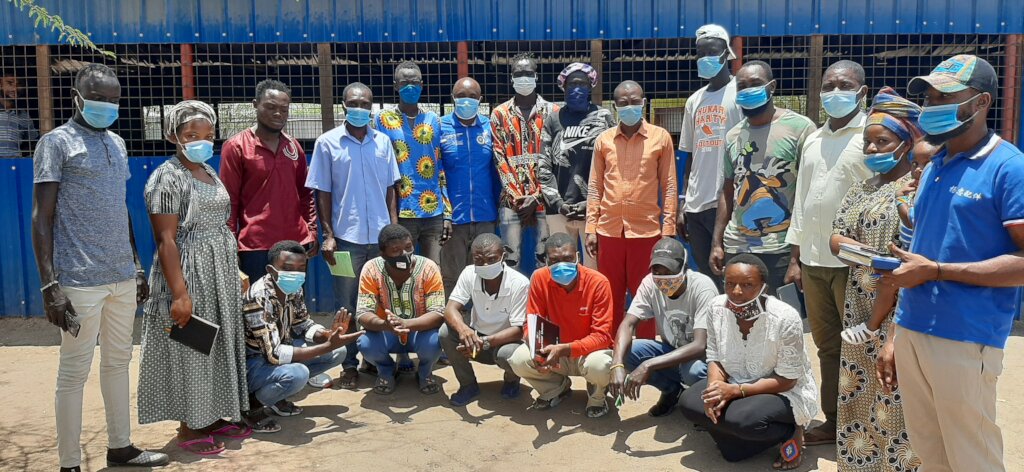 The post coronavirus disease 2019 (COVID-19) has profoundly affecting life around the Refugee camp. Isolation, contact restrictions and economic shutdown impose a complete change to the psychosocial environment in the camp. These measures have the potential to threaten the peace work we have done in the refugee camp. Even though the current crisis can bring with it opportunities for resilience, disadvantages may outweigh these benefits. Anxiety, lack of contact due to lockdowns and reduced opportunities to interact are main concerns. Another main threat is an increased risk for complete shutdown on condition of healing that help in people recover from trauma, domestic violence and re-experiencing trauma.
Like crossing the river, we help participants work together towards a common goal of healing from trauma. In a six day training in the refugee camp we manage to train 48 refugee from South Sudan from Nuer and Dinka who for many years have been two rival pastoralist groups back at home, Congolese and Burundians in two different Healing and Rebuilding our Community(HROC) basic trainings.
By the end of three days participants identify their source of strength and the wisdom they have gained through difficult life experience during Covid-19 pandemic through which they see themselves and one another as resilient human being using available resources of strength that can help them cope with any situation.
"The world almost came to an end when Covid-19 was reported to us, we knew we will died in this foreign country after running from war in our mother country South Sudan, we thank the healing companions from HROC who visited us and accompanied us during the difficult times of Covid-19 pandemic and also recommended us for this training. Today I find inner strength to share my loss and decide to go on with the help of others in the camp"
"It is in this training that I have been given time to express my feelings, the facilitator gave me a tissue when I was overwhelmed by emotions, I felt I was not alone, I feel i have removed a heavy burden on my head"
While the above testimonies many not be easy for everyone, for some the trauma is buried so deep and is so horrifying that it is almost impossible to put words to it, there seems to be an almost universal truth that human beings need to find means for expressing, remembering and releasing horrible experience in order to heal.
The training helped the wounded people develop that inner power and begin to truly listen to others including perpetrators, at the end of the training they discover that though it is difficult, there is the potential for further and deeper healing as a results thus healing communities are created.