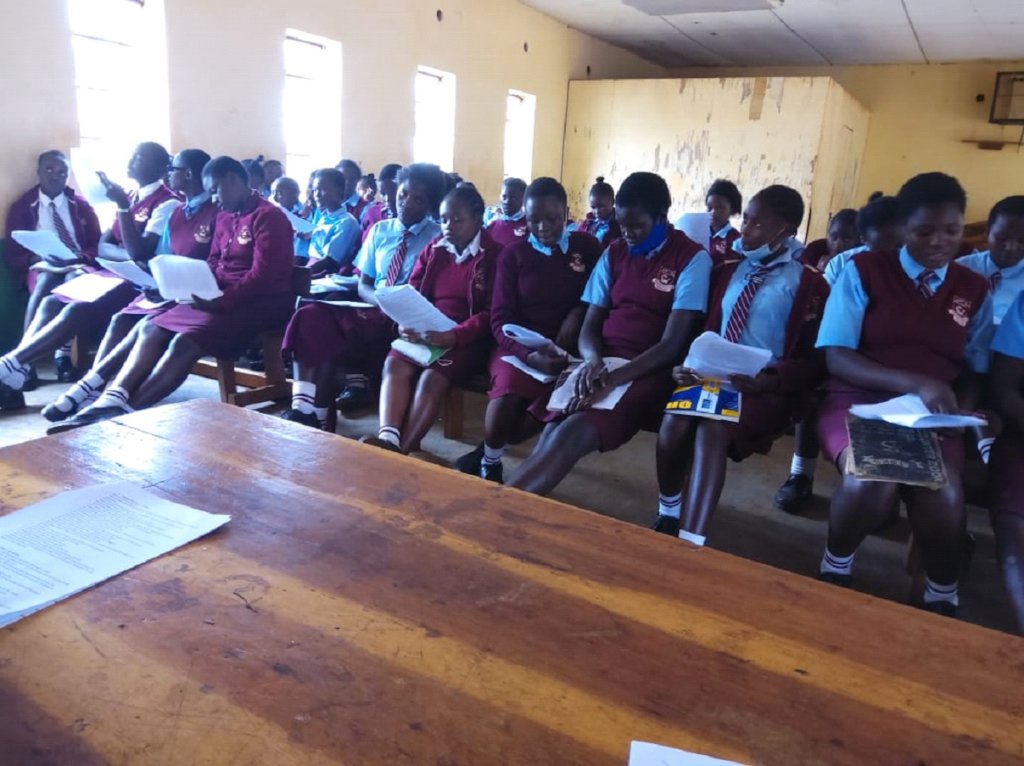 As we struggle with post Coronavirus pandemic period, we have started accounting for the consequences of the nine months' schools closed in Kenya which has left a lot of students of in both Quakers and non-Quakers schools going on rampages.

In Chesamisi boys secondary school students went on rampage accusing the deputy principal for changing their entertainment from night to day time. Students were asked to be watching TV during evening hours and then go for preps at night which angered the young boys. The boys also accused the teachers of watching English premier league matches using their TV and decoder. Students smashed teacher's cars, destroyed window panes in both classrooms and offices, broke into the school canteen before heading to the neighbouring Chesamisi school, where they damaged property. They were repulsed by police.

St Luke's Kimilili boy's high schools has been closed indefinitely after students went on strike destroying school property. The students went on the rampage, accusing the head boy of punishing one of the student who was found in possession of bhang/marijuana. The boys smashed window panes of laboratories and the office of the deputy principal at night.

In Friends School Lugulu Girls a student was defiled one morning in a school bathroom as she was taking a shower before morning preps. They said the victim woke up as usual to go take a shower when an unidentified man pounced on her, covered her mouth using his hand to stop her from calling for help and defiled her and fled.The students said they were unhappy that the school had not taken any action which forced them to hold demonstrations to protest against alleged defilement of a student.

In a neighbouring Kisii county a student allegedly attacked two teachers using a kitchen knife. He allegedly tried to kill two teachers at the school's staffroom by stabbing them using a kitchen knife. He attacked the teacher for punishing him for arriving in class late and when a co teacher was attempting to rescue his colleague, he sustained four deep cuts in the head and was admitted to a nearby hospital.

A form two student at Mokwerero Secondary School in Nyamira county was arrested for threatening to slash the deputy principal. The student was armed with a machete and a sharpening file.

Students will always experience different challenges in schools, and will need specific interventions to address their grievances, Help Increase the Peace Program (HIPP) was created by American Friends Service Committee (AFSC). The training is based on the belief in the worth of every person, and faith in the power of love to overcome violence and injustice. HIPP, which evolved from AFSC's successful, adult-focused Alternatives to Violence Program (AVP), teaches non-violent ways to prevent and resolve conflicts and is used in schools across the world to help students learn peace-making skills.

Transforming Communities for Social Change has done 8 HIPP basic trainings in 6 secondary schools reaching out to 224 students and 10 teachers in Ivugwi high school, St. Teresa secondary school, Tande secondary school, Chelebei secondary school, Mugunga secondary school, and St. Augustine secondary school.

Lessons learned

Understanding the purposes of the Help Increase the Peace Program (HIPP) which gives students a platform to participate in finding amicable solutions on issues of violence especially in school.

Learning and use of I-messages in promoting effective communication among students, which help students who are either disagreeing with each other, or negotiating with each other, to express their own positions on matters in a candid, assertive and non-threatening manner.

Active Listening skills maximizes the chances of truly hearing what others are saying; including their deeper meanings. Often times students will not initially reveal what is troubling them; either because they may not yet know themselves and they may just need to talk it out, or because they do not want to share their deeper concerns until they sense that they are in a trusting environment which don't threaten confidentiality.

Help in conflict transformation strategies for preventing bullying, sexual violence and sodomy within and outside of classrooms and fostering cooperation and trust within classrooms.

Demonstrate Win/Win Negotiation process used in combination to resolve or transform conflict especially on matters of entertainment and diet in schools.

Work on conflict resolution strategies for preventing gender violence in relationships within and outside of classrooms.
Testimonies

"I had issues with my self-esteem. When I joined form one I had big body and some students used to mock and make funny of me, I grew up hating myself which affected my performance. I am impressed by the new adjective name, no more self-hate".

"HIPP lifts brought new energy, fun and laughter in the class. It makes us forget about our problems back at home."

"Am impressed by our head teacher for accepting us to have a peace corner in our school. This will enable us to have a place of meditation and reflection on matters of peace"