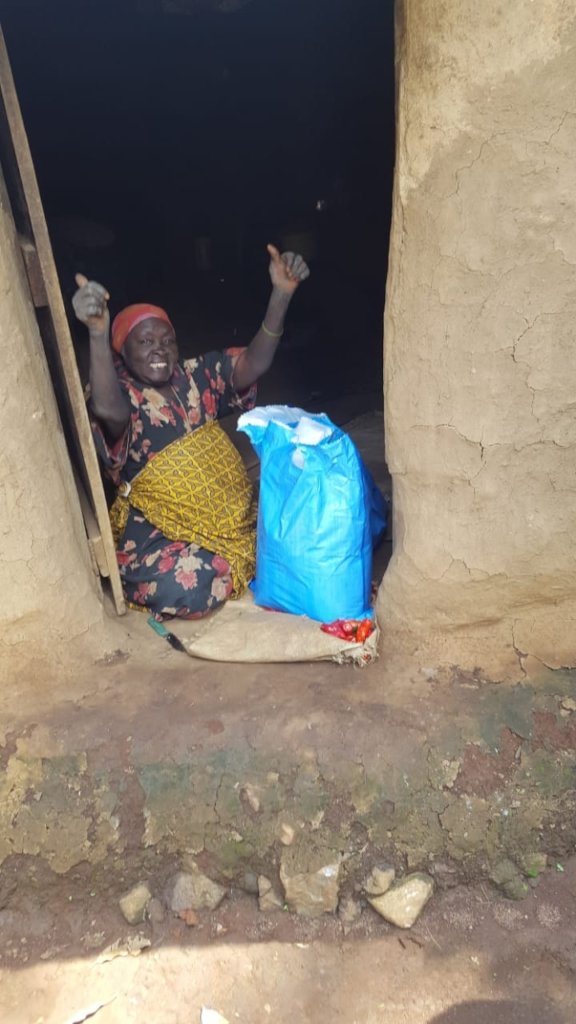 When the government announced the first case of Corona virus in the country, we all went into panic and anxiety, everything started to shut down slowly. The government directive and measures forced us to close all our programs considering the fact that in most of our peace program we would bring more than twenty participants in training. As an organization we had less experience on strategies to cope with the crisis. Through consultative meetings with other stakeholders and our partners through Zoom and Skype calls, we started our intervention.
We started educating and encouraging communities around us to adhere to Government measures of washing hands with water and soap/using sanitizers, keeping social distance, wearing masks and staying at home. It was not easy to learn this new normal. Everyday we had new infections, new deaths from COVI19 virus and other related illness. All this measures came with a price tag on it; Most of communities in Mt. Elgon could not access clean sufficient water leave alone affording soap. The cost of masks was equivalent to a meal that would feed a household, staying at home for low income earners who live below the poverty line would not only die from Covid19 but hunger due to lack of food.
AGLI coordinator David Bucura in a consultative Skype meeting with country coordinators of partner organizations in Kenya, Rwanda and Burundi, agreed in the meeting that there was a need for food support that include dry cereals of maize, beans, rice, green grams, maize flour. In addition we had cooking oil and soap to the vulnerable members of community this included households of people living with disability, elderly and those who in poverty. The coordinator shared the same with AGLI working group and funding was released to buy food. Initially we had targeted 25 households of about 8 family members each that could give us around 200 beneficiaries both Quakers and non-Quaker., We managed to reached 300 families in 36 households, On 4th of July we had reached hundreds of vulnerable groups such as unemployed youth, the elderly, women and children from low-income households and people living with disability, who were at higher risk of food scarcity and malnutrition.
Distributing food supply is one of the most challenging activities. Despite the organization having Identified the most vulnerable beneficiary, other community members who could afford also wanted a share of the supply. During distribution we met other challenges of girls in need of sanitary pads, psychosocial support and guiding and counseling.
The COVID-19 pandemic has negatively affected the ongoing and planned peace processes and trainings. It is becoming increasingly difficult to facilitate intra and interethnic dialogues. We cannot travel to conflict affected areas to conduct dialogue with parties in dispute. As result there are increased cases of intra and inter-ethnic conflicts in traditional conflict prone areas.
Another challenge being posed by the COVID-19 pandemic is stigma and stereotyping against infected and affected people as well as social animosity based on mis-conception on the virus.
Due to the prolonged home stays by people who would otherwise be away from home, there is the risk of increased family feuds such as gender-based violence including sexual violence, divorce and separation among couples, high levels of stress and emotional instability, among others, especially in poor households.
Following the pandemic there has been increase in anxiety, stress, panic attacks and mental illness. These should be major healthcare concerns during and after Covid-19 era.
Moving forward, we have great opportunity to start addressing trauma related issues now that churches have been opened, the government can allow 100 people in church congregation.
Address the issue of early pregnancy in Mt. Elgon; create avenues to get funding for sanitary towel.
Organize stakeholder meeting with local administration and the teenagers to take about challenges putting in mind schools will not open until next year, 2021,
Due to economic instability in the country, loss of jobs by pandemic, culture shock and trauma around mourning and police brutality during enforcement of curfew laws, there is a high rate of mental disorder that has caused lack of peace among communities which has led to depressions.
"We have never met God, when we meet like this and talk, God is present, am very grateful, I never knew I will get food to eat, when we go to bed you don't know Gods plan in the morning. Thank you very much; I am happy my family will have something to eat."
"Since the government announced the pandemic, we were left on our own. At my age cannot work anymore, I solemnly depend on neighbors and well-wishers, already my neighbors are struggling just like me, today I had decided to cook this wild red pepper vegetables as my meal, Gods works in mysteries ways, am grateful to your organization for reaching to elderly widow like me, God bless you."