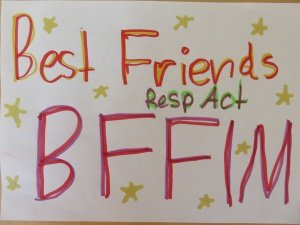 The months of May and June were both an exciting time for the RespAct team and comprised promosing steps for future project development. In order to reach more and more children and adolescents with our initiative, we hosted and co-hosted several events, visited schools and carried out project weeks for kids in Berlin and other German cities.
In May we had the pleasure to celebrate 111 years Karl-Weise-Schule in Berlin, a school where we conduct RespAct for more than a year and which will also be a big part of our upcoming Summer Camp – an urban learning and holiday adventure which will take place in July. Stay tuned for more...

During the celebration, the children got creative at the painting and drawing station and designed a few masterpieces some of which we will share with you in the section below.
This month, we were on the road again with RespAct and presented our project and sports program to new schools and were able to inspire more children at the Rollbergkiez festival in Berlin-Neukölln as well. The kids enjoyed learning about boxing basics and participated in several pedagogical games.
And last but not least, RespAct was part of the Olympic week in Berlin-Pankow where primary school students enjoyed a thrilling closure festival with lots of sports and fun, burning off energy with rope skipping and cooperative games and celebrating the values and strengths of diversification and creativeness.
Thanks so much to all of you who have supported RespAct in the past and to all those who will go the path further with us!
Kind regards,
Oliver Böck