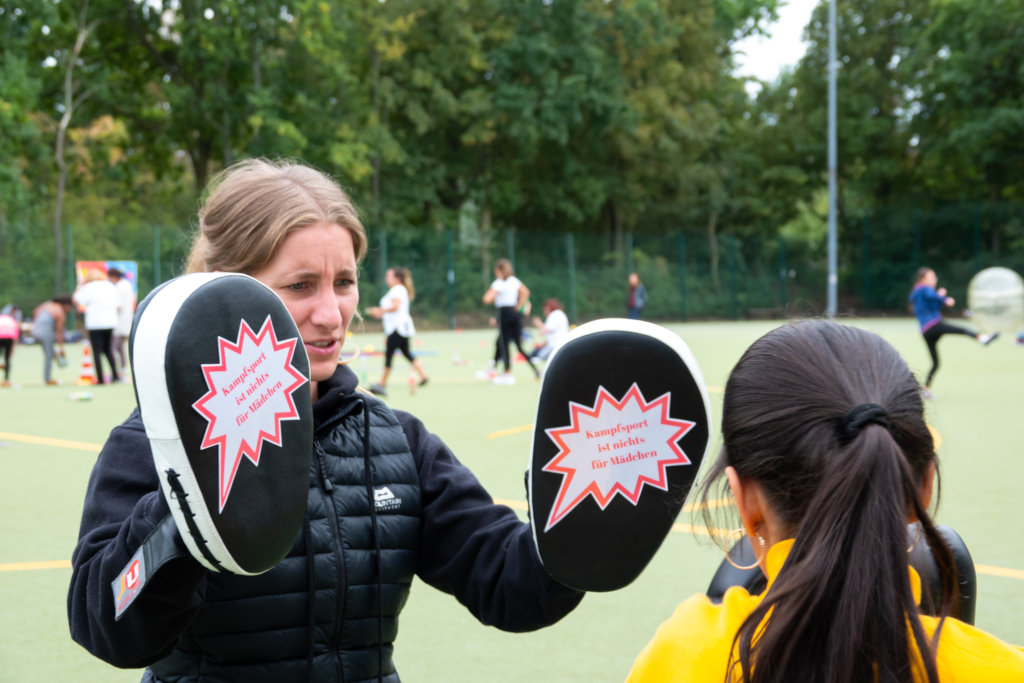 In the last months we had three great events that addressed gender equality in sports and multiplier training.
Urban Adventures – Year 3
Boys are strong? Girls are flexible? Wait a minute! Let's be atypical! Following this motto, we held a workshop for sports teachers about equality in sport education at the competitive sport centre Kienbaum. During the workshop, stereotypes about girls and boys were questioned and possibilities of integrative sport programmes were discussed. The workshop took place during a three-days training for 200 sports teachers organised by the Initiative Moderner Schulsport.
We had a lot of fun, learned a lot and are looking forward to next year!
CamP Group at LEYLA RENNT
LEYLA RENNT combines fun, exercises and sport! On September 7th the vent LEYLA RENNT, the annual sports festival for girls organised by Seitenwechsel e.V., took place and we were part of it with (sport) games about women in sports. We hosted a quiz that taught about female pioneers in equal rights in sport and an interactive parkour through which the girls could playfully question the prejudices about boys and girls in sport.
A visit in Hamburg at Markt der Möglichkeiten
On September 17th, we were guests at Teach First Germany and presented our concepts for project weeks at schools to the Teach First Fellows. Teach First sends university graduates from various fields of study as Fellows to focal point schools throughout Germany, where they support additional teachers and, with their diverse backgrounds, are particularly involved in transitions within the educational system.
The Teach First Markt der Möglichkeiten brought together a variety of educational initiatives who presented their work to the Fellows. After a short pitch to RespAct, which ended with a short movement unit, many visitors gathered at the RespAct booth. We presented our handbooks and reported on our work at schools and in the field of multiplier training.
RespActful greetings,
your Camp Group team