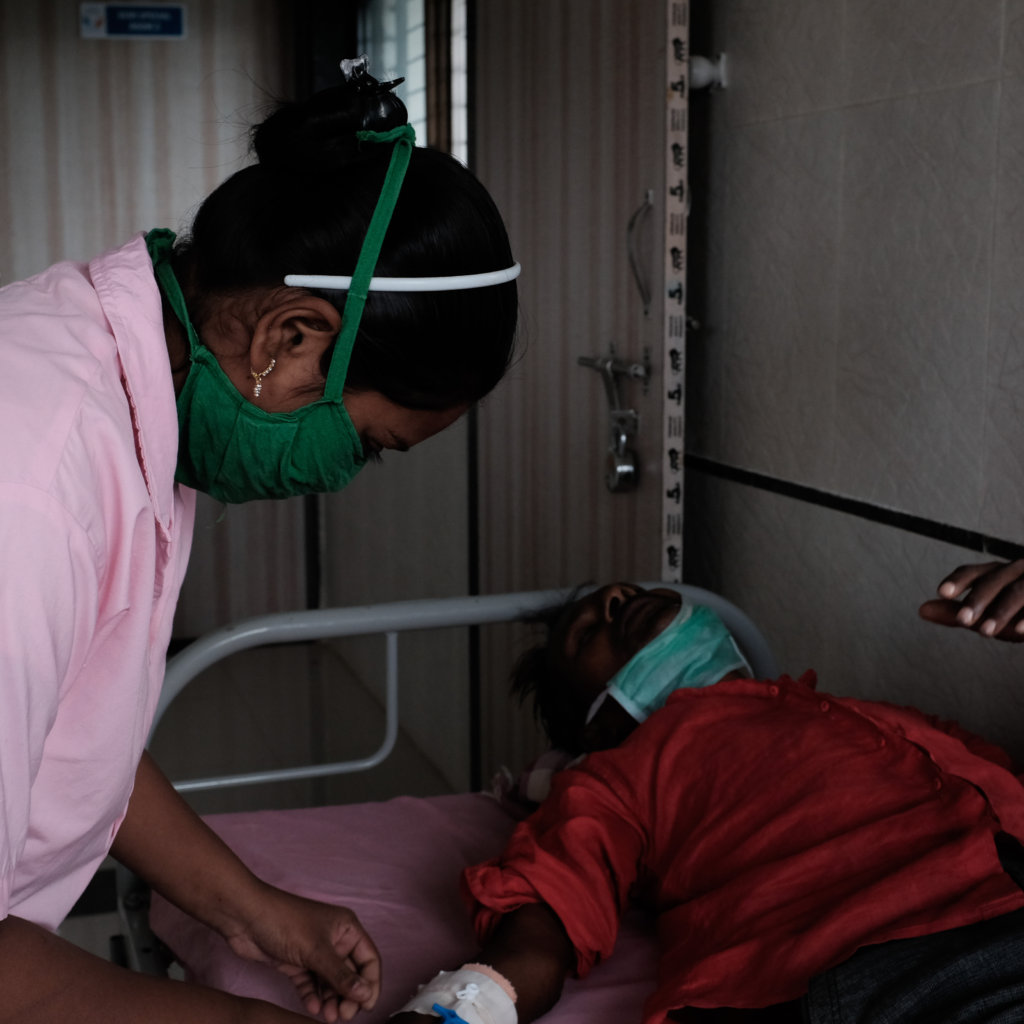 Thank you for your support of our shelter homes and projects for women and children. Our recent #HerVoice campaign highlighted some of the reasons why your support is so important in ending violence against women and children. You are enabling us to give the survivors of violence and discrimination new hope and futures to be proud of. Read on to hear one story of how we are helping our beneficiaries to overcome adversity.
There's an unmistakable spring in the step of a handful of our ladies recently, a notable difference in posture and an undoubted confidence as they happily make their way to work. Even to the passing visitor they stand out from the crowd, conspicuous in the way they are attired in their bright pink uniforms. Their placements started just a few weeks back but they have soon come to realise, as millions in the same industry worldwide, that no two days are ever the same.
This is the nursing and caring profession, and we don't call them angels without good reason. For these are the stalwarts and backbone of the medical profession. Working tirelessly and doing everything they can to make their patients' stay as comfortable as possible.
When we recently opoened our new 50-bed Caring Friends Hospital and Research Center it became apparent we would need to recruit more staff. What better place to look than our own doorstep? Our new bedside assistance training course was created to not only meet the needs of our larger hospital but also with the aim of providing job opportunities to our beneficiaries including those living at our shelter home and girls from the local community. It's an intensive three-month program that is both class-based and delivers practical training in our hospital. At the end of the course there is an exam and those that pass are awarded a government certificate so that they may start work in our new hospital or a placement which we find for them in other medical practices in Ahmednagar.
One of the students that went through this process is 19-year-old Rachna. Rachna has lived in Snehalaya for around four years and has already shown she is a bright and talented young lady excelling at many of the vocational courses we offer, including handicrafts and tailoring.
As a vocal champion for women's equality she took center stage with a troupe who were performing street plays for our #StudentsStandwithMalala campaign. Rachna's voice rose above the traffic and held everyone's attention as she delivered her speeches with breath-taking sincerity and imagination on busy streets across our district.
She is HIV+ and not afraid to tell you so, as she says: "Why should I stay quiet about this? It's part of me and who I am".
Since starting officially in her new role of bedside assistant she's been a star employee who works with dedication and contentiousness and has that all-important quality of having an easy-going, cheerful rapport with all her patients.
Meal times are busy in the Snehalaya canteen, as around 300 kids and staff sit to take their dinner. At times, you're hard pushed to hear yourself above the excited chatter as no end of kids want to convey to you their day's activities and the latest gossip. At one of the dining tables sits Rachna, for once not joining in the conversations of the girls around her. Her normally outgoing demeanour seems to be missing and has given way to a pensive and faraway look. When it becomes painfully clear that something is wrong, one of the girls questions why their friend looks so sad.
"One of my patients died last night", this statement causes those around her to fall silent and take in what she has said. "I was very fond of her, we were always joking and laughing together, this is why I'm feeling so sad." All is quiet for a while until one of the group announces: "I think you are a great nurse." The others nod in agreement. "If I were in hospital, I would want you to take care of me". This causes Rachna to blush and the faint trace of a smile can be seen.
All the same it's a situation that all those in the nursing profession must face - the sad fact of losing your first patient prompts a million questions to go through your head: "What else can I have done"?" "What if I had done this?", "What if I'd have done that?".
The older and more experienced nurses will tell you it gets easier with time, that you accept this as part of the job, But, no matter how long you've been doing the job, you can't help but build a bond with those who are in your charge, and it will always be painful if one of them dies. It's a brave step going into the nursing profession as you are never sure what situations you may have to face on a daily basis. For many, the six months' probation period will be the true test as to whether they really want to do the job.
Rachna says good night to her friends and makes her way to her dorm.
The next morning the group of friends walk through Snehalaya's grounds, some are going to catch the bus that will take them to their colleges or work experience programs. They pass a small group of boys who are doing their morning exercises. Rachna gives a playful slap on the back to a young lad who calls out that she looks like a 'pink flower' in her uniform. She makes her way up the hospital steps and to the ICU ward she is working in. She pauses briefly to stop and chat to the visitors who have assembled in the waiting room and then goes to her station where a colleague is packing up after completing her night shift. Rachna is given an update on the night's activities and agrees to meet up with her friend later.
She gives a big beaming smile to all of her patients and their relatives as she enters her ward and so begins the start of another day in our Caring Friends Hospital.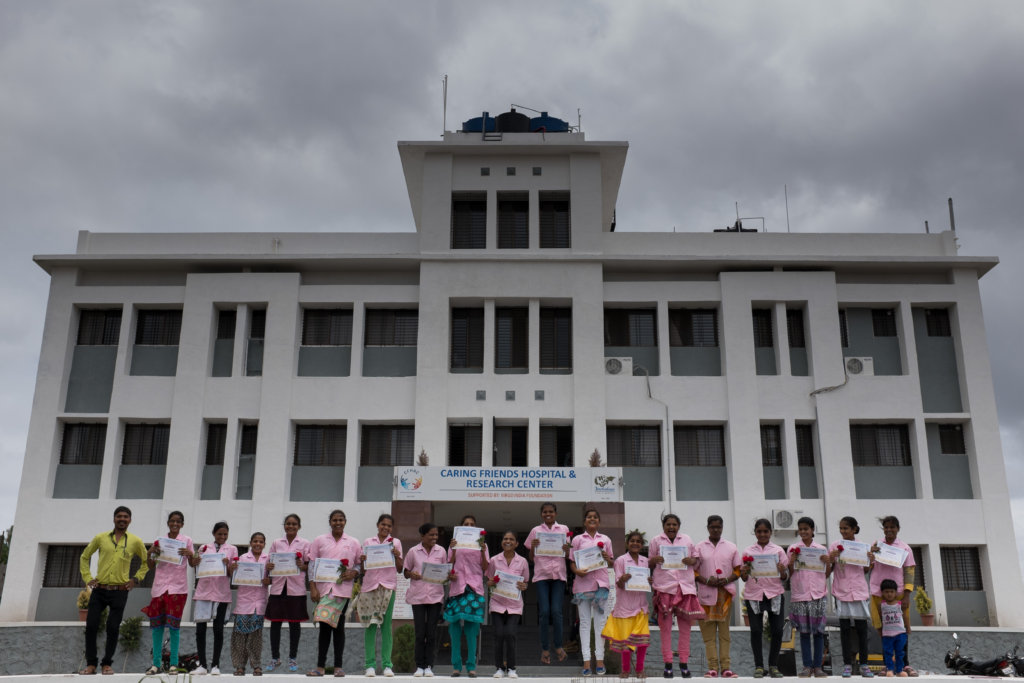 Links: