As the year draws to a close we would like to thank you for choosing to support Snehlaya and wish you a very merry Christmas and a happy new year. For many, this time of year is all about family and as a supporter of our work we would like you to know we consider you a member of our extended family, which includes those who have been orphaned, abandoned or rescued. Like any parent we want our children to have a safe, secure and happy life when they leave the family home and below you can read just a few examples of how, with your support, we do our best to ensure this. make sure you also watch the video below to hear our Christmas message to you.
Happy ever after
We've been a festive mood right from the outset of December as we celebrated our bride and groom interaction programme for people living with HIV/AIDS (PLHA) during World AIDS Week. We know that one of the biggest challenges of living with HIV is the attached stigma, particularly when looking for a suitable marriage partner, which is why we offer this unique match-making event. This year more than 300 people, including several of our own beneficiaries, registered for our programme with eight couples finding their perfect match, bringing the total number of marriages we have arranged in this way to 38.
Among our newlyweds is Sania who was orphaned as a young girl then left with distant relatives when her sisters married. Aged nine she started falling ill repeatedly and when tests showed that she was HIV positive her relatives forced her to leave their home and move to Snehalaya. Here she completed school and a fashion design course and turning 24 was keen to start the next chapter of her life so joined our marriage programme. There like everyone else she had the opportunity to share her hopes, interests and what she was looking for in a partner with the potential grooms. She caught the attention of a man who she was also interested in and after spending more time with him decided he was the one for her. His family and our womens' shelter team then made the necessary arrangements and within two weeks they were married in a special ceremony at our head office. Sania has now moved to start her new life with her husband and we are looking forward to seeing how she has settled in when we visit her for another wedding reception in a few weeks.
Family ties
Her departure was emotional as she said goodbye to the home and family she has known for so long but we will continue to keep in touch with her to ensure she is living happily ever after. She will also be invited back to our annual Snehamelava reunion held each November to welcome our past beneficiaries back on to campus. Organised by our women's shelter project immediately after Diwali celebrations, a very family-focused time of the year, we've been holding it since 2012. It's lovey to see and hear from our past students, including those who have married, moved for work or to continue their studies or returned to their own families, and find out how they are doing now they are adults.
This year, as always, our founder, trustees and staff were there to welcome them home and hear about their successes. It was also an opportunity for the visitors to meet up and share their memories with their Snehalaya siblings and to update the staff that offered the guidance and support on how they are now achieving their dreams and in some cases introduce them to their own children, all of whom are warmly welcomed into our extended family.
Among those returning this year was Maya who is our first beneficiary to follow in the footsteps of many of our staff to complete a Masters in Social Work. Her initial motivation was to work with us when she graduated but during her studies she realised she could offer more by first learning from other NGOs and social work organizations and she is now working for Sampark, a charity for women and children in Mumbai. Among those she caught up with at the reunion was her younger sister Meena who is currently completing her own studies with a degree in commerce with the hope of becoming an accountant. It was lovely to see them both and all of our other 'children'.
Thank you for all of your support in 2016, we wish you the best for 2017 and hope that you you have enjoyed hearing from your Snehalaya family.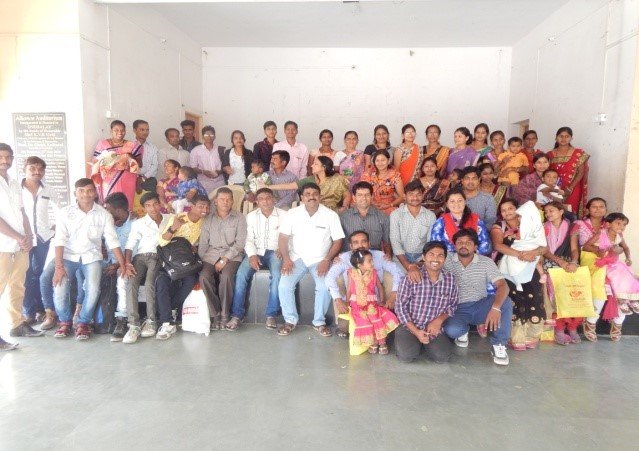 Links: