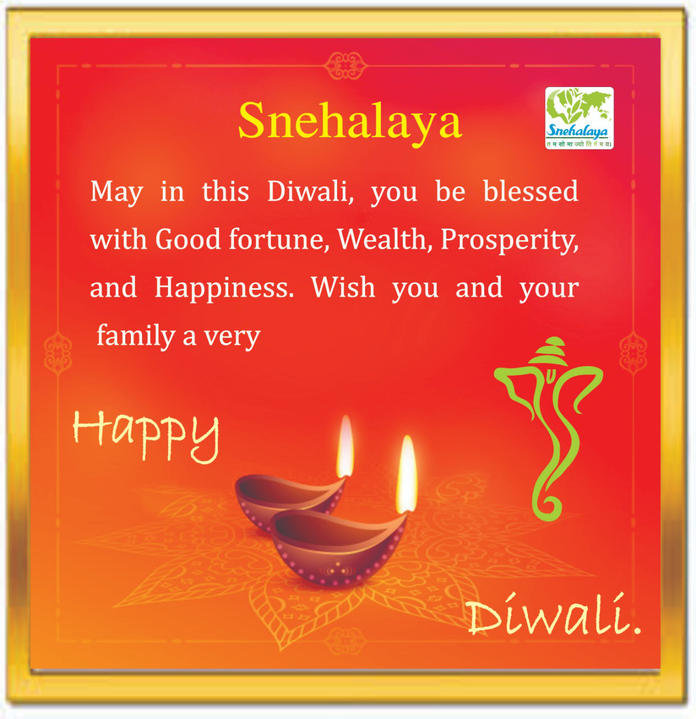 Wishing you and your loved ones a happy, healthy and joyful Diwali.
We are already feeling very festive here at Snehalaya as we mark the start of the Hindu festival of lights – the Sanskrit Dipavali means row of lamps. Symbolising the spiritual "victory of light over darkness, good over evil and knowledge over ignorance", the five day festival literally lights up India as temples, homes, shops and offices shine brightly with a rainbow of glittering lights, flickering candle flames and explosive fireworks displays.
Following tradition, our beneficiaries have been busy preparing by cleaning and decorating their rooms with rangoli decorations. In another, more local tradition they have also been building killas (forts) as part of a holiday competition sponsored by our local Lions club. Winners will be announced at the special annual Diwali celebration the club hosts for us next week.
It is also a time for family, the equivalent of Christmas, Eid or Hannukah, and in the coming few days we will be working hard to collect new clothes and sweet treats to enable them to enjoy a traditional celebration similar to those taking part in homes throughout the sub-continent. As well as lighting diyas (oil lamps or candles), offering puja (worship) to Lakshmi, the goddess of prosperity and wealth, setting off fireworks and enjoying our 'family' feasts, with mithai (sweets) and gifts, we also have a few special Snehalaya events planned.
We have already distributed new saris to our female sex workers and launched Diwali in one of our slum projects, in a week or so we will also welcome our former beneficiaries to come 'home' for our annual reunion. A real family affair, it allows former beneficiaries the chance to catch up and reminisce, receive gifts and meet new members of each other's families. Last night we enjoyed a special night of entertainment put on by our children with some competitions, beautiful singing, dancing and a bit of improv. We have a full schedule of activities to keep our children busy during their school holidays with more competitions, traditional cooking preparations, workshops and activities and guest programs. They will also be creating their own decorations and playing sports. We are excited about the rest of the celebration and invite you to join in by watching some of our Diwali video highlights below.
Thank you for being a part of our family and on behalf of our beneficiaries may we wish you all the best for the festive season and the year ahead.
Links: