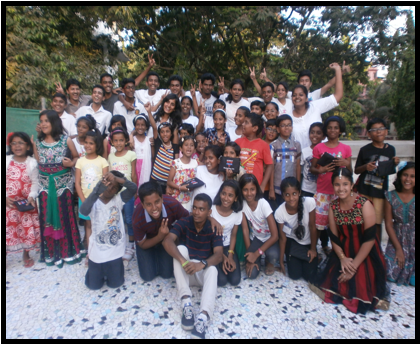 Dear friend,
Thank you for your help in providing children with a day of safety from India's red-light distrticts. Your gift is making a tremendous difference in the lives of women and children trapped in a life of sexual slavery. Over the past few months, 84 women and 157 children residing in the brothels were helped through various programs.
The women and children have benefited from safe houses, counseling, pre schools, remedial classes, medical interventions, feeding programs, fun clubs, and weekly gatherings.
Your gift has helped many children in the red-light districts by giving them a safe and loving place to live, learn and grow.
This summer some of the girls in the safe house got a chance to attend a summer camp. After finishing their final exams in school, this was a fun way to spend their break. All the girls are very studious throughout the year and this was a fun way to relax after a rigorous school year. All the girls performed very well on their final exams and were promoted to the next class with excellent grades.
The girls enjoyed the camp so much and made some great friends along the way. The girls also got a chance to enjoy some time at a nearby water park. The children living in the safe house are daughters of sex workers in India, and they are all grateful for the opportunity to live in a better environment and pursue after an education
Thank you so much for serving children living in the red-light districts and giving them hope for a better future. Your gift truly makes a difference for children who grew up in such a dark and broken place.
Sincerely,
John Sparks,
President
India Partners