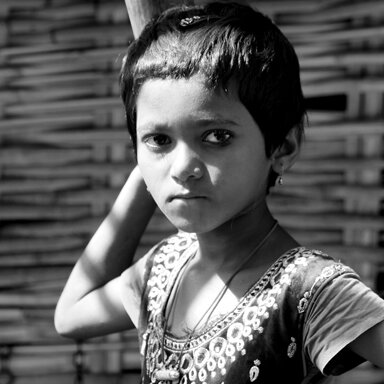 Dear Friend,
Thank you for your help in providing children and women with a life of safety away from India's red-light districts. Your gift is making a tremendous difference in the lives of women and children trapped in the life of a sexual slave.
When we help a girl child escape, with permission of her mother, we ask that they never go back to the Red Light District, too dangerous. As a mother they want them close by their side, but once they are 7 or 8 it is very risky. Priyanka* is one such child.
Priyanka lives in an urban slum surrounded by poverty; her home is in the Red Light District. Families live in small cinderblock and sheet metal homes surrounded by filth and sexual abuse. It is a very unhealthy environment for anyone, and especially a child, but sadly this is Priyanka's home.
Priyanka was doing poorly in school when she came to our tuition center. But with an illiterate mother and chaotic home life, she has no chance to excel in system designed for those with an educated family and wealth. Right outside the Red Light District, India Partners maintains a Learning Centre. Here children are able to come before and after school, they receive a meal and are helped with their homework (tuitions).
Priyanka is a needy 7-year old girl; she now has a chance to succeed. She will be able to stay in school and get an education because of people like you. When we work together we can change lives even in the most difficult places.
John
India Partners
P.S. To help more children and women in Mumbai's red light districts, you can give a gift today! You will be changing their lives forever by providing them educational opportunities they would otherwise not have. Encourage your friends and coworkers to join you. Take a moment and change the life of a young girl like Priyanka.
* Priyanka's image is changed to protect her identity