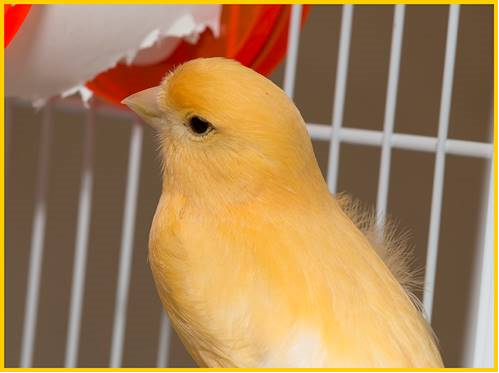 Today is a GlobalGiving Bonus Day! GlobalGiving will match ALL online donations, up to $1,000 per donor per project, if the donation is done today before 9 pm Pacific. (In today's event, the exact matching percentage depends on the donation total collected by GlobalGiving for its nonprofit partners.) Go to Mickaboo's GlobalGiving page now to help us meet our $15,000 fundraising goal for today (about half a month's veterinary bills)! Track our collective progress toward our fundraising goal here!
YOUR generosity enables Mickaboo to continue its mission of rescuing, rehabilitating, and re-homing the hundreds of birds we serve annually. What follows is a story of one such bird, Izzy, a cute and spunky female canary.
Mickaboo recently took in several birds from a local shelter. The county had rescued them from a home where they'd received a lot of love along with some not-so-great care.
After taking these birds in, a volunteer noticed that one of them, Izzy, had an abnormal bulge in her lower abdomen. She also saw that Izzy's feet looked unusually gnarly. Some of her toes obviously needed a nail trim while others were missing their nails altogether, possibly due to her environment. Her skin and nails also showed signs of vitamin deficiency and lack of bathing.
At the veterinary clinic, the doctor saw that her gizzard and small intestine were clearly visible outside of her abdominal muscle and under her skin. She clearly was in danger of digestive blockage, and the doctors originally thought that she might need separate surgeries, one to remove an egg and another to repair her hernia.
X-rays (shown in this project report) clarified the problem. The bulge on the bottom left of the picture is Izzy's gizzard pushing through her abdominal wall. The grainy-ness in her bulge is partially-dissolved grit that hasn't passed through her digestive system yet.The bright rock-like objects in the middle are grit. When this xray was taken, it had been at least a week after Izzy had last eaten grit.

Based on all of this, Izzy's current diagnosis is that she ate too much grit, and ate it too fast for her digestive system to dissolve it. The excess rocks and sand in her digestive tract caused distress and straining, which caused her hernia. This is a good example of why Mickaboo recommends against feeding birds grit, even though (unfortunately) some pet stores still sell and recommend it.
Izzy just had her follow-up vet visit. Her gizzard is protruding slightly less and is straining less against her skin (like a balloon that is less deflated). Her diet is much improved. After settling in to her new home and exposure to sunlight through a window, she's started to bathe in her water dish and does so often. The bathing and improved diet have left her feet looking much better, and she's been given a nail trim.
Izzy has already had a lot of veterinary care and will need more, even without surgery. She seems to be heading in the right direction but her prognosis is still uncertain. For now, we are playing it day by day.

***
The financial support of people like YOU enables Mickaboo to help Izzy and birds like her. Please consider going now to Mickaboo's GlobalGiving page to take advantage of this opportunity.
As always - THANK YOU for your ongoing generosity and support.
P.S. Email us at coordinator-FinchCanary@mickaboo.org if you'd like to adopt Izzy when she's better!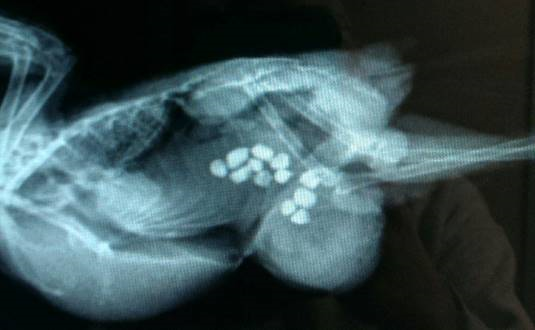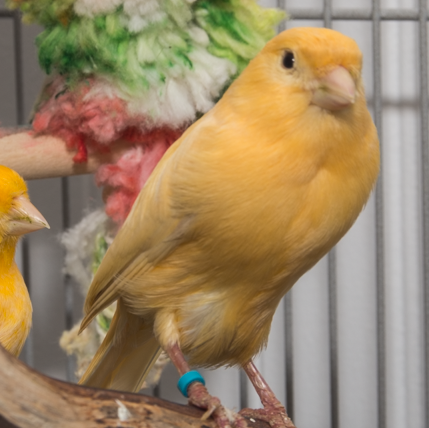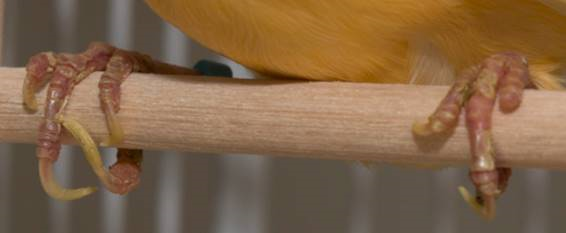 Links: