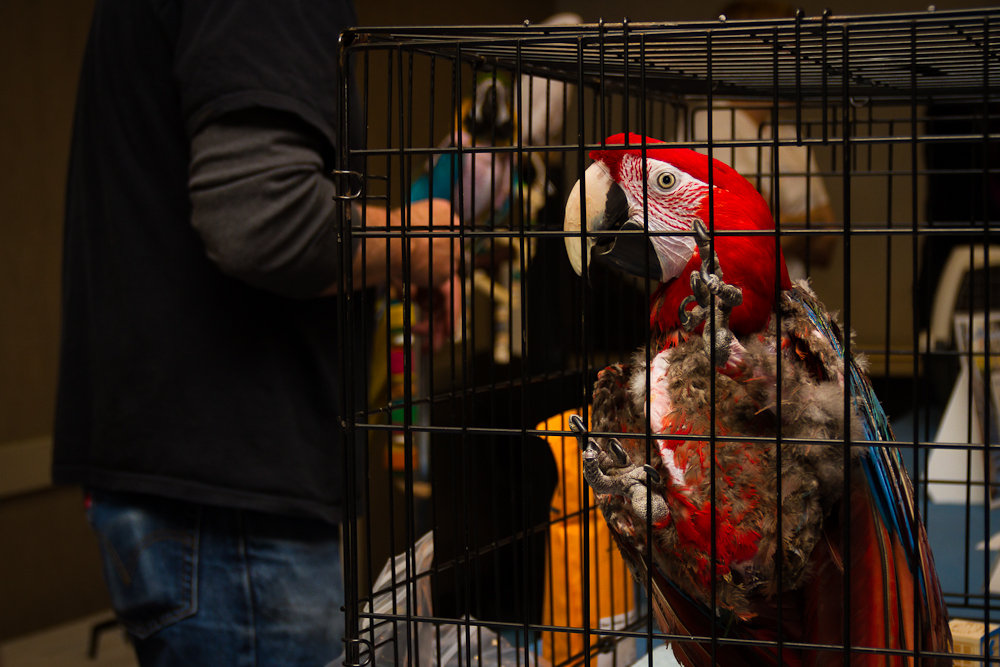 Boomer felt miserable!
Boomer, a 30-year-old-ish Greenwing Macaw, had been surrendered to Mickaboo when his former caregiver became ill and unable to care for him. After taking him in, we noticed he had difficulty walking – but what was most noticeable about Boomer were his droppings. They were SMELLY – far more odorous than that of a healthy bird, indicating a potential infection.
After consultations with two veterinarians, it turns out the problem was "mechanical". Boomer's tail bone was deformed - instead of curving up at the end like that of a normal bird, it curved down (see X-rays), partially blocking Boomer's vent. He also had a pressure sore where the end of the tail bone poked down. Boomer must have felt a lot of pain whenever he defecated – and hence was avoiding doing so.
Boomer had surgery recently to amputate his last three vertebrae. He is now in MUCH less pain – and for the first time since becoming his guardians, we heard him chatter. A noisy bird is a happy bird!
Boomer's diagnostic and surgical procedures cost $4,000. Would you help us pay for his medical care, and the care of the other 300 birds in our foster flock? If you can, we have a matching gift opportunity for you! TODAY, from 6 am PT/9 am ET to 9 pm PT/midnight ET, GlobalGiving will match your online donations at 30%, up to $1,000 per donor per project, until GlobalGiving's matching funds run out. (If this happens, the donation page will say so.) Go to Mickaboo's GlobalGiving page to take advantage of this opportunity (now! before matching funds run out!) to help our birds and make your funds go further!
Read more about the birds and rescue activities you so graciously support with your hard-earned funds in the Winter edition of Mickaboo's newsletter.
P.S. Your gift may *also* be eligible for matching by your employer! Send any matching gift forms to GlobalGiving for processing.
Links: