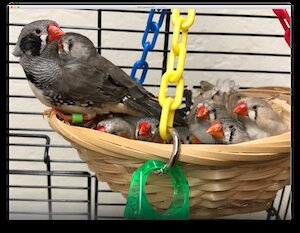 "We rescued HOW many finches?"
That was the reaction when we counted the birds involved in Mickaboo's largest rescue effort ever - 177 finches from a soon-to-be-abandoned aviary.
This story began when Mickaboo was contacted by an aviary owner who was about to be hospitalized. He expected he would be unable to care for the finches after hospitalization, and needed help to save the birds. He estimated he had about 80 finches, the result of breeding over the years from an initial flock of less than ten.
The logistics of gathering up volunteers and supplies for the rescue meant we had just one day for the actual rescue.The first volunteers on the scene described it as a storm - birds, feathers, seeds, and debris swirling everywhere - plus a bonus cat, who was too interested in the finches and spent most of the afternoon underfoot.
It quickly became apparent there were many more than 80 finches. In a good news/bad news development, there were no nestlings or fertile eggs. The birds had mostly stopped breeding because the aviary was so overcrowded. By day's end, 177 finches were caged for safe transport to a vet for medical evaluation, or to foster homes.
About twenty finches went to the vet, even though it was, by this time, 8 pm on a Saturday night. We're so thankful the vet was willing to accommodate us! Our volunteers and the vet documented a variety of illnesses and injuries including:
Toes/limbs lost due to constrictive bands
Birth defects, such as splayed legs
Egg binding
Preening gland infections
Possible heart disease or infections
Fifteen of the birds stayed with the vet, and have since been released to Mickaboo for ongoing foster care.
~~~
The veterinary costs of a rescue like this can be substantial. Please assist us with a financial donation. Any amount helps, and GlobalGiving has a matching campaign in progress to make your gift go further! Gifts up to $50 will be matched at 50% from now through Friday, April 8, 9 pm PT. No limit on matching funds! Please give now while the thought is top of mind.
Thank you for your consideration!
Links: