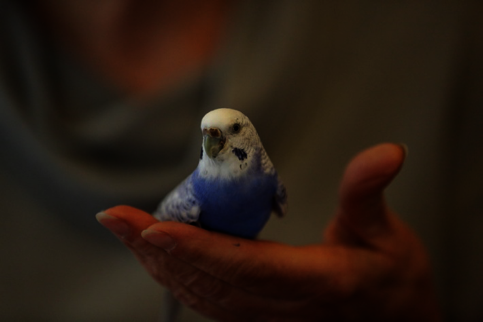 Thanks to your support, Mickaboo has made it through another year. And what a year it was! The following is our CEO's view of that year and our accomplishments therein.
~~~
Greetings to all of you In Mickaboo's "sphere of interest". I hope you and your flocks (human and avian) are all doing well.
Last year it felt as though I was yelling at the world from the bottom of a well. I could see a tiny bit of sky in the distance, but it seemed as though my voice was traveling a great distance through a scary void to reach you. We've come a long way together since then, and I want to congratulate all of the amazing, hardworking, incredible volunteers who continue to do all the work that is needed to rescue birds in northern California.
It is my job to give you the annual numbers. And this year, the numbers are more positive, reflecting the effort that so many of you have invested in rescue. Even as the rainy weather brings a positive change to this dry, drought-plagued region, I'm offering you a positive message about Mickaboo's operations and the general well-being of the organization.
First our numbers. The total number of birds currently in foster care is 313. This compares to 358 last year, 435 in 2019, and 431 in 2018. This decline in numbers reflects a number of changes in circumstances that are likely to continue into the future.
Forty-seven birds died this year in foster care; last year, 49 birds died in foster care. This consistent pattern reflects both the aging of our foster flock (129 of our current fosters came to us before 2019), and the sad fact that some adopters return birds that are severely ill and/or very old. Some of the birds newly surrendered to us were also already sick or already very old. That pattern is also not surprising - some of the surrenderers were also sick and/or old; some were already dead when we got the birds. Mickaboo has been rescuing birds for 25 years.
We will continue to see some of our birds returning in the future. Mickaboo promises to always take back our birds. We accept responsibility for them for their lifetime. This is something that sets us apart from pet stores and most breeders. This year, 22 of our birds returned to us. Last year, 20 birds returned.
This year we took in 250 birds (including the 22 returnees). That is fewer than last year's total intakes (283) but still substantially more than 2019 (170).
The extremely positive number - adoptions - for 2021 was 246 (so far). Taking into account the losses and additions, our foster flock decreased in size this year and most of the decrease was the result of birds going to their forever homes. This is very consistent with our objective of trying to balance adoptions and intakes, and is certainly an achievement worth celebrating!
Other changes in the makeup of the flock reflect increasingly tight regulation of wild caught birds, including prohibitions on their importation into the United States. There are fewer and fewer large exotic birds being kept as pets in the U.S, a trend also being seen in our sister rescues and sanctuaries around the country. In 2019, 48% of our intakes were the small and very small birds - finches and canaries, budgies, parrotlets, lovebirds, and cockatiels. In 2020, 65% were those same species. This year, 82% of our incoming birds were those species. This trend also reflects the increasing surrender of larger flocks (of small birds) kept in outdoor aviaries and, unfortunately, is accompanied by a substantial deterioration in the health patterns of incoming birds. The cost of treating these large groups of birds places a financial burden on Mickaboo and also creates a severe impact on our veterinary health care providers. It is certainly possible to maintain a healthy flock in an outdoor aviary, but the same lack of information that plagues so many bird owners in this country means that aviary owners are also ignorant of what is needed for proper diet and health care. So we are getting larger groups of birds that have been fed seed all their lives and allowed to breed without constraint.
We don't know if we will continue to see surrenders of larger groups of birds in the future, or if their occurrence this year and last year are aberrations. But if you are thinking of building an aviary yourself, please consider filling it with rescued birds - we're happy to consult on aviary design and upkeep.
VOLUNTEERS
Last year, with the onset of the pandemic, our world closed in on us. We were extremely fortunate in that our technical support volunteers had already incorporated a range of technical tools and processes into our everyday systems. Our database and communication network, even our work management systems, were pretty advanced for a nonprofit with NO paid employees. The sheer geographic range of our influence over most of northern California has only been possible because we augment our volunteer activities with really well thought out technical tools. Plus, of course, some pretty awesome volunteers who travel amazing distances to move birds and cages.
This is a heartfelt thanks to the unpaid volunteers who make this whole organization function. Mickaboo continues to rescue birds, lots of birds, a range of bird species, because of the incredible efforts of some pretty remarkable people. Many of our people are already known to all of you because they are always working, and you have probably already been impressed with some of their accomplishments.
But Mickaboo only functions to rescue hundreds of birds because of the work done by people who take on responsibilities over and above everything else in their daily lives People who have found their families and jobs slammed by the pandemic and all of its personal and economic impacts still find time to do phone screens and home visits, to move birds hundreds of miles, to have difficult (sometimes unpleasant) conversations with people who are devastated at having to give up birds or who do not understand why Mickaboo is so strict about who gets to adopt our birds. People who think they have no "technical skills" have learned to do home visits using technology that didn't used to exist; people who thought their lives were already overwhelmed by the demands on their time, have added new jobs and new birds to their personal environment.
And we need to give a special acknowledgement to the people who care for sick or injured birds, who give medication to birds that like it even less than your children, who take them back to vets that make us wait in the parking lot. Mickaboo pays for vet care for all of our birds, but the greatest burden falls on those of you who care for those birds on a daily basis. You are the saints who keep us going, and we need more of you. Please reach out to friends and family and share the deep satisfaction you have derived from caring for sick or special needs bird.
CLASSES
Consistent with our objective of educating people about bird care, Mickaboo continues to offer regular free bird care classes. This year our classes have still been occurring on-line, although the numbers of attendees are somewhat smaller than what we saw last year. The classes are generally held every other week and class sizes have varied from 3 to 36. During that same time period, we had 424 people attend the classes, including some attendees who wanted to adopt from other nonprofits.
It is a source of great satisfaction when a person attends our class and says it is for the purpose of learning how to be a better bird caretaker. How wonderful that our positive influence extends even beyond the birds we rescue!
OUR MESSAGE TO YOU
This year, and every year, Mickaboo's message to all of you is:
Please consider Mickaboo in your New Year's Resolutions! In addition to loving your birds and providing generous donations to help us pay our vet bills, please consider one (or more) of the following:
Plan for your birds' future. What events do you foresee in your own life and how can you plan to include your bird(s) in that future?
Can you help us with processing bird intakes and adoptions? We especially need help on the teams handling intake and adoptions for macaws and the parrots of Telegraph Hill.
Do you have a special gift for managing people? We need volunteer coordinators!
Foster a bird or two, especially a bird (or two) that otherwise cannot come into Mickaboo. Consider fostering a special needs bird. Remember we'll supply the cage; you supply the food, toys, and love.
~~~ end of CEO message ~~~
The volunteer opportunities described in the second and third bullet points are virtual - all you need is internet access, a love for companion birds, and general office skills.
Many many thanks to ALL of you who help our rescue flock with your financial support and / or your time!
Links: