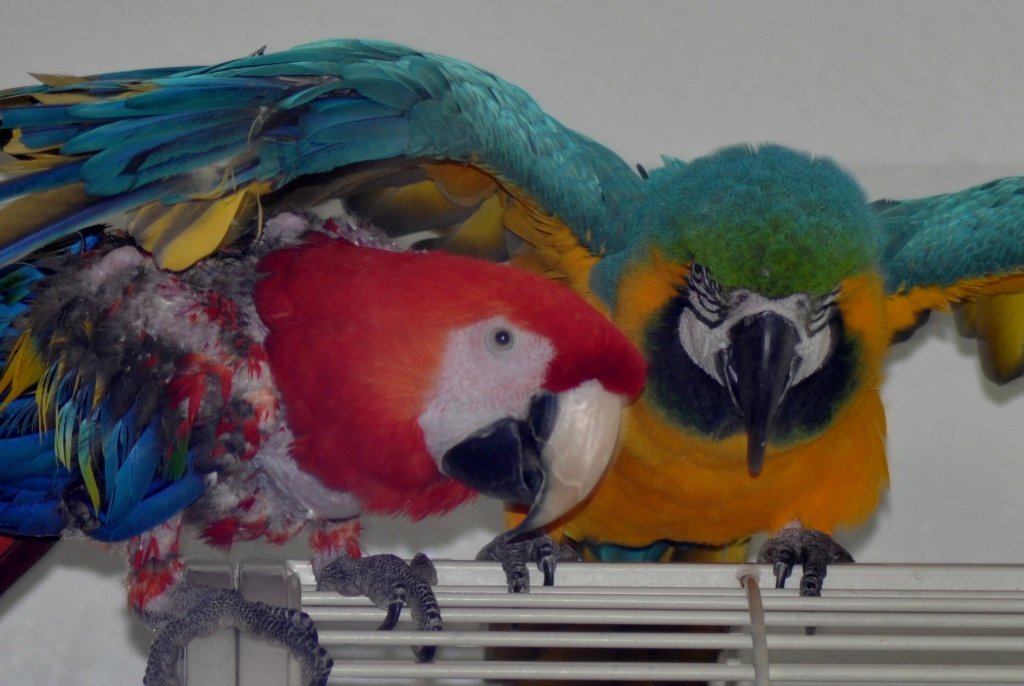 Many thanks to those of you who recently donated to Mickaboo! Because of your generosity and others, Mickaboo collected enough funds in the last week or so (centered around Global Giving Bonus Day) to pay for about three weeks of veterinary expenses - a wonderful gift.
I'd like to give you an update about the scarlet macaw featured on our Global Giving page, one of the birds you help with your donation. King is one of Mickaboo's 600+ foster birds available for adoption. Mickaboo rehabilitates its foster birds, both physically and socially, to the extent possible and necessary to enable them to find new homes. King is continuing to learn how to trust humans and to heal his battered soul in the care of one of our volunteer foster parents. Recently this volunteer started caring for another macaw, a Blue and Gold named Rocky. This report's photo shows King and Rocky have become close friends - Rocky has taken King under his wing, both figuratively and literally. In the same way, a significant part of Mickaboo's activities is around taking abused, neglected, or abandoned companion birds under its wing (as well as to educate the public about responsible bird ownership) - and we thank you for enabling us to continue to do so.
To learn more about King, Rocky and the rest of our foster flock - and to sign up to adopt any of them - go to our online bird listing. Want to learn more about bird care? Our reading room has several articles about bird behavior, safe and nonsafe plants and foods, and more! Finally, read our latest quarterly newsletter, written by Mickaboo's volunteers, for more about what Mickaboo does and the latest in responsible avian care.
If you plan to be in the San Francisco Bay Area on December 3, join us at our Annual Holiday Party!
Thank you again for your generosity, and enabling Mickaboo to continue its mission on behalf of our feathered friends!
Links: