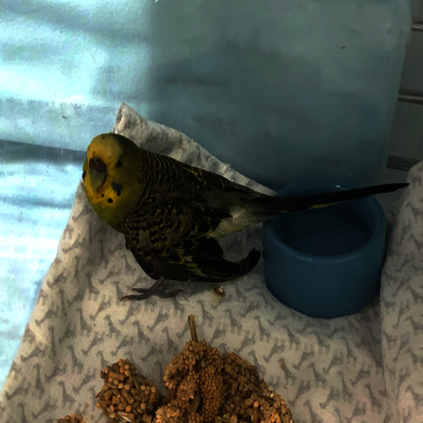 This past Sunday was World Parrot Day, a celebration of all we love and treasure about the feathered beings to which Mickaboo has dedicated its rescue mission. Parrots are considered one of the most intelligent species in the animal world. Budgies, the type of bird often sold in the pet trade as "starter" birds, have been recognized by the Guinness Book of World Records as having more than 500 words in their vocabularies! In this post, we're telling you about recent rescues and June events we are hosting for parrot-lovers of all ages.
Shelby, a female budgie, was found under a bush, yelling at the cat who had caught her. Cat-attack injuries can be fatal, not only because of physical harm, but because their saliva carries bacteria deadly to birds. Mickaboo took her in and had her wounded and fractured left wing treated. The fracture is now stable and healing nicely. We are glad she has survived her brush with feline death! She will be available for adoption soon.
Moon, a male budgie, was surrendered to Mickaboo with life-threatening anemia and gastric yeast and sinus infections. Moon is now stable, on oral medications that will continue for a while yet (hence the pink stains around his beak). He is staying with an experienced foster parent until he makes a full recovery. He is available for adoption.
~ ~ ~
Want to learn more about pet birds, or to mingle with other bird lovers? Join us at these upcoming events:
June 6, 1:00 pm PT - the first in our series of online Adoption Fairs. See a variety of our adoptable birds in their foster homes - ask questions about their care and behavior! See our live stream on Facebook , or register here to watch via Zoom.
June 13, 1:30 pm PT - Mickaboo's bird care class. Lots of information for those curious about responsible bird care, and a great update on standards that have changed as we learn more about our avian friends. Register here.
June 14, 1:00 pm PT - BYOB ("Bring Your Own Bird"), our annual Spring meetup for Mickaboo volunteers and all bird-lovers! "Talk parrot" with fellow enthusiasts. Register here.
~ ~ ~
Finally, we honor YOU who support our rescue efforts. We at Mickaboo could not continue our work without your generous financial support - particularly now when we are being called on more and more to help those unable to care for their pet birds due to financial or health reasons.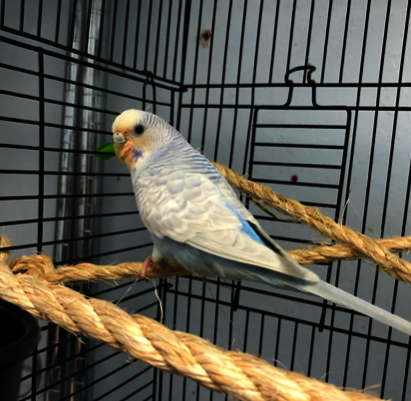 Links: