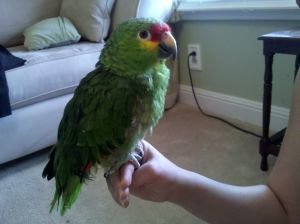 Thank you for your recent donation to Mickaboo Companion Bird Rescue! Because of your generosity and that of many others, Mickaboo successfully met the Global Giving Challenge and is now a permanent part of the Global Giving Community. The monies collected during the April Challenge and subsequently will pay for about a half month of our current veterinary expenses - a wonderful gift during these challenging times.
You may have wondered about the scarlet macaw featured on our Global Giving page. King is one of Mickaboo's 600+ foster birds available for adoption. He is slowly learning to trust humans and to heal his battered soul in the care of one of our more experienced volunteers. You can follow King's progress at his Facebook page.
Another of our foster birds is Aubrey (picture attached), an older Amazon. She is the sweetest, most cuddly bird her foster mom has ever met. Aubrey came to Mickaboo from a local shelter and immediately needed medication for sinus and eye infections. For a few weeks, Aubrey was in the clear, then suddenly crashed. She had seizure (stroke-like) symptoms and had trouble breathing. She spent the night at an emergency room on oxygen and was transferred to her avian veterinarian in the morning. Aubrey is still not stable enough for many diagnostic tests but the doctors think she is suffering from heart disease. Aubrey has a long road ahead of her and her veterinary bills will be large.
To learn more about Aubrey and the rest of our foster flock - and to sign up to adopt any of them - go to our online bird listing. Want to learn more about bird care? Our reading room has several articles about bird behavior, safe and nonsafe plants and foods, and more! Finally, read our latest quarterly newsletter, written by Mickaboo's volunteers, for more about what Mickaboo does and the latest in responsible avian care.
Thank you again for your generosity, and enabling Mickaboo to continue its mission on behalf of our feathered friends!
Links: