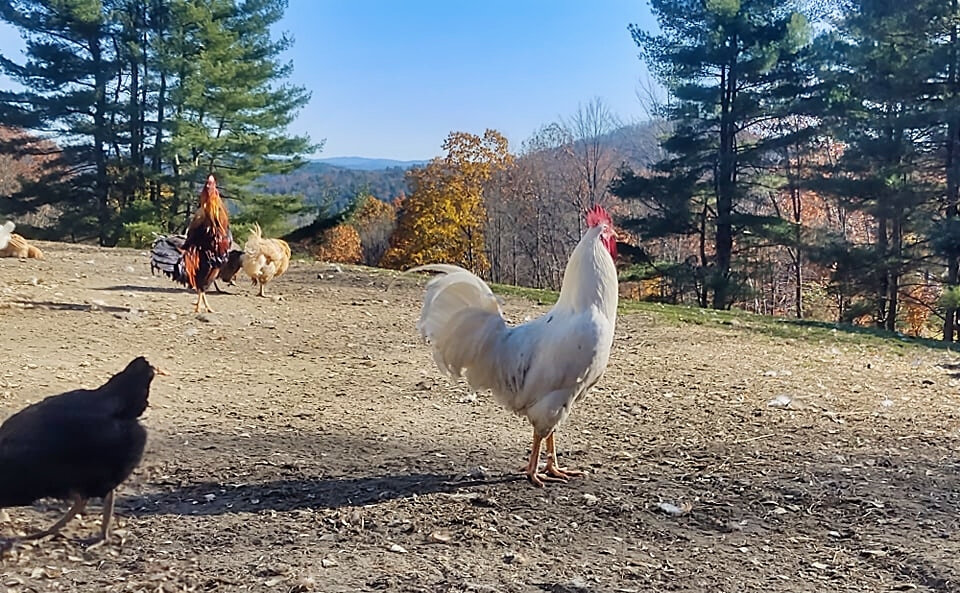 Greetings, and thank you again for your support of The Rooster Project!
Last week, we were called upon to offer refuge to 71 birds who had been seized by authorities from a homestead where they were starving due to extreme neglect. Among those birds were 13 roosters. With the four roosters who arrived from other places in recent weeks, they brought the number of new roosters up to seventeen and the total of roosters in residence at the sanctuary to nearly 100. That's a lot of roosters!
The thirteen all needed check-ups and vitamin injections and will be needing extra rations until they have reached heathy weights. They look just a bit slim from a distance, but you can feel their protruding keel bones when you hold them, and they will need to gain weight fast to be able to manage the winter weather.
The other new roosters already have settled in nicely, but every new bird adds to our weekly bill at the feed store. Luckily, friends of the sanctuary have teamed up for a November challenge and will be matching every donation to the sanctuary this month. If you're a monthly donor, your gift this month will be matched! If you haven't donated to The Rooster Project recently, today would be a very good day to pitch in a few dollars, knowing that they will be DOUBLED.
With the match, we just need 13 people to give $10 each to offset the extra costs of caring for the hungry roosters who have recently joined our community.
Thank you again for your support of The Rooster Project at VINE Sanctuary!
Sincerely,
pattrice
PS Have you ever attended or watched a recording of a VINE event or an event at which I or another representative of VINE has spoken? If so, we want to hear from you! As part of our assessment of this year and planning for next year, we invite you to complete this survey for people who have attended any of our educational programs for activists.
Links: