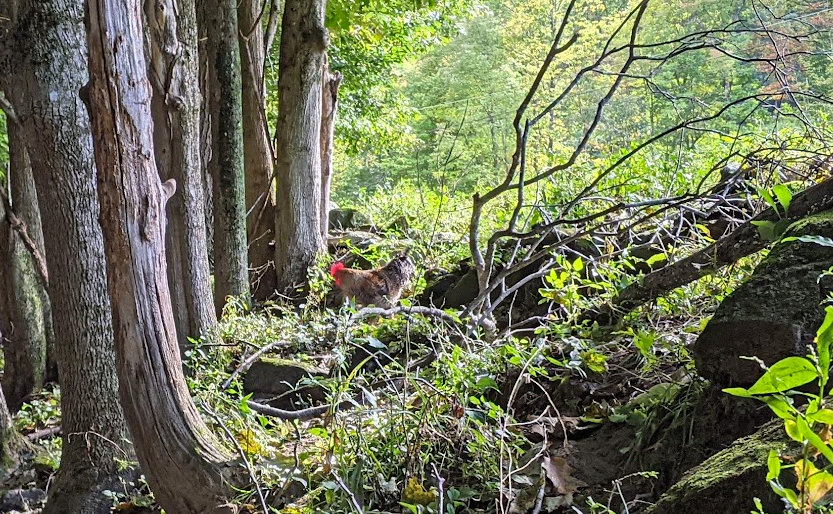 Greetings, and thank you again for your support of The Rooster Project.
Last month, I embarked on the first lap of The Rooster Road Trip, during which I will be visiting sanctuaries of all sizes all over the country to help them figure out whether and how they can offer refuge to more roosters. Along the way, I'll be sharing expertise from our more than two decades of experience maintaining flourishing flocks with multiple roosters.
This was just the first, fairly short, trip of what will be several jaunts, but I learned a lot along the way. Being able to see the sites with my own eyes and talk with sanctuary staff not only enabled me to give them advice but helped me to understand why it is that so many sanctuaries have struggled to include more than one rooster per flock, even though the norm for feral chickens and wild junglefowl (from whom all chickens descend and are nearly indistinguishable) is several roosters per flock.
As it happens, making the changes that will enable sanctuaries to add more roosters will also enhance the wellbeing of hens. I'm excited to get to work on enhancing chicken care at sanctuaries in that way.
One of the happiest moments of the trip, for me, was when I was able to see how one sanctuary had already made changes based on the online two-part Rooster Workshop we offered earlier this year. That sanctuary is well on its way to significantly increasing the number of roosters in residence.
Another sanctuary made changes immediately after my visit. Here is what they had to say:
"Pattrice gave us such great insight and tactics for helping our various roosters. We instantly made improvements to their living situation(s) and are seeing daily progress. The fact that VINE is providing this invaluable resource, at NO cost to the benefiting sanctuaries, is truly remarkable."
We are able to offer this service to other sanctuaries only because of donations to The Rooster Project.
In other rooster news, our new website includes a form specifically for rooster inquiries and will soon include rooster-related resources for other sanctuaries. And, of course, we continue to welcome new roosters to VINE, including a semi-feral trio, one of whom is pictured in the attached photo.
Thank you again for your support. Because we still have so much to do, please do renew that support as you are able, knowing that it will make a real difference for birds at VINE Sanctuary and elsewhere.
Sincerely,
pattrice
Links: