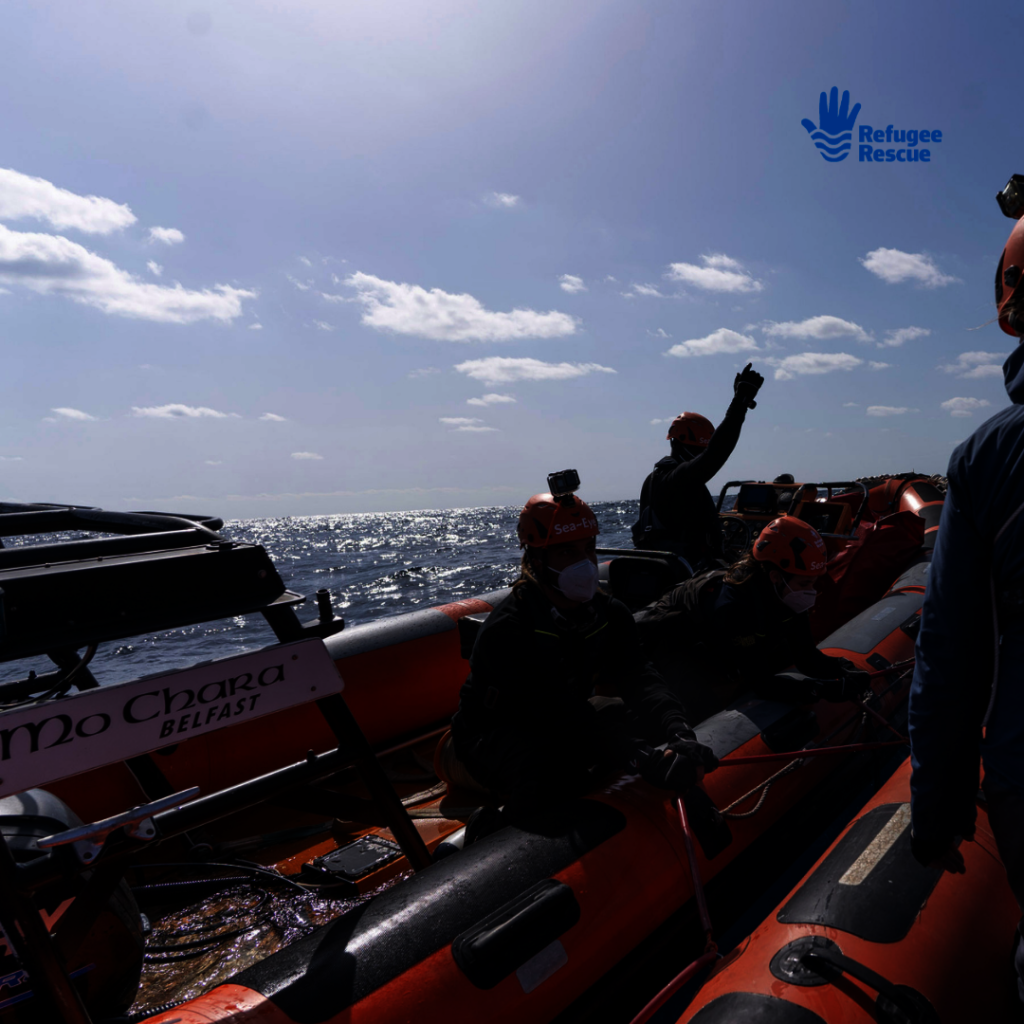 Refugee Rescue in 2022
2022 has been busy for Refugee Rescue so far, with the completion of our first mission of 2022 and the beginning of our second, both in partnership with Sea Eye, as well as the run of our Surrounded by Sea exhibition in Dublin.
Our first mission of 2022, began in mid March with our team and rescue vessel Mo Chara joining the Sea Eye crew on board the Sea-Eye 4. During this mission, we supported Captain Vasyl Maksymenko and the crew of his container ship who had rescued 32 people in distress and took the survivors aboard our ship which was better equipped for them. We also responded to a distress call en route back to shore, bringing another 74 survivors on board. We were granted a Port of Safety on April 6 at Augusta in Sicily, at which point we were able to safely disembark the 106 survivors. During this mission, many survivors on board the Sea-Eye 4 were celebrating Ramadan, which the crew on board was able to support them to do including with traditional meals thanks to generous donations from the community.
Our second mission is currently underway in the Central Mediterranean, with the crew on board carrying out training and SAR watch on an ongoing basis. Stay tuned on our social media accounts for updates on this mission.
Surrounded by Sea
Surrounded by Sea was finally able to happen the first weekend of April after initially being delayed due to COVID. The exhibition was a huge success thanks to the over 400 submissions from the public reflecting what the sea means to them, to everyone who stopped by to see the photos, learn more about SAR in the Mediterranean, and support our work. (how much we raised + engaged with community)
Finally, we want to say a massive THANK YOU to everyone who has helped us throughout the year so far and who continues to support our work. Whether you submitted a picture to our Surrounded by Sea exhibition, donated to support our work, bid on one of the auction photographs, followed us on social media, or shared and amplified our work with others we want to say thank you! Our work would not be possible without the amazing community we have supporting us.
Refugee Rescue remains committed to supporting those who have been displaced from their homes and to continuing to advocate for the need for safe and legal routes to claim asylum and for the protection of the rights of all people, including the right to life.
News from the Central Mediterranean
Over 550 people have died in the Mediterranean since January. In April alone, there have been continued reports of tragedies in the Mediterranean as people continue to die and disappear as a result of EU border policies that focus on the securitisation of borders above the protection of human rights. This has included a week where over 100 people died at sea, two men who died by suicide after waiting for rescue, and continued extended waits for a Port of Safety for ships with survivors on board.
In April some key events we want to highlight are that SeaWatch are suing Frontex over their working relations with Libya and the resignation of EU Border Agency Chief Fabrice Leggeri after investigations into the ongoing pushbacks being carried out by Frontex under his watch.
Solidarity movements have continued as Refugees in Libya have continued to advocate and protest for their rights, the mayor of Lampedusa launched an initiative in Italy focused on peace and dignity hosting Lampedusa, Island of PeaceApril 28, civil actors at sea have continued to conduct Search and Rescue operations and to put pressure on states to act, and individuals and organisations have continued to speak up in support of those who are forced to cross their lives both in the Mediterranean and along European borders.
Europe's Border Crimes: Bridging the Impunity Gap for the Enforced Disappearance of Migrants in the Mediterranean Graveyard
"In the past decade, over half of the border deaths, globally, happened in Europe… These deaths and disappearances have not pushed European states to set up policies of justice or reparation, on the contrary, Europe has continued investing in policies of deterrence and mobility control."
Read more of Refugee Rescue Program Lead Pat Rubio's insights on the situation in the Mediterranean in her blog post "Europe's Border Crimes: Bridging the Impunity Gap for the Enforced Disappearance of Migrants in the Mediterranean Graveyard", which has recently been published by the University of Oxford Border Criminologies blog.
Follow our work:
Follow us on social media to stay up to date with our work:
Finally, on behalf of everyone at Refugee Rescue, thank you for your ongoing support and generousity.
The Refugee Rescue Team