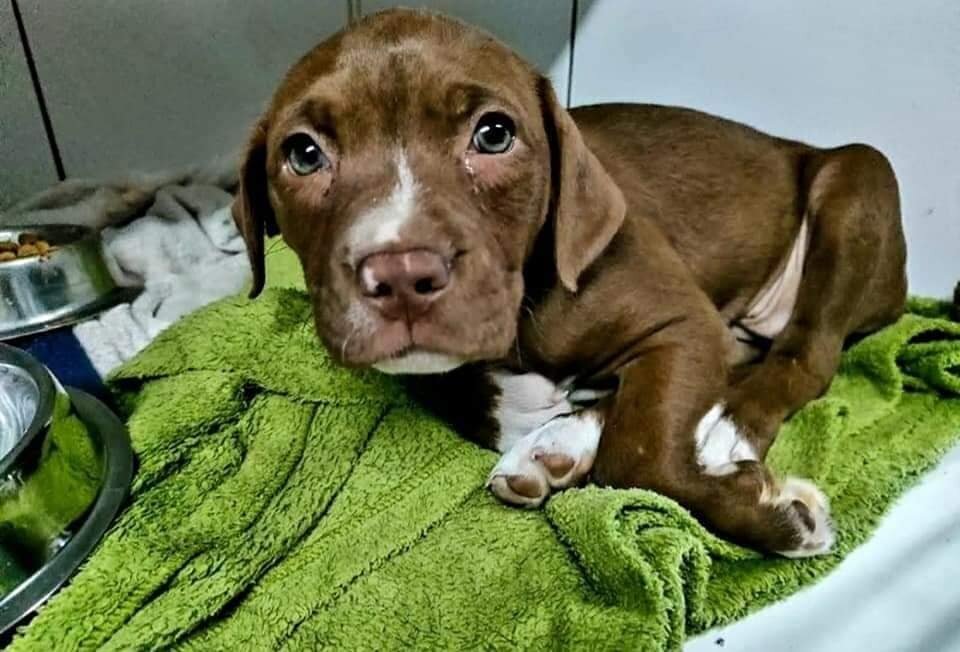 Dear Supporters,
Working across South Africa our team are very well known and that is why we was not surprised to get a call from onne of our vets asking us to help a man and his pitball.
The owner, a police officer was given our contact details for help with medical bills as his puppy needed urgent and critical surgery as he accidentally hit her with his car causing a bad break in her leg. We then said we will help and waited for him to call us, he did, he is a police officer and after explaining we would assist to raise the funds, as he had a big family and no funds, but that he would need to agree for us to sterilize her as well, this is the main part of our project to stop breeding and the number of dogs on the streets, he got very aggressive and said no he wants to breed with her. Luckily she was in the care of our vets then he called the vet and got aggressive with her on the phone too, making threats and said he wants his dog now and she explained she cannot as a vet that has taken an oath release a dog in her condition, knowing she will be dragging herself around unable to walk and be in her own urine and faeces, this didn't faze him, he said he didn't care, he wants her and he will breed with her, so the vet called our amazing project manager and she said according to the Animals Protection Act 71 of 1962, it's negligence especially denying her veterinary treatment, so securing our legalities Dani will not be released back to the owner, who is a police officer and should know the law and we will now undertake to save her life and after surgery and rehab, find her a fur'ever home.
With your donations we was able to respond quickly to this emergency and fund the initial surgery for Dani, a few weeks later she found her future partner and owner while at the vets. A local community member that volunteers at the vets and works closely with us feel in love with Dani and so after surgery we begain the adoption process and Dani was re-homed with her new owner who has taken on her ongoing treatment. We spoke with her owner last week and he sent us this update we wanted to share with you....
"I tried my best to save her leg. Some days I had to change her bandage 4 times because her nerves in her foot bothered her so badly that one day she chewed down her middle toe, it was barely right then she also got her other toe and chewed it off a bit too. Lots of bandages and a few thousand rands later and after a lot of tests I made the hardest decision ever in my life to amputate her leg. Many tears later she is now a tripod and very happy, Dr Duandri who did her surgery, confirmed that the nerve in her leg was almost completely dead and that's why she tried to chew and gnaw at her leg all the time. Her other hind leg gets very heavy and we are now trying to save it with swimming and physio. Long slow process, because her other leg has already bent so badly and skewed. But we keep going until she lets me know she can no longer."
Another success story made possible because of your donations!
We thank you