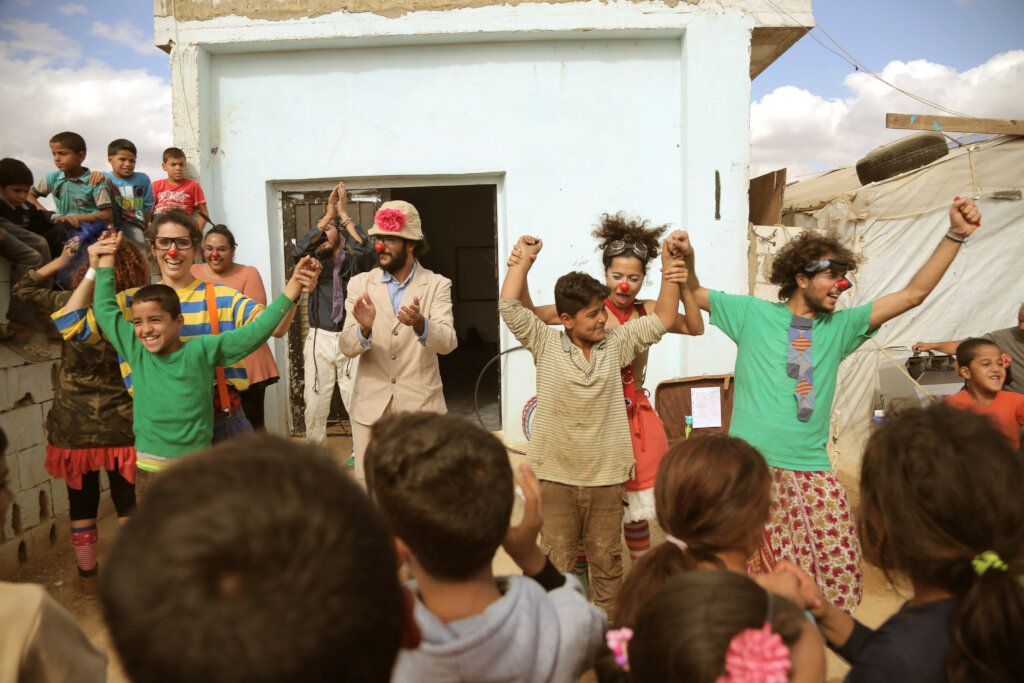 Greetings, dear friends and supporters!
We are overly joyed to share how your support helped us draw smiles on people's faces recently!

Several shows were in the books during the past few months, and our clowns Sabine, Samer, Riwa, Dima, Hisham, Youmna, Ramy, Jana and Steph strolled the streets of several villages around the country, especially focusing on the Beqaa this time, including the towns of Riyyak, Zahle, Anjar and Ghadir. We performed at the premises of several local CSOs including SOS Children's Villages, Mouvement Social, Amel Association, Kayany Foundation, among others, and were able to reach more than 1000 children and 500 adults.
We have some beautiful and remarkable stories to tell you about how our performances had a positive impact on the people of those towns.
In one of the shows, we had to perform late at night and there was no electricity. The, the most beautiful thing happened: people lit the place with their phones because they were so eager to watch it and it was so emotional. It hit they to the core. People, including children and their parents, expressed that they really needed this drive away from reality.
There was this performance that we did as part of a memorial for a girl who had passed away in Qatar a while ago. She used to be with the scouts and loved clown shows, so they asked us to perform in her honor. It was so touching and meaningful. Also, the fact that she had passed away during a bus accident and that the first scene of the show portrayed a bus, was rather poignant because we tried to transform the sadness and mourning into something positive through our show. People were hopeful and largely appreciated the performance.
We shed some tears, they shed some tears.
We laughed, they laughed.
We danced, they danced.
We made each other feel alive.
That's not all! We also started rehearsing for our upcoming shows taking place in Tunisia in December, to end our year on a positive note! Yes, you hear that right! We will be performing as part of the 35th Neapolis Festival and started getting ready.
That's about it!
How a small gesture can make the world a better place for people is truly incredible!
With supporters like you in our corner, it goes without saying that we will always keep spreading laughter to more and more people who truly need us. Together, we can make magic happen!
We pride ourselves to have supporters like you!
Thank you for your constant support!
We love you!
Links: