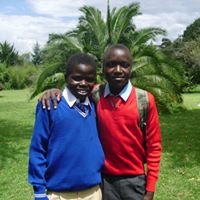 Since our last report, we are pleased to be able to tell our supporters that, although we are not back to normal, (will we ever be?) we are continuing to make progress and find alternative ways to help children and families in Kitale and surrounding areas. Despite our county being put into another lockdown a month ago, we have still been able to continue our family reintegration and support work. Thankfully, schools and colleges have remained open this year and being able to keep children in the education system this year has been particularly rewarding. We have also been able to place over 100 youths in vocational training programmes which will enable them to find employment or be self-employed when they finish their courses. Fingers crossed, with no further interruptions to education this year, we will be celebrating a lot of graduations at the end of the year.
To date, we have not reopened our Street Smart centre. This has been for a number of reasons including covid regulations, insufficient funding to rebuild it and a new approach that we are working on to enable us to do reintegrations directly from our office to home without needing the intermediary building - at least for the time being. We hope soon to be able to rebuild and start our mobile school again but, for now, it is important that we do as much as possible to prevent children reaching the streets and avoid them being in town for any length of time during curfews, lockdowns and covid in general. So, we continue to work within communities to try and identify problem cases as early as possible and we patrol the streets so our outreach team can get children home or into suitable temporary care as quickly as we can.
Schools are closing today for a two week break after which children will progress into the next academic standard. Due to the long closure last year, holidays have been shortened and terms lengthened to allow a catch-up and avoid children being put back a grade. Usually, the academic year would start in January not the end of July. However, this seems to be working and is certainly preferable to children repeating a year of schooling. An unplanned benefit of the shorter holiday is less likelihood of children taking to the streets after many weeks at home, particularly in cases of little food, abuse, neglect or just boredom. So, we hope that being present in communities over this break, we can keep the numbers on the streets to a manageable level.
We wish you all the best during these difficult times. We have been lucky that, so far, Kenya seems to have kept this pandemic under control and we are not seeing huge numbers of people needing hospitalisation. However, the economic impact has been huge and we have no social security or welfare safety nets.
Thank you for all your support.