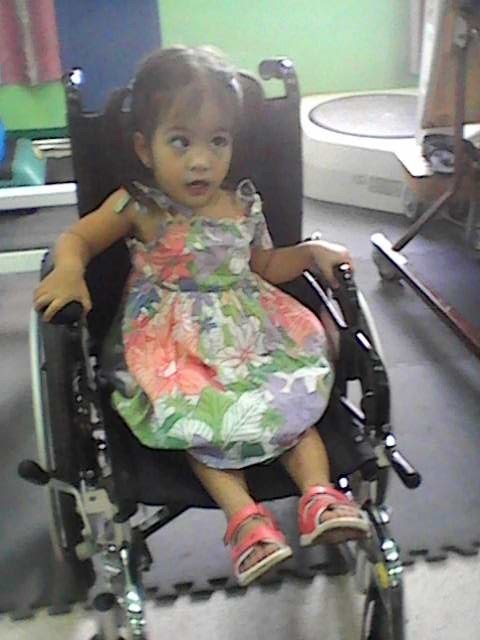 Dear Supporters,
We at WRF hope that you are having a wonderful summer! While it's been a busy summer at WRF, we have been taking a moment to pause and reflect on WRF's history as we approach our 60th anniversary this fall. With that in mind, for our report this quarter we wanted to share a little bit about our history in the Philippines as well as give you an update on the recovery plans and current needs of our partners who are working with persons with disabilities in the Tacloban region.
REFLECTING ON WRF'S LEGACY
WRF's involvement in the Philippines goes back some 50 years when WRF inaugurated the first Rehabilitation Medicine training program in the country at Santo Tomas University, the oldest University in Asia. Virtually all rehabilitation physicians and physical therapists in the Philippines were trained in that program.
Dr. Tyrone Reyes, a graduate of the Rusk Institute in New York, modernized the Rehabilitation Medicine program at Santo Tomas Medical School so that training for this field could take place in the Philippines and helped establish a physical therapy program in 1974. Moreover, Dr. Reyes re-formed the Philippine Academy of Rehabilitation Medicine (PARM) as the country's branch of the International Society of Rehabilitation Medicine.
In the 1980s, WRF provided a fellowship for Dr. Antonio Periquet, who launched a pioneering program in Community Based Rehabilitation (CBR). The program provided outreach services throughout most areas of the nation and its success was documented in a WRF publication that acted as an influential stimulus in spreading CBR methodology for developing countries throughout the world. In the 1980s, a donation by WRF of an electromyography nerve conduct machine enabled the Philippines General Hospital to develop a diagnostic center for detecting nerve conduction problems. Dr. Periquet eventually became the Minister of Health for the Philippines, and Dr. Reyes became a Regional Director for WRF in the Philippines and the first President of PARM.
The Physical Medicine and Physical Therapy programs have continued to operate not only educating physicians and physical therapists from the Philippines but from neighboring countries as well, including Indonesia and Malaysia. WRF provided more specialized assistance in 1991 to assist victims of a 1990 earthquake that devastated Cabanatuan City. Also in the early 1990s, WRF sponsored the training of Chinese doctors in rehabilitation medicine at Santo Tomas University. In addition, WRF provided funding for a medical library in rehabilitation and discontinued the Regional Office in the late 1990s having helped accomplish the establishment of a viable and highly competent rehabilitation medicine infrastructure in the Philippines.
In response to the devastation of Typhoon Haiyan in 2014, WRF re-initiated program activities in the Philippines. Partnering with PARM, WRF identified hospitals seriously affected by the storm. WRF provided critical rehabilitation medicine, supplies, and equipment to three hospitals in the Tacloban region: Remedios T. Romualdez Medical Center (RTR), Divine Word (DW) Hospital, and Eastern Visayas Regional Medical Center, which collectively serve thousands of people annually.
The donation of equipment and materials from WRF coupled with hospital renovations by the Philippines government enabled the launch of fairly full rehabilitation service in November 2014. In the months following the opening of rehabilitation services in the three hospitals, more than 2,300 persons have been served, including over 1,800 outpatients and over 500 persons who required hospitalization.
RESPONDING TO REHABILITATION NEEDS IN 2015
As the medical and rehabilitation needs persist in the wake of the storm, WRF's local partner, PARM, recently conducted a needs assessment to identify how best to respond during the long-term recovery phase of the disaster. PARM recommended that support continue to focus on the Tacloban region, and confirmed that the Remedios T. Romualdez Medical Center (RTR), Divine Word (DW) Hospital, and Eastern Visayas Regional Medical Center are the hospitals best positioned to provide quality rehabilitation services for those affected by the storm and those whose service options became severely limited because of damages to health services.
PARM advised that the best way to provide assistance would be to obtain Physical and Occupational Therapy equipment and materials that would enable the hospitals to re-establish rehabilitation medicine units. PARM's needs assessment includes an inventory of specific rehabilitation equipment and supplies needed in order to scale up services. Through outreach to various partners, WRF was able to obtain donations that accounted for approximately two-thirds of the needed supplies and materials. Currently, WRF is seeking support to provide the remaining third of the items.
Please join us as we endeavor to provide essential equipment and supplies to serve persons with disabilities and improve the lives of those impacted by the Typhoon Haiyan in Tacloban. Thank you for your continued support!
Warmest wishes,
The WRF Team