The Taiwan Digital Talking Book Society is an NPO dedicated to serving the visually impaired with technology. In 2020, when the world was hinted at by COVID-19. TDTB has not given up any opportunity and continues to serve the visually impaired with our professional knowledge so that they can get fair opportunities in school and employment.
Over the past year, we have done...
1. Learning of information aids for the visually impaired
TDTB uses a group of excellent visually impaired computer teachers to provide teaching information aids for the visually impaired, including learning screen reading software NVDA, using NVDA to operating Microsoft Windows systems and Office Suites, smartphones, and listening books machine. Allow the visually impaired to use computers to search for information and produce documents to achieve a fair opportunity for school and employment. With your support, TDTB has trained 41 visually impaired people and 438 hours of teaching this year.
2. Psychological support service plan for the visually impaired and their families
In the rehabilitation process, in addition to self-reliance and orientation and mobility(O&M), the visually impaired most need psychological support to complete the rehabilitation. Also, the family members of the visually impaired are another ethnic group that needs to be cared about. They accompany the visually impaired every day and need more empathy to support his visually impaired family members. TDTB specially invites to provide one-to-one services to the visually impaired psychological counselors. With your support, a total of 16 visually impaired persons and their family members were provided this year, with 165 hours of psychological counseling hours.
3. Spiritual Growth Group
Whether it is just lost sight or halfway visually impaired, on the road to rehabilitation, family and psychological support are most needed. TDTB arranges a series of courses to involve the visually impaired and carers. Gain mutual support in the group through the leadership of a psychological counselor. A total of 10 sessions were handled each year, serving 58 people.
4. Vocational training for the disabled
For those who are visually impaired halfway, after completing their life rehabilitation, the next step is career rehabilitation. TDTB served 12 disabled friends in 2020. After 3 months of training, 10 have completed the training and obtained the certificate of completion.
5. Information Education for 1-12 grade Visually Impaired Students
The visually impaired students in Taiwan mostly adopt integrated education and study in ordinary schools. In the learning process of grades 1-12, due to the lack of adequate information education, visually impaired students cannot use computers and the internet proficiently, so that their learning progress lags behind ordinary students. In TDTB's profession, the visually impaired computer teacher provides additional information-related teaching for the visually impaired students. A total of 17 visually impaired students have been taught for 280 hours.
6. Promotion of NVDA and Visually Impaired People e-learning platform
To let more people understand the use of NVDA and how to use the VIP e-learning platform, TDTB traveled to Taichung(), Changhua(), Chiayi(), Tainan(), Kaohsiung(), Pingtung(), Hualien() and rural areas in Taitung() this year to invite the visually impaired and their parents and special teach teachers, handle eight promotion seminars, and two teacher training sessions to make the use of NVDA and VIP platforms more popular.
7. Visually Impaired Information Competition
To encourage the visually impaired to learn computers, TDTB organizes the annual information competition for the visually impaired, inviting a total of 18 people from grades 1-12 and adults to participate in a typing and data search competition under National Chung Hsing() University. During the period, every player put in earnestly, and there was only the sound of typing on the keyboard, which was full of excitement. After the competition, the winners awarded bonuses and certificates to encourage each participant to make good use of the VIP platform and learn NVDA.
8. NVDA Native Chinese Cultural Work
NVDA, developed by the visually impaired engineers in Australia, is a set of freeware for screen reading commonly used by the visually impaired around the world. The Chinese version in Taiwan is updated by a team composed of TDTB following the progress of NVDA Access, which updates the Chinese version three to four times a year. This year, this team received financial support from the Ministry of Education, so that the visually impaired in Taiwan can have a better experience.
9. Taipei Cultural Travel
TDTB combined with volunteer groups to invite visually impaired people to experience the cultural customs of Taipei. Through professional barrier-free guided tours, they visited the Rural Education Center(), Xiangshan Trail(), Neihu Dagou River Trail(), National Army Historical Museum(), Daocheng Street() and HONG-GAH Art Museum(), and five DAISY books have been recorded for the visually impaired who cannot participate so that more people can participate in such activities.
10. Promotion and Volunteer Link
In 2020, TDTB received an exclusive interview with the Voice Of HAN () Radio and National Open University Radio, and also cooperated with Industrial Technology Research Institute(), HONG's Foundation(), AESOP Taiwan, UPS, Taipei Fuhsing Private School(), Fu Jen Catholic University Nursing Department(), Fubon Charity Foundation() and Cathay Securities Corporation () and other volunteer groups cooperate to handle volunteer training and visually impaired related activities.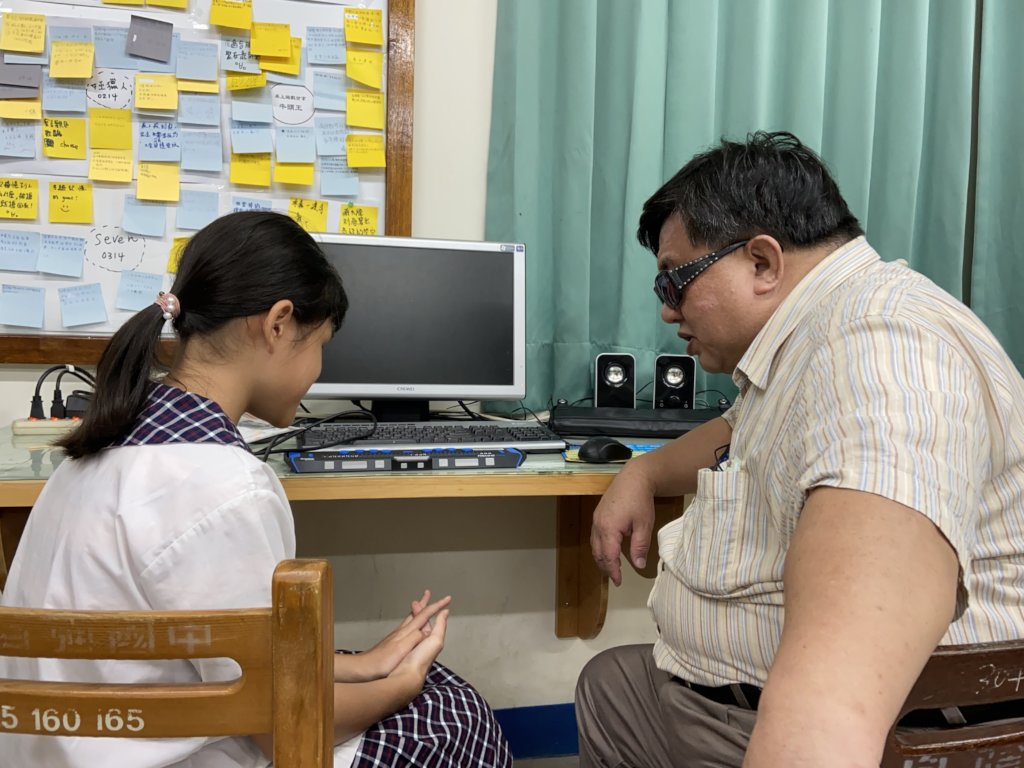 Links: