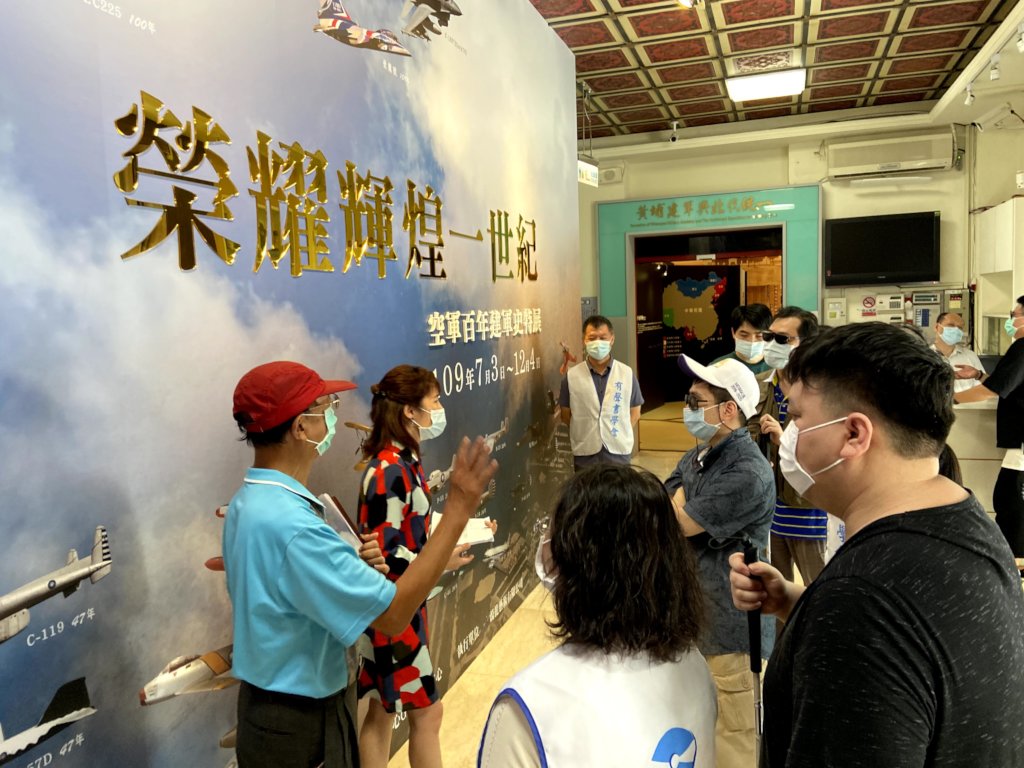 The Sept 14 - 18. 2020 Little by Little Campaign is a five-day crowdfunding campaign designed to help all GlobalGiving partners around the world cultivate a robust network of small-dollar donors. All eligible donations up to $50 per unique donor per organization will be matched at 50% during the campaign, and funds will not run out! Dear donors, if you happen to have the opportunity to support TDTB, this is a rewarding moment. Please join us in such a meaningful event.then let us share with you our 3rd quarter report
It is the peak period of visually impaired services. During summer vacation, TDTB took advantage of the school holidays to go to the various place of Taiwan to promote NVDA introductory course and visually impaired people e-learning platform (VIP platform) for visually impaired students, parents, and special education teachers, so that they could understand the use of information assistive for visually impaired students to help their learning. Also, TDTB started one of the important service, vocational training for visual impairment. For this vocational training, TDTB specifically links with another NPO that is engaged in mentally handicapped cooperation, so that we can doing together and achieve Double Love. There are more things TDTB wants to share with you.
1. Information education for visually impaired primary and secondary school students
To give visually impaired students a fair learning opportunity, TDTB has been working hard to promote the use of information aids, so that visually impaired students, parents, and special education teachers are familiar with the use of NVDA and VIP platforms. Beginning in July, TDTB went to Eastern Taiwan, where resources are scarce, to get in touch with more special education teachers. In August, a two-day NVDA introductory course was held in Changhua() and Taichung() to train special teachers and visually impaired students.
2. Vocational training
It's better to give a man a fish and you feed him for a day; teach a man to fish and you feed him for a lifetime. For the visual impairment, after completing the rehabilitation, The most important hurdle is career rehabilitation. TDTB has been cooperating with the government since 2006 to conduct a series of vocational training for the visually impaired, allowing them to re-enter the workplace and contribute to society.
3. TDTB Podcast cross-domain cooperation with therapist post-it and how are you show
When more and more people come into contact with podcasts, it will attract more people from different fields to invest. During this period, TDTB podcast program invited therapists who specialize in early intervention topics and discussed depression. How about podcaster recording the program together, talking about the visually impaired from different perspectives, arousing many problems. The same idea is very helpful to the future service direction of TDTB.
4. Cultural travel-visit to the National Army Museum of Historical Relics and Dadaocheng() district
This season, TDTB organized two completely different cultural trips, inviting visual impairment out of the house to appreciate the cultural customs of Taipei City. First of all, a group of students from Fuxing() High School served as volunteers and brought visual impairment to visit the National Military Museum of Historical Relics. There are many interactive exhibition halls in the museum, allowing everyone to experience the feeling of the battlefield and the hard work and greatness of the National Army. Then, volunteers from the Fubon() Foundation accompanied the visual impairment in Taipei's historic district, Dadaocheng(). Under the explanation of the guide, it seemed as if they were returning to the prosperity of the late 18th century. These two activities combined the participation of different types of volunteers, allowing more people to better understand the characteristics and needs of visual impairment through contact. This is also the purpose of TDTB for this type of activity.
5. Wanhua() Cooperation Alliance
TDTB believes that the promotion of services needs to start from the surrounding communities. In 2006, NPOs in the Wanhua() area formed the Wanhua Community Cooperation Alliance, and TDTB is also a member. The purpose is to allow different types of NPO organizations to communicate with each other and to make care services more complete. This season, the NPO partners of TDTB and the Wanhua Community Cooperation Alliance introduced the teaching of the elderly to use smartphones in non-visual ways into the community, conducted discussions and received many responses. In the future, under the cooperation of the alliance, different service models may be developed.
6.Interview with Hansheng() Radio
Although we can't see it, we can speak. The initiative of the visually impaired requires more places for voice. This season, Hansheng() Radio invited TDTB to be interviewed. TDTB specially arranged visually impaired engineers and working partners to go together. During the interview, in addition to explaining TDTB's services, it also used the opportunity to let the public understand the difficulties faced by the visually impaired and how they can be to assist them. After the meeting, the host especially thanked the visually impaired engineers for their willingness to stand up and share with the audience with their own experience and success, inspiring more people out of the low tide of life.
7. Industrial Technology Research Institute (ITRI)charitable activities
Entering rural services has always been TDTB's unchanging wish. This season, TDTB cooperated with the ITRI, just like a rural village in Hsinchu(), organizing a teaching activity for the elderly to use smartphones in a non-visual way. When the elders in the community saw that the teacher turned out to be a visually impaired person who could still operate smartphones and computers, they were amazed by the non-visual operation methods, which can give their degraded eyes rest and learn another skill. During the activity, the elderly were full of interest and frequently asked questions. After the event, they expressed their affirmation and support for the visually impaired as lecturers.
8. Supportive Group Therapy
Whether it is first-time blindness or a halfway visual impairment, the biggest obstacle is psychological rehabilitation. TDTB arranges a series of courses to involve the visually impaired and carers. Gain mutual support in the group through the leadership of a psychological counselor. TDTB's growth group puts special emphasis on caregivers. It is vital that these hard-working caregivers can obtain psychological support.
9. Member Conference of Taiwan NPO Self-Regulation Alliance()
NPO's accountability is a responsible attitude towards the general public. Taiwan NPO Self-Regulation Alliance was established in 2005. It is a spontaneous non-governmental organization in Taiwan. It invites NPOs in various fields to become members and publishes the annual work report and financial report on the official website of the alliance to win the trust of the public. As a member of the alliance, TDTB actively participates in various affairs. Through the membership meeting, each unit exchanges service and fundraising experience with each other, hoping to stimulate more ideas and improve service efficiency.