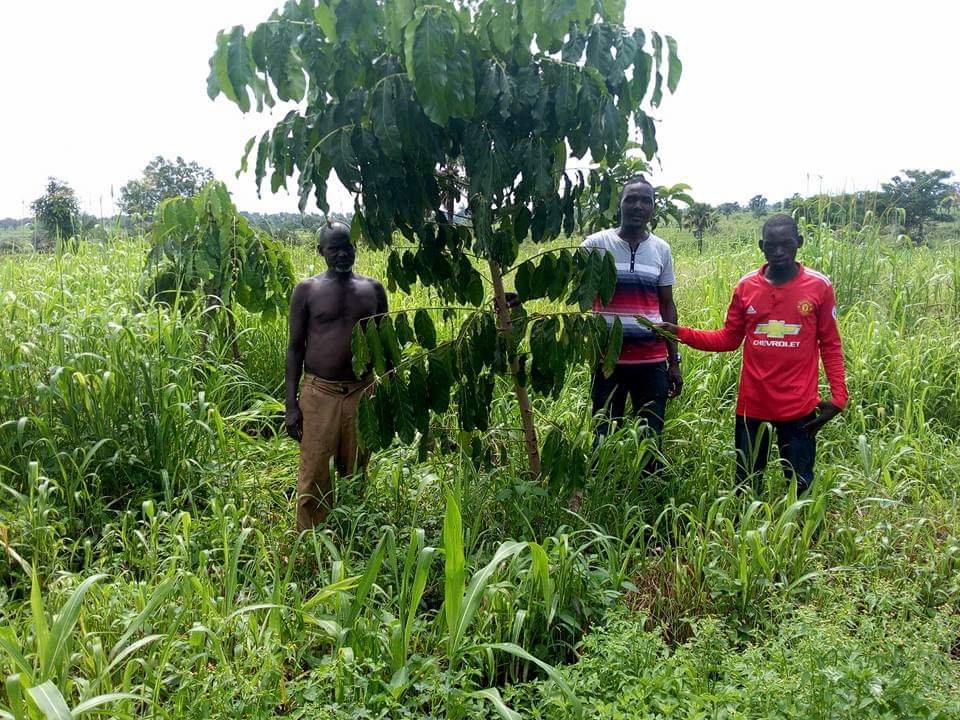 It's wonderful to imagine a forest where there was no forest before. To see that dream become a reality is a process that provides profound secondary benefits of personal satisfaction and learning. Planting a forest is something a human being can do in a lifetime. Or half a lifetime. Or in a few years. It's a beautiful path and one that is more accessible than you might think. Planting trees where trees are needed is a proud feat, a reason to hold one's head high.
And as such we celebrate today a group of people who saw it worthy of their attention, attractive to their pragmatism, and needing of their action to plant the trees back into a landscape denuded of forest cover.
You see, Northern Uganda used to possess an incredible mosaic of forest, savannah, farm, and pasture. Grazing areas, wild hunting grounds, rivers lined by monkey-dangled riparian thickets, fruit trees and wild fruit trees, agroforestry systems that are similar to ones that were here thousands of years ago, when millet cultivation and diversification became high arts amidst the emergence of Bantu movement influence from the south that imposed sorghum and new languages.
More recently, in the last two centuries land usage patterns have changed dramatically in Uganda. The mosaic landscape described above is still there, just in a damaged, degraded state. By some calculations, Uganda has lost 80% of the forest cover it once had. And most of this loss has happened in the last 50 years. Violent conflict into the 00's saw the army burning down forests thought to shelter rebels. Today, over a million South Sudanese refugees from just across the border forage for firewood in some of the few remaining forest stands, found adjacent to the semi-permanent refugee settlements.
In the language most spoken in Northern Ugandan, Acholi-Luo, a Nilotic and a tonal language, the word for tree is the same as the word for medicine. This fact is not lost on the region's many traditional healers, who implement their profound herbalist knowledge in service of the health of over 60% of Ugandans – the percentage of the population that reports lack of access to modern health care facilities, and whose principal healthcare recourse is with medicine men and women. The loss of forests has resulted in a direct loss of healthcare resources, and at a time when the region is just recovering from violent conflict.
The Wise Women of Uganda raised the flag of reforestation over 5 years ago, and since then have produced hundreds of thousands of native tree seedlings in their nurseries, planting trees in refugee settlements as well as on the lands of smallholder farmers in Northern Uganda. This year the Wise Women, in collaboration with Wild Forests and Fauna, have completed the latest annual tree planting campaign with our widening farmer network, reaching more villages, more villagers, and planting more species than before. The images attach share some highlights directly from the field.
Each time we update our amazing support base via GlobalGiving, we have been so thrilled to see your response and support of the extraordinary work being carried out by the Wise Women. Now we're asking your help to organize for a new challenge. As climate change and deforestation continue to present series challenges to Uganda's farmers, we have recently been astonished at the appearance of a new scourge – locusts that are now ravaging Northern Uganda. We are asking your support at this time to purchase additional protective netting to isolate the tree nurseries from the devastating presence of these Biblical insects. We know it sounds too crazy to be true, but it's true.
In the spirit of hope and of rebuilding lost forests,