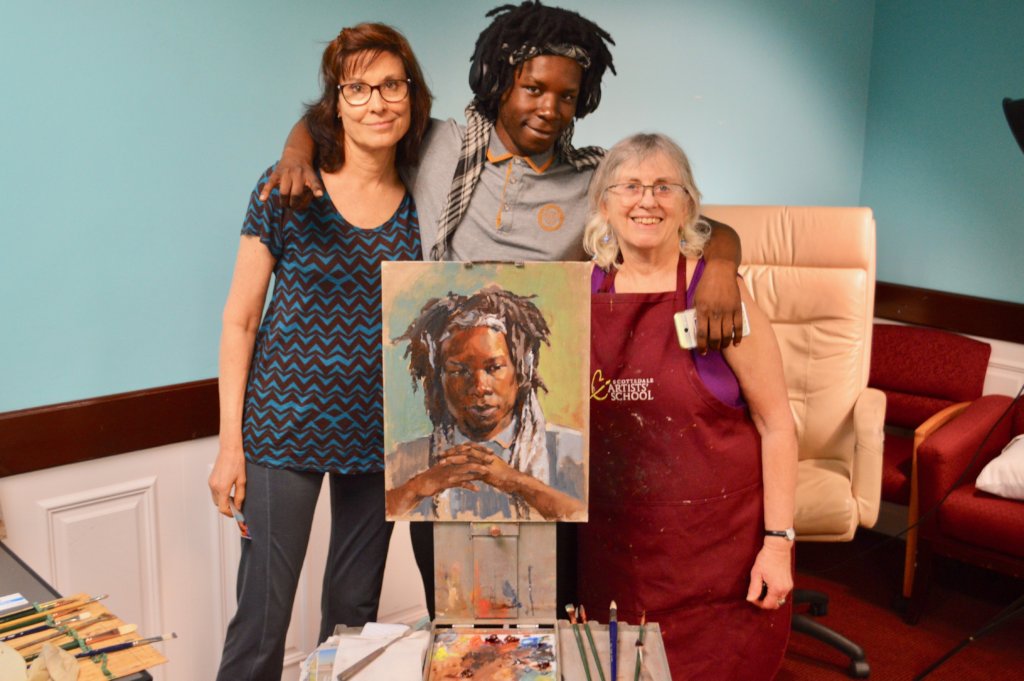 Our reentry members are seeing themselves in a new light thanks to your generous support. We celebrated our 2019 Congressman John Lewis Fellow who leads our nonviolence outreach program, welcomed a new group of apprentices into our intensive Job Readiness and Personal Skill Building Apprenticeship, and participated in our first ever portrait project! Read on to learn more about the inspiring human capacity for change and compassion.
Free Minds Holds Their Second Congressman John Lewis Fellowship Celebration

On May 22, Free Minds held our 2nd celebration to commemorate our Congressman John Lewis Fellowship, a one-year paid position for a formerly incarcerated young adult to use poetry and lived experiences to promote nonviolence, hope, racial equity, and peace in under-served schools and neighborhoods. The fellow leads our poetry-based nonviolence and community outreach program, On the Same Page: Free Minds Poetry in the Classroom and Community The fellowship was inspired Congressman Lewis's visit to our book club at the DC Jail. During his visit, Lewis discussed his graphic novel trilogy March and shared about his life of nonviolence during the Civil Rights Movement.

Congressman John Lewis was not able to attend the celebration, but Andrew Aydin, who co-wrote the March graphic novel trilogy with Congressman Lewis, spoke passionately about the role reading can play in personal development and racial justice.
As the 2019 Congressman John Lewis Fellow, Southeast DC native Joshua Samuel shared his thankfulness for being able to speak to youth similar to his younger self: "I want to thank you for giving me the opportunity to change lives. I have been able to prevent further damage to the community by sharing my story and helping kids elevate their lives. I have been able to speak to kids who resemble me and grew up in the same circumstances, and prevent them from making the same mistakes I endured."
It was an incredible evening filled with inspiration and hope as we realized a dream--to reach more youths with the life-changing power of books, writing, and community.
Recently Released Members complete Job Readiness and Personal Skill Building Apprenticeship

Earlier this month, Free Minds Book Club welcomed a group of youth and adult men into our intensive Job Readiness and Personal Skill Building Apprenticeship for recently released members, with workshops on different topics led by expert presenters as well as formerly incarcerated Free Minds members.

During the apprenticeship, apprentices learned tech tactics, budgeting, and financial planning. They also presented their life and career goals through vision boards, role played in preparation for on the job work scenarios, conducted mock interviews, took a team trip to the National Museum of African American History of Culture, and heard powerful testimonies from guest speakers who have overcame adversity.
At the end of the apprenticeship, one apprentice shared, "I was at a point where I didn't think I would ever get out, but now I don't take anything for granted." We are so happy to be a part of our apprentices' new life journeys and we are thankful to them for joining our Free Minds family!

Congratulations to everyone, and good luck!

Volunteer Artists Paint Free Minds Members for "Portrait Project"

From April 30-May 3, professional portrait artists Donna Catotti and Cindy Dill traveled to Washington, DC to spearhead a "Portrait Project," which featured several of our formerly incarcerated members. The artists visited our office and dedicated 2-3 hours per portrait. In 4 days, each artist was able to finish 2-3 oil paintings per day! Our members were exceptionally excited for the project, as none of them had ever experienced having their portrait painted before, let alone by a professional artist. The portraits turned out absolutely stunning!
These portraits are a unique way for our members to reflect on their own self-image, and a way to shift the public perception. Our goal is to display the portraits, as well as personal statements from our members, in a public exhibition to change the narrative of what it means to be a returning citizen in our society.
If pictures are worth a thousand words, how much is a portrait worth?
Thank you to the wonderful artists Donna and Cindy for their creativity, passion, and dedication to this project, and to our members for their courage to see themselves in a new light.
Thank you for making all of this possible. We are only as great as our community!