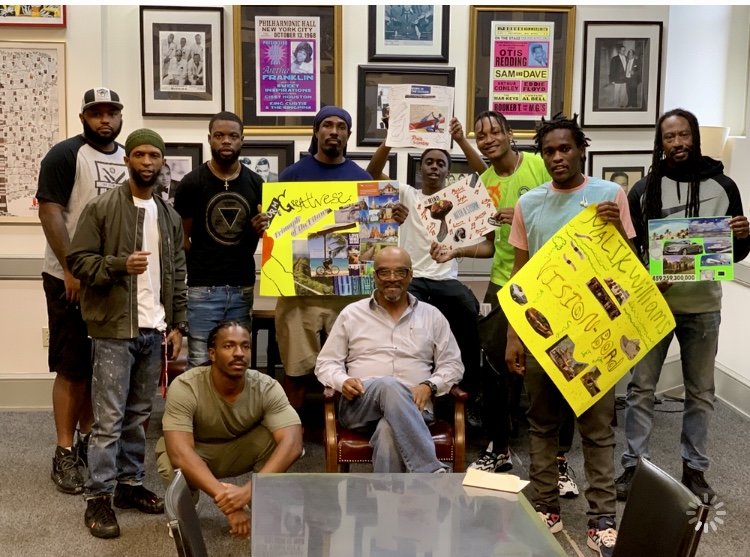 Our reentry members are becoming community change-makers thanks to your generous support! Since our last report, we welcomed a new group of apprentices into our intensive Job Readiness and Personal Skill Building Apprenticeship--they have now been paired with employment that suits their interests and skills, enrolled into a training program, or begun conducting community outreach through our nonviolence program known as "On the Same Page." We have also partnered with a national non-profit to center the voices and experiences of those who have been directly impacted by incarceration, and launched a dedicated support group specially designed for our members transitioning back home after 20+ years behind bars. Read on to learn more about the inspiring work of our previously incarcerated youth!
Returning Citizens Talk Criminal Justice Reform
This spring, Free Minds collaborated with national nonprofit The Education Trust to host "Educational Justice: Centering the Voices and Experiences of Incarcerated Individuals," a panel discussion deeply rooted in lived experiences of those personally impacted by incarceration. Often silenced and absent from conversations on reform, a group of incarceration-impacted individuals gathered to lead a conversation on second chances, education, injustice, criminal justice, and the power of high quality education on changing incarcerated lives.
With the exception of two, the remaining panelists were returning citizens who now work to enact change and create greater justice in our current criminal justice system; Michelle J. spoke of the need to remove all barriers to applying to college for people with criminal records. Annie F., who led the charge in Louisiana to ban criminal history questions on college applications, spoke of how many people are deterred from applying to college when they get to a question on the application asking, "Have you ever been convicted of a crime."
The panel allowed for incarceration-impacted individuals to match stories and faces to reform, humanize issues, and emphasize education as a tool for survival. If they aren't part of the process, it won't be done right!
Free Minds members--who serve as ambassadors for our incarcerated members--were in attendance and identified with the value of education/educational materials inside correctional facilities. In the words of currently incarcerated Free Minds member Momolu, "When I didn't know how to read well, my mind was imprisoned. I felt like my soul was unable to acknowledge its purpose. As I became a teen, I looked at the guys on the street corner with their money, guns and drugs and I saw them as honorable men. I just had no other reference point. Education has given me a reason to breathe. It has aligned me with my purpose and taught me my connection to life. When I read my first book, I felt like a champion! I wouldn't say that education helped me to see myself differently. Education allowed me to truly see myself for the first time!"
Thank you, The Education Trust, for truly seeing the critical importance of higher education in prison! We all have to be part of keeping our efforts going.

Recently Released Members complete Job Readiness and Personal Skill Building Apprenticeship

Earlier this month, Free Minds Book Club welcomed a group of youth and adult men into our intensive Job Readiness and Personal Skill Building Apprenticeship for recently released members, with workshops on different topics led by expert presenters as well as formerly incarcerated Free Minds members.

During the apprenticeship, apprentices learned money management and budgeting, preparing for success, discovering short and long-term goals, and workplace etiquette. They also conducted mock interviews, learned how to search for employment, adopted skills on how to remain resilient while facing adversity, and went on an educational field trip to the National Museum of African American History of Culture.
At the end of the apprenticeship, apprentices, staff, and Free Minds supporters presented vision boards, noting similar goals of peace, success, mobility, and travel. Free Minds staff and supporters left apprentices with words of encouragement and presented each apprentice with their very own personalized gift—a book, of course!
Congratulations to everyone!

Youth Charged as Adults are Re-sentenced

In 2016, DC's Incarceration Reduction Amendment Act (IRAA) passed and provided an opportunity for the re-sentencing of youth tried as adults when they were under 18 years old after serving at least 15 years in prison. Before consideration, IRAA beneficiaries must have demonstrated rehabilitation and maturity. Thus far, all IRAA recipients who have returned home are working and serving as role models; none have re-offended, and many are mentoring youth.
Free Minds created an IRAA Support group, which met for the very first time last month. Ten Free Minds members participated and it was a "huge hit!" During the group, our members shared their stories with one another and expressed how important it is to show love and support for one another and be each other's resource as they all reintegrate back into society. The support group will meet once per month at the Free Minds Office.
Thank you for making all of this possible. We are only as great as our community!