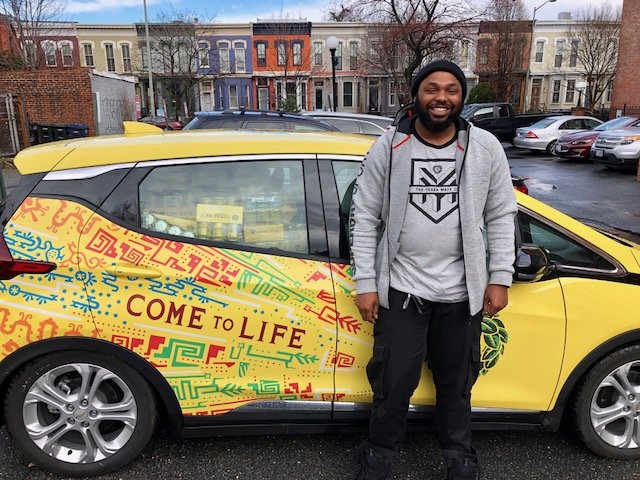 Flowers are not the only things growing this spring! Our tenacious Poet Ambassadors are continuing to use the power of reading and writing to build up each other and the DC community. Additionally, our Poet Ambassadors continue to be role models and voices of change within the DC area as we have been visiting schools, offices, faith groups, and adult learning facilities. We are so happy that the community eagerly wants to jump-start (or continue) conversations on mass incarceration and how we can battle this national crisis.
Thanks to your continuous support, more Free Minds members are employed, in school, obtaining vocational certificates, but more importantly, giving back.

Free Minds Job and Readiness and Personal Skill Building Apprenticeship

"I knew if Joshua could do it, I could do it too" said apprentice DaQuan after reconnecting with childhood friend and Poet Ambassador Joshua during our Job Readiness and Personal Skill Building Apprenticeship for recently released members. The apprenticeship includes workshops on computer literacy interview skills, financial literacy, and personal growth.

The apprentices also heard from Poet Ambassador Cornelious, who left the apprentices with such encouraging and inspiring lessons: Focus on positivity, positive people, and positive habits. In the words of Cornelius, "You're worthy and deserve a life worthy of being lived to the fullest."
Per tradition, on the final day, each apprentice presented vision boards they all created with images of their goals for the future. Each apprentice expressed hopefulness and success for their future, while emphasizing success is not limited to financial gains. Afterwards, they all received words of encouragement and best wishes from Free Minds staff, supporters, and senior Free Minds members who sat in on each session as a means for support for their Free Minds brothers. Every apprentice was then gifted a book personally selected for them.

Apprentice Leo shared, "I recognized what barriers were in front of my goals during this apprenticeship and I will never forget Free Minds to be the one who made me breakthrough."

Congratulations, apprentices!
Books and Belonging
"The moment we say Enough! is the moment we can take charge of the destiny of our own lives" - Poet and Activist Sam J. Ssemaganda
We use reading and writing in every aspect of our book club! Although we have several book club and writing workshop members at the DC Jail and in federal prisons across the United States, we also have one for our members who are returning home from prison.
For the last few weeks, book club members have been reading Our Lives Matter: The Ballou Story Project, which highlights the powerful, personal stories of thirty teen writers from Frank W. Ballou High School in Washington, DC who came together to take part in a national conversation about race, inequality, violence, and justice.
To celebrate finishing the book, Free Minds invited special guest Ugandan Poet and Activist Sam J. Ssemaganda who read poetry from his book of poetry Enough: A harvest of poetry from a life of questions seldom answered. Sam shared that the country of Uganda has the youngest population in the world. Over 70% of the country is under age 30 and the unemployment for young people is 88% so there is a lot of hopelessness and crime to fight.
In addition, during this session our members had a wonderful and vulnerable conversation about trauma, healing, mental health, and the stigma for African American men to receive counseling or admit they are suffering with PTSD from incarceration. Free Minds is partnering with a licensed clinical social worker to provide trauma therapy for our formerly incarcerated members.
We're so proud of the way our members have created a safe and nurturing space for each other. Our Reentry Book Club is more than just a book club; it is a brotherhood.

Free Minds Members: From Prison to a Paycheck (Update)

In the past year, 80% of our members in the Reentry Book Club have been working, studying, or participating in vocational training programs, resulting in a 13% recidivism rate as opposed to the national rate of 75.9%. We are so thankful to witness so many members achieving admirable accomplishments. Here are just a few of the highlights: Avery accepted a salaried position with Yerba Mate Tea; Andre is taking a placement test at Prince George's Community College; Aaron graduated from the Generation Hospitality Program; Nick, Davon, and Darius graduated from the Office of Neighborhood Safety and Engagement Pathways Program; and Antwan graduated from Building Futures.
In our last report, we announced that Poet Ambassador Jordan was going to college! We met Jordan at the DC Jail when he was 17 years old. In January, he headed to college to study business management. He stopped by the office during his spring break, and let us know what he's hoping to gain from his college experience. Jordan said, "What I hope to gain from college is a better understanding of how businesses operate and how to properly manage my own. My major is business management or "e-business" as they call it here, which means that I am learning about the functions and operations of a business electronically. Business has always stuck with me since I was younger. I always told myself 'I want to be a businessman when I get older' and I am just turning a dream into reality."
Congratulations on a great start, Jordan!