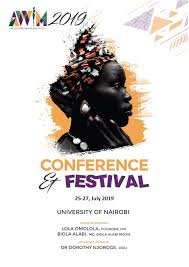 Dear supporter of women storytellers and advocates,
In February, we told you that we have two exciting pieces of news in the works - one was a "rough cut" and one a "fine cut." I'm delighted to now share the first that is ready for prime time:
p.h. balanced films is going to Kenya!
In late July, our Content Developer, Alexis Matsui, and I will attend the African Women in Media conference in Nairobi where we will facilitate workshops and join panel discussions on matters of film, advocacy, and storytelling.
Now in its third year, we look forward to being part of what promises to be an exciting and impactful gathering of experts from around the world.
In the coming weeks, expect to see more about the AWiM conference on our social media feeds, including updates live from the gathering July 25-27.
As always, we are deeply grateful for your support - and we'd like to add a special note of thanks to the p.h. balanced films supporter who let us know about AWiM last year.
Without you, our work would not be possible.
With gratitude,
Piper
(If you received this message twice, it's because you were part of the Director's Circle who provided initial funding for Reel Women Real Change. We are working to combine these projects for future updates and appreciate both your support and your forgiveness for the extra email!)