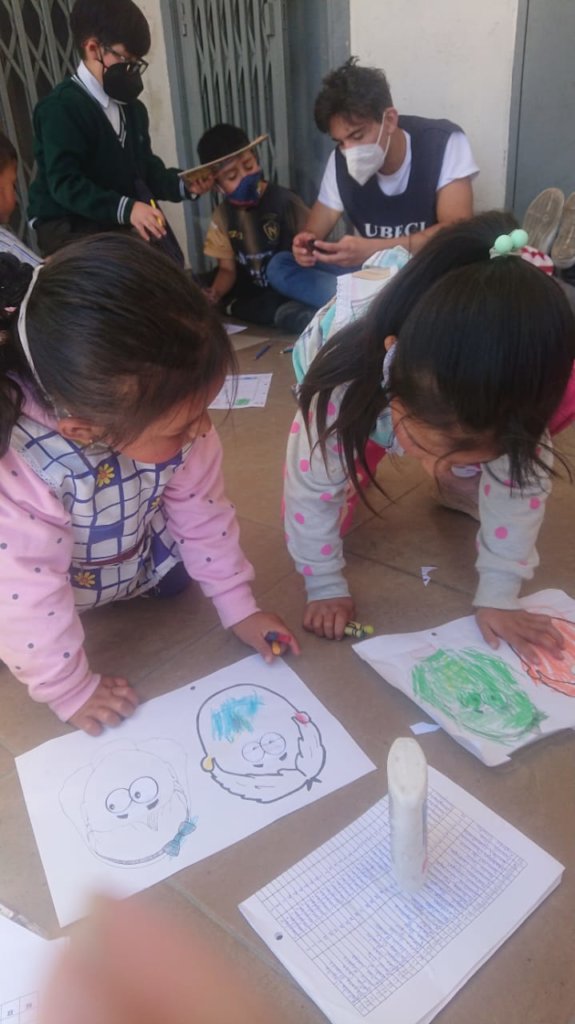 All children have the right to learn
Junio 2021
For each month, UBECI provides weekly objectives that cover several critical areas, including educational activities, along with social and emotional support for children. As June comes to a close, UBECI would like to update supporters on the activities carried out for this month, in addition to goals for the upcoming months.
While the pandemic has hindered UBECI´s ability to operate in the local markets Monday through Friday, the staff and volunteers have remained active in Las Cuadras, Sangolqui, and Guamani for three days a week. As a result, UBECI has been able to provide assistance to nearly 300 children for the month of June. These numbers are expected to rise as COVID-19 restrictions begin to relax and UBECI´s staff and volunteers are able to expand throughout the Villa Flora area.
In June, the first week in the three markets focused on creating a positive climate for the children that emphasized concentration and attention to develop the children´s reading comprehension skills. To fulfill this objective, the activities for this week required the children to read a short-story, ask and answer questions about the story, and draw an image of what they enjoyed most about the story.
In week two, the objective centered on developing the children´s motor skills by using various materials. During this week, children were tasked with identifying certain professions and painting the specific profession with the necessary colors. This activity not only assisted with the children´s motor skills, but required them to discuss certain professions and the daily tasks they perform.
In week three, UBECI´s objective was to strengthen sports practice to enhance a healthy lifestyle for the children. This objective was fulfilled by playing physically-demanding games such as Cat and Mouse and Little Wolf. In addition to the physical benefits these games provided, the children were also able to practice leadership and teamwork by working with one another.
In the final week, the objective was a comprehensive approach, which forced the children to apply what they learned in previous weeks to certain activities. For example, children were responsible for decorating the name of their best friend using different materials, writing and telling a different ending to the story from week one, and jumping rope. These activities tested the children´s capacity to retain previous information and put it into practice as the month concludes.
Unfortunately, the number of UBECI volunteers remained low for June. However, despite only having six volunteers, UBECI was able to carry out its usual activities and put the Foundation in an optimal position moving into the summer months. These volunteers made the most of their time with UBECI and below are a couple of stories that depict the impact the children had on their lives.
28 year old volunteer ¨I decided to volunteer with UBECI to make a difference and serve a higher purpose. Within this organization, I had the pleasure of assisting children with activities that will be beneficial to them for a lifetime. I was able to see first-hand the immense impact UBECI has on the community and it will definitely be an organization I give back to moving forward.¨ --- INSERT PICTURE
19 year old volunteer ,- ¨Although my Dad is from Ecuador, I rarely have a chance to go back and visit his home country. I wanted to see what life is like there, specifically for the most vulnerable. Volunteering with children in the local markets allowed me to gain insight on what life was like for my Dad and his family growing up. It also gave me a sense of appreciation and gratitude as I return back to the United States. UBECI and the children will always hold a special place in my heart, there is no doubt about that.¨--- INSERT PICTURE
UBECI would have not been able to carry out these operations for the month of June without the love and support from all of you. With the assistance from volunteers and donors, UBECI has maintained its presence in the local markets, and continues to practice and implement innovative ways to assist the children. In the upcoming months, UBECI will continue carrying out its mission and sharing it with all of you. Remember, with your help, UBECI can provide children with a better future.