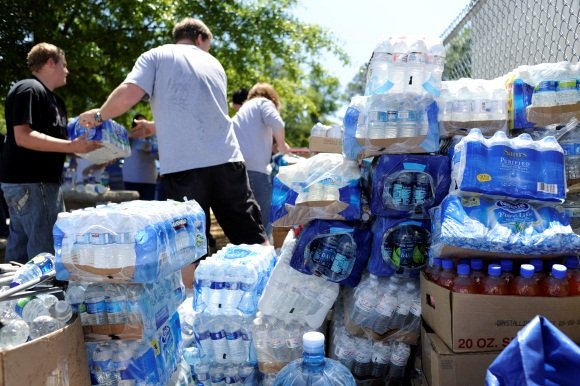 Feeding America: Responding in Times of Crisis
Overview
It has been nearly three months since a string of tornadoes plowed through the southern United States, killing nearly 300 people and leaving thousands more homeless. The storms were followed by historic flooding, which left devastation in its path. While the stories have faded from the headlines, thousands of victims continue the hard work of rebuilding their lives. That challenge is even more difficult for individuals who were struggling to make ends meet even before the disasters. For those who were living on the edge, the loss of a home, car or a job, can upset the balance of their lives and leave them unable to meet their basic needs. For those who were already facing hunger, a disaster exacerbates their situation—often forcing them to turn to the Feeding America network for help more frequently than before.
Feeding America food banks and their affiliated agencies serve as pillars of these ravaged communities. They are a haven for those in need before disaster struck, in the immediate aftermath, and will remain so during the long-term recovery. Because of generous support from donors like you, the Feeding America network was able to provide immediate emergency assistance to those communities across 11 states that have been devastated by tornadoes and floods. This report serves as an update of progress made to date, and the impact your gift has made on the people in these areas who have sought hope and supplies as they begin to rebuild their lives.
Providing Hope after Disaster
After a disaster, Feeding America does more of what it does best 365 days a year—feeds people. Through a sophisticated network of 202 food banks, trucks and logistical solutions are deployed to deliver food, water and supplies to at-risk people.
Since the first tornadoes hit in April, the Feeding America network has sprung into action, providing 7.7 million pounds of food and grocery products to affected communities, which equals more than 6.4 million meals. This is the equivalent of 256 truckloads. To date, more than $700,000 has been raised to support Feeding America network's disaster relief efforts.
The Feeding America network remains rooted in communities long after the emergency-response organizations have moved on to meet new needs. As communities move into the recovery and clean-up phases of disaster and people slowly begin to rebuild their homes and businesses, Feeding America food banks will continue to provide a steady stream of nutritious food and grocery products to these communities faced with economic upheaval and job uncertainty. Many of these individuals will turn to Feeding America food banks and feeding agencies for help. Kathy, the Executive Director of Crosslines, a food and clothing pantry located in Joplin, MO. knows that she has to help the residents of Joplin long after the news cameras depart and headlines no longer focus on the devastating tornado that killed more than 100 people in her community and left hundreds homeless. Disaster relief is not about the immediate need, but about how a community is rebuilt. As always, the Feeding America network will be there to provide the people of Joplin, and the families of the other 11 states touched by natural disasters this season, the food and hope they need to survive and rebuild their communities.
A Food Bank's Perspective
Larry Logan, Executive Director of Community Food Bank in Central Alabama shared his experience during and after the tornado hit Tuscaloosa, AL. "I got up early Thursday morning, because I heard the tornado was at Pratt City. So I got our vans and loaded them down with water and sausage and things that you could stick in your pocket and eat on the run, because nobody is going to sit down and enjoy a meal right then. They're going to be trying to get to their houses to see what they can salvage. So I hauled over there and it was complete lockdown; the roads were blocked, the police were patrolling, they wouldn't let you through." Because Larry was in a food bank van, he was waved on through and was able to provide the supplies he brought to residents of that community.
A Strong Network of Support
During this disaster relief efforts, as with others, Feeding America and its member food banks worked closely with other disaster relief partners including FEMA, state emergency management agencies, National Organizations Active in Disaster (NVOAD), the Red Cross, The Salvation Army, and Lutheran Disaster Response to ensure that supplies were provided quickly to those who needed them. Long before these disasters occurred, Feeding America agreed on a Memoranda of Understanding (MOU) with the American Red Cross and FEMA outlining how the organizations would work together to provide the most efficient, coordinated response during disaster. For example, the MOU with the Red Cross states that at the Red Cross' request, the Feeding America network may provide and deliver product to Red Cross disaster relief sites. It also states that during active disasters, each organization will establish a point person at both the national and local level to coordinate our work together. This advance planning is key to a smooth response that meets the needs of those who are suffering.
These national relationships are bolstered by strong local relationships. Food bank relationships with local disaster partners have been critical to providing food and relief supplies to people affected by the spring 2011 disasters. After a tornado tore through Smithville, MS. destroying half of the tiny town's housing stock and 14 of its 16 businesses and floodwaters soaked homes and businesses in Memphis, TN, the Mid-South Food Bank cleared out all of its inventory of food for its BackPack Program and gave it to the local Red Cross chapter to distribute to those in need. Similarly, the Mississippi Food Bank Network provided food and hygiene supplies to The Salvation Army to support their disaster relief efforts in Vicksburg, TN after the flooding. The partnerships are reciprocal: when the Red Cross closes its mass care sites after a disaster, it often donates excess food to Feeding America food banks.
Conclusion
After the first-responders have gone, what remains is often a strong community spirit and a persistent need for food, grocery products and other types of assistance. The emotional wounds are still fresh as residents see visible reminders of the destruction while they tend to their daily tasks. Unemployment rates soar as people wait for businesses to rebuild. Affordable housing is hard to find since the housing stock has been depleted. The food banks and feeding agencies directly affected by the storms and floods are reporting increased demand for food. Experience illustrates that this need will persist for months, if not years, to come.
Support of the Feeding America network during this time of need has helped food banks and their agencies efficiently deploy resources where they were needed most—to the millions of people whose lives were turned upside down by natural disasters. Our local food banks and agencies that have roots in these communities provided hope to families facing devastating losses. Your continued investment enables both the physical and the emotional support required by families in immediate need and throughout the long recovery process.
Links: