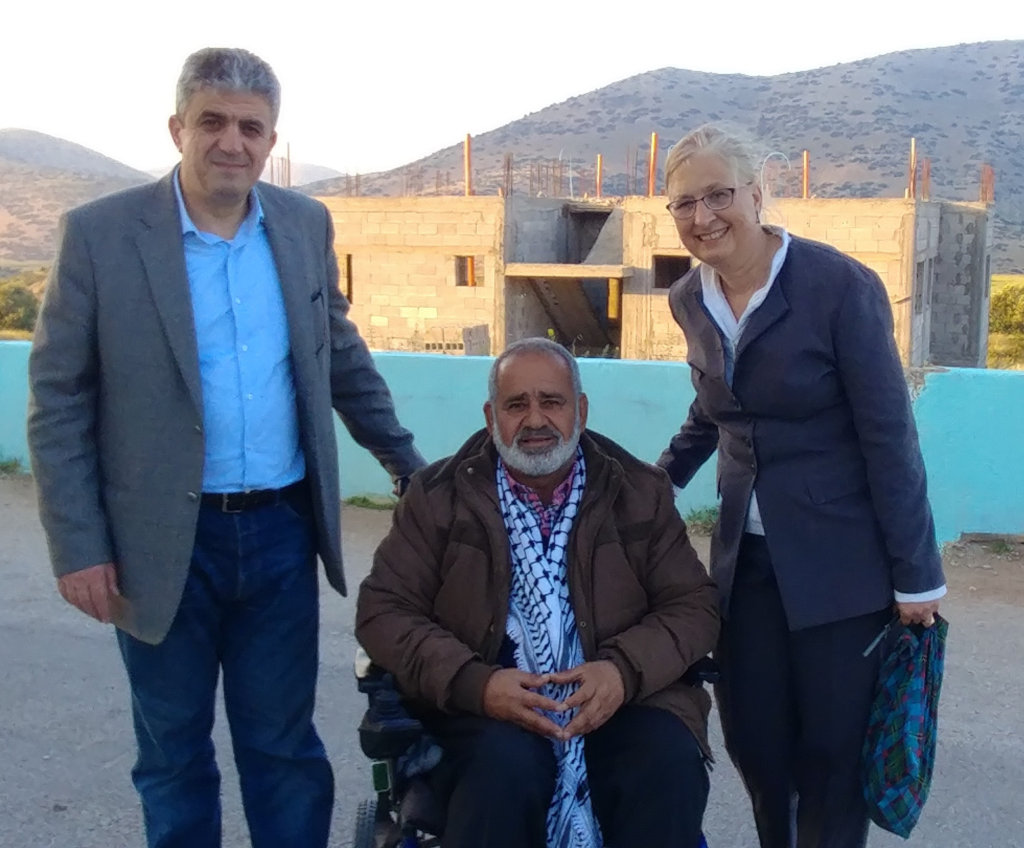 Dear Friend,
First, I thank you for your wonderful support through these many years.
I am writing to celebrate the progression of Rebuilding to Remain from pilot project to program. As such, with this report, I am closing Rebuilding to Remain in Palestine and opening its sequel, Rebuilding to Remain in Palestine's Area C. Please help Rebuilding to Remain in Palestine's Area C reach our Phase 1 goal to provide affordable revolving loans to the fifteen families in Al Aqaba Village who are building their new homes.
Please use this link to make a donation on Wednesday, GlobalGiving's next Bonus Day, July 12th. GlobalGiving is matching all donations by 50% while their funds last, and your gift will help this program reach an extra bonus by the end of the day.
Our new program, Rebuilding to Remain in Palestine's Area C, is so positive that after nearly 15 years of good work, Rebuilding Alliance is formally opening a branch office in Palestine! Below is a recap of how we got here and where we're going.
Early History: Building the Kindergarten in Al Aqaba
It all started in 2002 with a $10,000 donation from a family foundation that asked us to build a school with the caveat: don't let it get demolished! The mayor of Jenin asked me to consider a village called Al Aqaba that needed help building their kindergarten – but no outsider could travel there. In 2003, I presented my paper, "Rebuilding Homes: A Social Venture Plan to Finance and Rebuild Palestinian Neighborhoods", at a UN conference in Geneva. That paper laid the foundations of what we seek to do now, 15 years later, including a revolving loan program and insurance. Also I met the UNRWA team who said they would get me to Al Aqaba — and they did.
When I first met Al Aqaba's mayor, Haj Sami Sadeq that summer, he conveyed his clear and gentle vision: bring his village home (— they were driven out by the danger posed by Israeli live-fire training exercises), first by building a kindergarten and then by launching enterprises that offer jobs, so families could build their homes as soon as possible. When Rebuilding Alliance started, we were simply adding a roof to the existing building. Just a month later, when I brought Cindy and Craig Corrie to visit, Mayor Haj Sami was digging a new foundation! I quietly (and nervously) reminded him that the small grant was just enough for a new roof, but he explained that because the roof would be poured concrete, a new foundation would be required. He was right. He said, "Don't worry, just keep asking for donations, and we'll keep building." And that's what we did!
When an international director from Habitat for Humanity flew in to say we might be the most important peace project in the Middle East, we dotted the i's and crossed the t's to register as a nonprofit organization. Cindy and Craig Corrie were among our founding board members.
Rebuilding Alliance helped Al Aqaba build their state-of-the-art kindergarten — but the building includes so much more! The three-story(!) building also houses the mayor's small office, the conference center, the Ibn Rush'd Library, part of the Al Aqaba Tea Factory, and the Women's Sewing Cooperative. As a result of our international exposure, some 20 countries invested in Al Aqaba, bringing 20 diplomatic corps, including the U.S., to advocate for this village.
Demolition Orders — and learning how to ask Congress to help
In 2004, while we were building that kindergarten, the whole village came under demolition orders. I had briefed a U.S. Consulate official and few weeks later, that consular official stopped the bulldozers in Al Aqaba as we rushed forward to help the village hire a lawyer. As their case went to the Israeli High Court in 2008, a remarkable Rotary past district governor from Baltimore taught us how to walk the halls of Congress to get members of Congress to make private calls to Israel to keep the village standing — and it worked! Later that year Mayor Haj Sami and the Rural Women's Association Director Raheya, along with a founding board member of Bimkom: Planners for Planning Rights, visited Congress. This Contact Congress initiative became the basis for Rebuilding Alliance's Contact Congress efforts that extend to the villages of Susiya, Umm Al Kheir, and Khan al Ahmar so far. We also took everything we learned and codified it into our patent-pending mobile app, Evincible. Although our Contact Congress actions continue to keep those villages safe, we must do more to stop the ongoing crisis of demolitions.

Political Risk Insurance Recap — when will they let us apply?
I first asked to apply for Political Risk Insurance (PRI) in 2006 to protect against the risk of demolition, while Mayor Haj Sami organized the village credit union. The U.S. Overseas Private Investment Corporation (OPIC, a U.S. agency under the purview of the State Department), offers this program to small American companies to encourage U.S. business overseas by protecting against loss from acts of politically-motivated violence or expropriation. Seemed applicable.
Here's a recap of why they said our building projects would not qualify:
2006: OPIC phase 1. "No building permits"


2012: Al Aqaba issued their own building permits


2013: OPIC phase 2. "Against (unwritten) U.S. policy"


2015: Members of Congress advised us to learn more about that unwritten U.S. policy.
As a result of our inquiry, The State Department sent me a letter encouraging me to ask OPIC again.


2016: OPIC phase 3: "Clear to apply for any West Bank Area C project no matter the size"
Our application was nearly ready in Jan, 2017 but then,


2017 OPIC phase 3. "First we need to partner with Palestinian bank to offer loans."
This seemed like a Catch-22, as the banks had all said they needed risk insurance before they would join us. Then a breakthrough: the Palestinian Islamic Bank, signed an Letter of Intent with Rebuilding Alliance in April, 2017. OPIC asked us to provide an executive summary of Phase 1 (finish 15 homes) and Phase 2 (build 15 new homes) of our Rebuildin to Remain revolving affordable home construction loan program. They got back to us in June.


2017: OPIC phase 4. "Too political and too risky." Isn't what they offer called "Political Risk Insurance?"
We did our best to prepare with the PRI team and anticipate the screening committee's every inquiry and concern but someone at the State Department told OPIC this is not a priority right now, and the PRI team felt there is a conflict of jurisdiction. One wonders when International law will prevail.
Fifteen Homes in Al Aqaba
The good news is that when I brought the Palestine Islamic Bank to meet with Mayor Haj Sami, fifteen families in Al Aqaba were already constructing new homes! They all need are small loans to finish and move in. PIB was impressed by the mayor, the village's credit union, and the whole village (Al Aqaba welcomes all who come in peace) and by Rebuilding Alliance's advocacy and commitment. They signed a letter of intent with Rebuilding Alliance, pledging to manage the affordable revolving loans and to match our investment by co-investing in a strategic partnership!
Now things are moving fast:
We need a branch office to legally sign the agreement with the PIB so after nearly 15 years as a grant-maker in Palestine and Israel and an advocate for peace and justice, Rebuilding Alliance is opening a branch office in the West Bank! Our paperwork was validaed with the State of California in accordance with Palestinian National Authority procedures, and soon we will file with the relevant Palestinian ministries;


In late May, consultant Jamal joined an RA Board Member Emeritus and me in Washington DC to meet with key members of Congress, visit the Palestinian Ambassador's office, and meet with the Political Risk Insurance Director at OPIC.


This week, our team is negotiating the agreement that will define the roles and responsibilities of the bank and Rebuilding Alliance as we move forward in the Rebuilding to Remain program;


We have raised $33,000 toward our $120,000 Phase 1 goal to finish 15 homes. We want to get those families moved in soon. Please mark your calendar for Wednesday morning July 12th, if possible at 6am Pacific, and and give to Rebuilding to Remain in Palestine's Area C. That's GlobalGiving's next Bonus Day, and your donation will be matched by 50% while funds last!


This weekend, I'll be on the road to Los Angeles to meet with friends who would like the opportunity to help. If you would like me to visit, please call me at 650 440-9667. I'll join you!


Our board member emeritus is a lawyer and an expert in affordable housing finance. We'll be flying out to Palestine at the end of this month, to hopefully sign the joint verture agreement with PIB and launch our fundraising for Phase 2: to finance construction of the next 15 new homes.


We are ramping-up our advocacy program. The Village of Al Aqaba is taking brave steps. It is up to us — all of us — to press our members of Congress to intervene on their behalf.
Thank you for believing in us and for holding on to hope. I look forward to updating you soon, as our new Rebuilding to Remain in Palestine's Area C program takes shape and gets wings.
Sincerely,

Donna
P.S. Did you know that you can now find Al Aqaba Village on Google Maps? In April, in response to Rebuilding Alliance's repeated and ever-more-creative requests, Google added the 236 Palestinian villages in Area C to Google Maps! Type Al Aqaba, Palestine into Google Maps to see =)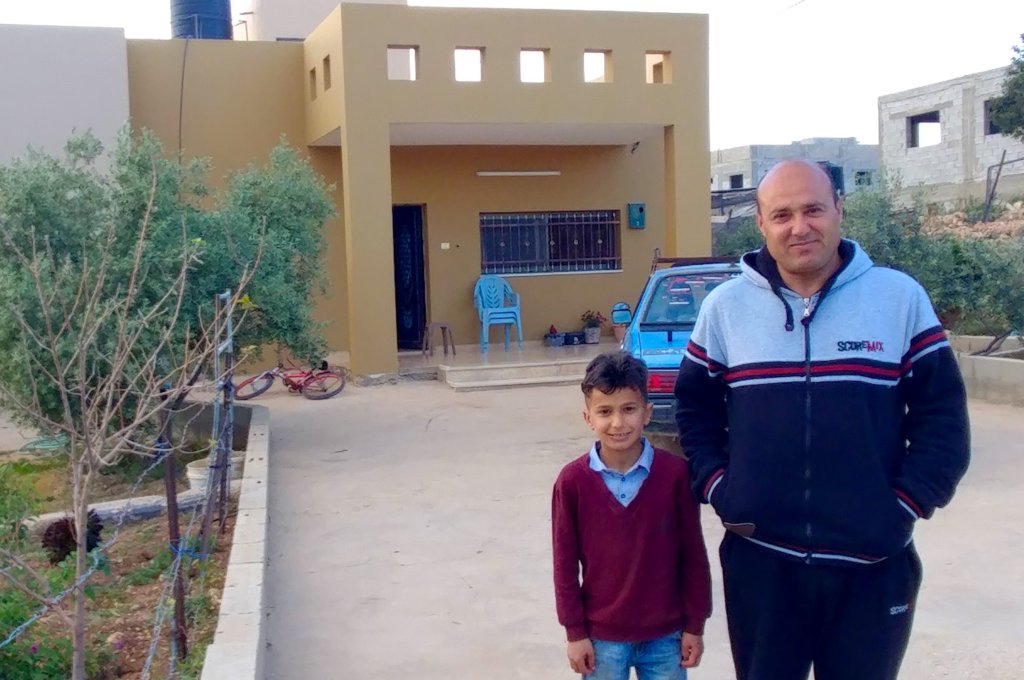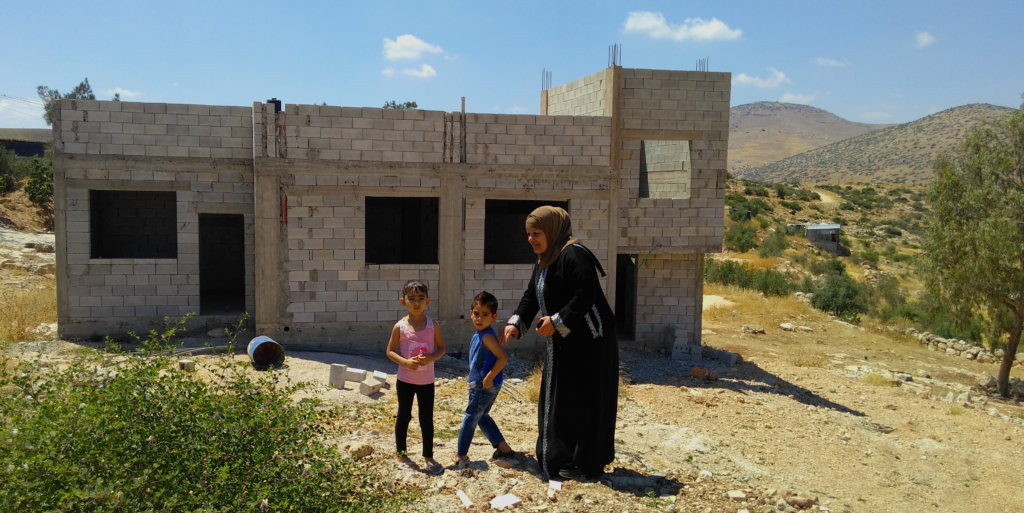 Links: