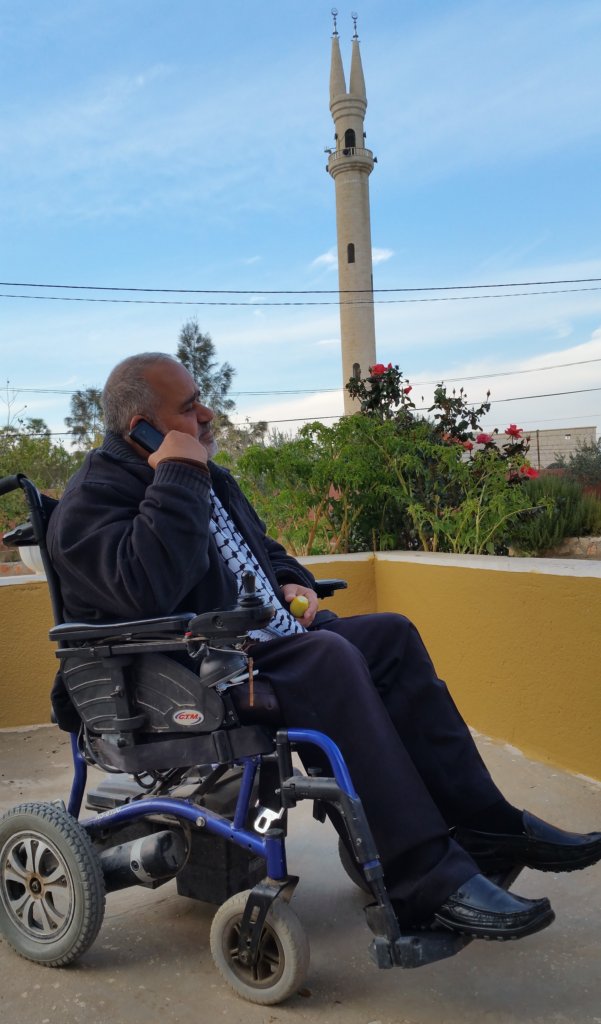 The best thing I heard all year is what's happening in Al Aqaba Village.
"Donna, three more families moved into their new homes," said Mayor Haj Sami as we traversed the street. "Look, they painted with gold and cream, just like the first three. Someday my whole village will be painted gold and cream, and everyone will know us a a beautiful village of Peace."
As we finished the first three homes in the Rebuilding to Remain program, and the families moved in, some nine other families applied for building permits to the Al Aqaba Village Council. With village-issued permits in hand, they started building their homes with their own money, with their own designs, and at their own pace. As they neared completion, Mayor Haj Sami asked the Future for Palestine Foundation (Dr. Salam Fayyad's NGO) to help by providing finishing grants — and so three more families moved into their home!
As you may remember, we used the funds provided in this project to crowdfund construction loans to build the first three homes in the Rebuilding to Remain Program, using designs developed by award-winning architect Hani Hassan. Our commitment was $20,000 per home but the total cost of each home was $33,000. In the end, Rebuilding Alliance was one of the groups that helped finish the homes as well.
Our three Rebuilding to Remain families continue to pay back their rotating construction loans, not to Rebuilding Alliance (we're not yet able to meet the PA Government's requirements to offer loans), but to the Al Aqaba Cooperative Credit Union. Now, completion of these three new homes comes about through funding from the Future for Palestine Foundation.

We currently have $4500 in the Rebuilding to Remain account and we would like to offer one or two finishing loans to the other houses where work is underway. To do this Rebuilding Alliance must register a branch office in Palestine and partner with a loan-making institution who can meet the significant threshold requirements of the Palestinian Monetary Authority. We're almost there.
Working with our law team at Ittqan Law in Ramallah, we've ready to open our branch office in Palestine as soon as we hire a general manager. Local banks have offered to help us administer construction loans in accordance with the threshold lending requirements. We need to raise the funds that form the basis for these loans and I believe this would be much easier if Rebuilding Alliance's construction financing qualified for Political Risk Insurance (PRI). That way, we could give you, our donors, the sound assurance that if these lovely homes were to be demolished, there would be a way to help the families rebuild.

Rebuilding Alliance's request for PRI is going up to very high levels at the US State Department, the National Security Council and also to the Overseas Private Investment Corporation (the quasi-US governmental agency that provides PRI in all other parts of the world). If it gets stuck again (I've been working on this for more than 3 years), our next step could be in the form of a petition asking people to sign if they are willing to commit U.S. taxpayer money to help Palestinian families rebuild their homes if their neighborhoods are demolished.
No matter what, as you can see, Mayor Haj Sami is moving forward. His new Park for Families, just outside the Kindergarten and next door to the mosque, is attracting hundreds of people each night! Delegations from European and Asian countries stop by daily. He knows that the only way to save a village is to build something worthy of saving, and the only real protection against demolition is our collective ability to get policy-makers worldwide to help. What a remarkable model Al Aqaba has become!
Thank you again for supporting the construction of those first three homes and for making dreams real.
Sincerely,
Donna