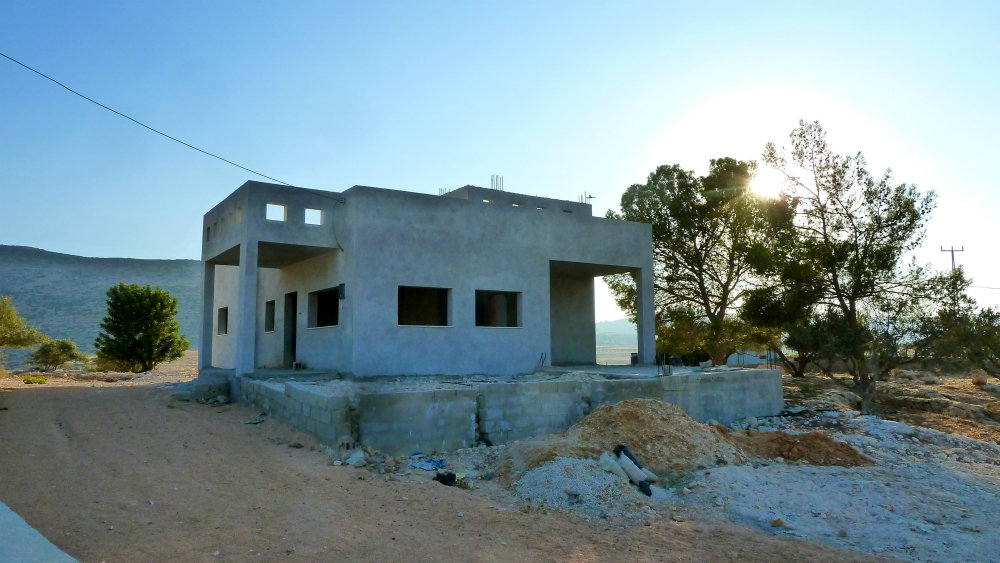 Dear Friend,
Thank you for your wonderful support for our Rebuilding to Remain project. We dreamed of building 30 homes and stared by designing and funding three homes. We met great milestones:
We're really the only group planning affordable housing in the West Bank. And Al Aqaba became the first village in Area C to issue its own building permits;


Rebuilding Alliance was the first to provide mortgage financing in Area C, creating a rotating mortgage fund starting with these three homes;


We met our funding commitment, raised and sent at total of $20,000 per home for construction ($5000 downpayment grant and $15,000 revolving mortgage loan)


Construction using our funds is completed.
Here's the problem: the families chose to design a home that is exactly what they need but bigger than what they could afford. Each home is 125 sq meters for 3 bedrooms. Mayor Haj Sami turned to the Palestinian National Authority Government and received their promise of an additional $13,000 per home — the amont needed to finish each homes. This was a promise the PNA government did not keep.
It is so hard for all of us to see these homes empty when the families and all of us, long for them to move in.
During my and Sophia's recent visit to Palestine, the families and Mayor Haj Sami agreed to extend their mortgage loans to borrow an additional $10,000 if Rebuilding Alliance can raise the funds to finish their homes. Sophia and I returned home and wrote a grant proposal to the Lantern Fund to ask their help in raising $30,000 (for three homes) for such good things: floor tiles, doors and windows, painting, bathroom plumbing and the kitchen sink. Our proposal was accepted and is scheduled for January 2014.
Meanwhile, we submitted an elegant proposal to build 10 more homes to the Paletinian Housing Fund, Coca-Cola Palestine and also the largets construction company in the Arab World all of whom could help. So far, no replies — so frustrating because these dreams are so close to being realized.
Thank you for your support for this wonderful project. GlobalGiving.org provides their next mathing grant on Wednesday Oct. 9th, starting at midnight Eastern time. If you would like to, please consider giving once again and we'll get the families moved in.
As always, please call if you have questions or suggestions. My cellpone is 650 440 9667.
Sincerely,

Donna